BALMAIN FALL/WINTER 2015 WOMENSWEAR SHOW.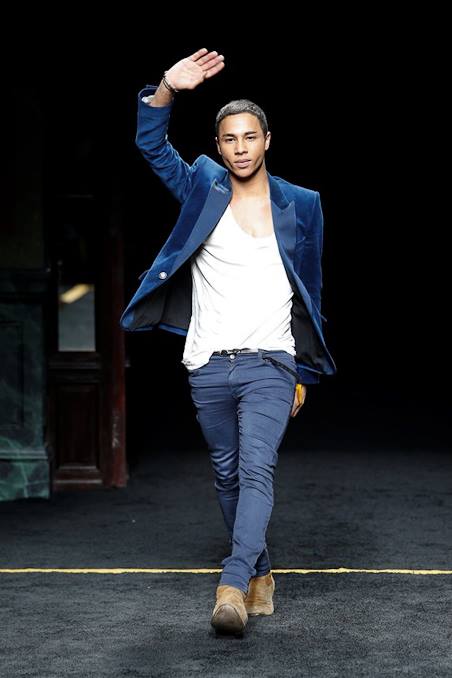 "As recent events have reminded us, France has a long and proud history of defending essential liberties and artistic freedom. That unique, open-minded spirit is also something that sets Parisian fashion apart," said Balmain's Creative Director Olivier Rousteing commenting on the philosophy of BALMAIN FALL/WINTER 2015 WOMENSWEAR SHOW.
"Pierre Balmain and his contemporaries were anything but provincial. They were part of a generation that was unafraid to stir up controversy as it ventured beyond conventions and was inspired by the cultures, colors and traditions of what had previously been labeled as "exotic" foreign lands."
"For Fall/Winter 2015/16, we celebrate that Parisian tradition, as well as the evolution of my city into a truly global melting pot. Echoing the spirit of the '70s catwalks, today's presentation highlights the beauty of strong confident women of all races, as well as the vibrant tones that that recall the richness of other cultures," added Olivier Rousteing.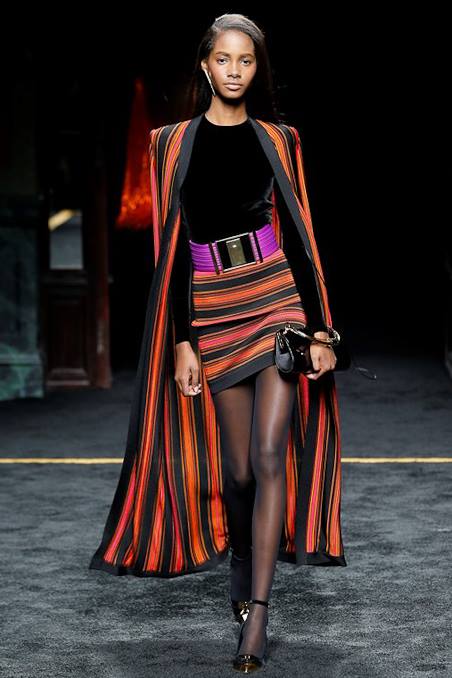 This article titled "Balmain channels 70s and 80s Saint Laurent in Paris" was written by Lauren Cochrane Paris, for theguardian.com on Thursday 5th March 2015 19.34 UTC
For his show at Paris fashion week, Balmain's Olivier Rousteing paid homage to Yves Saint Laurent in an autumn/winter collection that channelled the late designer's seventies and eighties work with all the attendant glamour, seduction and vibrant colours.
But then the parallels between Rousteing and Saint Laurent are striking. Rousteing is the youngest designer to take over at a Parisian fashion house since a 21-year-old Saint Laurent was appointed at creative director of Christian Dior in 1957. Three years ago Rousteing, then 25, gained the same position at Balmain. Saint Laurent was born in Algeria, while Rousteing is mixed race – still an anomaly in fashion where most of the gatekeepers are white men over 40.
Both men also cultivated a coterie of high profile women, there to inspire but also personify their brand. On hand to watch here were members of the so-called Balmain army: Kim Kardashian, sporting newly blonde hair, with husband Kanye West and mother Kris Jenner. They were flanked by Solange Knowles, Lewis Hamilton and Sports Illustrated model Emily Ratajkowski.
The clothes were high-octane glamour – the kind that the front row love, and suited the diverse roster of models, including Joan Smalls, Karlie Kloss, Adriana Lima and Lily Donaldson, wearing them.
High-waisted flared pleated silk trousers was the key shape, in colours Saint Laurent would have approved, such as like pumpkin orange, sea green and glowing fuchia. These were worn with nipped in jackets in a contrasting shade – orange paired with pink for example – high gold sandals, black sheer tights and earrings made from slices of minerals.
Other designs included short ruffle cocktail dresses with velvet parkas slung over the shoulder; blazers made of stringed pearly pink; and gold beading and a lace catsuit. Subtle no, but in keeping with what a certain young and glamorous woman wants to wear now – whether they can afford it or not.
According to their designer, these are not just party frocks. Backstage, Rousteing explained that this collection was a reaction against the Charlie Hebdo killings in January.
"People think you are doing flared pants, but the reality is for me [the seventies] was the expression of freedom," he said. "What happened made me realise how important self-expression is." For Rousteing, that comes with the inclusion of different races on the catwalk.
"There are so many different kind of women and I think it's nice to represent all the girls in the world," he said. "This show is Parisian but it has a vision of a globality [sic], a diversity."
Under Rousteing's stewardship, Balmain is expanding. A new store opened in Mayfair, London, at the end of January, and there are plans for the Middle East, China and Italy. A stock market flotation for the brand, currently owned by private investors, is also expected.
Elsewhere, two new designers – Alexis Martial and Adrien Caillaudaud – were named at Carven last week.
In his five years at Carven, previous designer Guillaume Henry championed an ingenue aesthetic and attainable price points. Martial and Caillaudaud did not deviate from the formula too much – there were the blouses and A-line skirts the Carven girl loves – but there was a promisingly offkilter edge. Trousers were high-waisted and skintight, and the outerwear included an oversized python mac, and a boxy bomber. Some pieces also upped the luxe factor – embellished sweaters and quilted jackets – suggesting a new era at Carven may have a different muse, and price points, in mind.
Roland Mouret – recently announced as a judge in Project Runway, the French version of the US fashion reality competition – showed a collection he described as true to himself.
The clothes had his signature sexy femininity. Versions of his hit, the body-conscious Galaxy dress, worn by women from Victoria Beckham to Carol Vorderman, came in sheath-like shifts in tweed, worn over mesh long sleeved tops. But there was also pieces for younger customers – pleated skirts worn with short bandage tops, and biker jackets of patchworked leather.
guardian.co.uk © Guardian News & Media Limited 2010
Published via the Guardian News Feed plugin for WordPress.