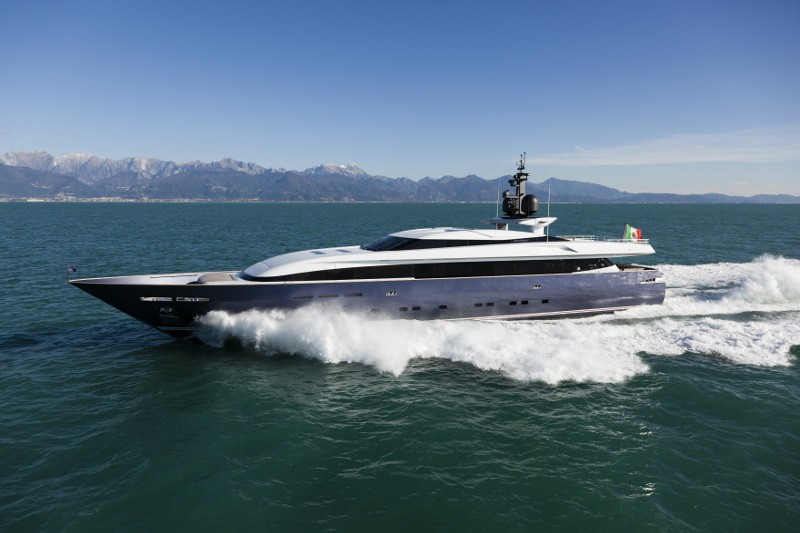 This February, Baglietto Yachts, the historical boat builder based in La Spezia, Italy, presented two new projects pencilled by Francesco Paszkowski Design in Miami during an event held at the Casa Tua restaurant. The new projects are soon bound to join the already wide production of the La Spezia shipyard. Baglietto's portfolio can be seen and tested next week in Dubai.
The first of the two projects is a 44 m yacht that continues Baglietto's long-standing tradition of OPEN crafts, which in the past had already made the brand's success with yachts like the Blue Princess. Consistently with the boat builder's will to reinterpret its precious heritage in a modern, contemporary style, the new 44 m OPEN stands out for the great liveability of both its outdoor areas and interiors, while preserving the aggressive look and impressive performance of a sporty craft. 2 possible layouts are available, with 4 or 5 cabins. The new 48 m Explorer stands out for its excellent sea-keeping features, and is thus ideal for longrange cruises and when spending a long time at anchor.
Baglietto, part of the Gavio Group, will be taking part in the Dubai International Boat Show, which this year has reached its 24th edition and will be held in Dubai from 1 to 5 March.
Baglietto's stand at the Boat Show will be located in the SYBAss area, the area reserved to the Superyacht Builders Association, which unites and represents the world's leading builders of large yachts.
"Baglietto has decided to participate again in the Dubai Boat Show following last year's successful experience, so as to strengthen its presence in the Arab Emirates as well as its relations with the local yachting professionals and enthusiasts – says Baglietto's General Manager, Michele Gavino. – We are aiming to grow further on these markets, which very much appreciate 'Made in Italy' style and values, of which our company is a widely recognized ambassador."
Baglietto currently offers its customers a full range of products between 35 m and 65 m in lenght in the Open (44 m), planing (the FAST line, including a 35 m, a 43 m, and a 46 m model), displacement (44 m, 55 m, and 62 m), and Explorer (48 m) lines, plus the MV 'tender' line, with a 13 m and a 19 m model.