A spectacular launch: Ferrari 488 Spider unveiled in London to Ferrari clients and VIP's.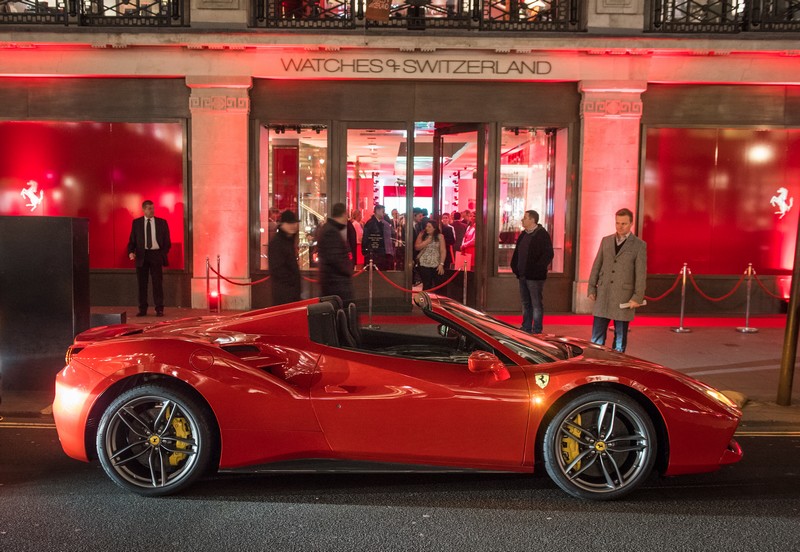 Ferrari 488 Spider was launched in London to Ferrari clients and VIP's including Jamie Campbell Bower, Lucy Watson, Becky Tong and Oliver Proudlock.
The Ferrari488 Spider is the latest chapter in Ferrari's on-going love affair with open-top V8 sports cars, a story that started with the targa-top version of the 308 GTB – the immortal 308 GTS – and which ultimately resulted in the full convertible Spider architecture.
Starting with the RHT (Retractable Hard Top), around which the entire car was developed, every area of the 488 Spider has been designed to set new technological benchmarks for the sector. The result is the most powerful and innovative Ferrari Spider ever built, a car that marries the extraordinary prowess of the 488 GTB coupé's mid-rear V8 with the joy of tackling even the most challenging roads surrounded by nature's heady aromas and colours and accompanied by an inimitable Ferrari engine soundtrack.
Guests were able to experience the Ferrari 'Tailor-Made' service. Guests were able to experience first-hand the unique service offered to Ferrari customers, 'Tailor- Made' is an atelier offering Ferrari customers the highest standard of craftsmanship and personalisation, allowing them the opportunity to select luxurious fabrics and colour combination with which to personalise their vehicles.