New Madison Avenue Location with 2-Story Facade to Open in May 2013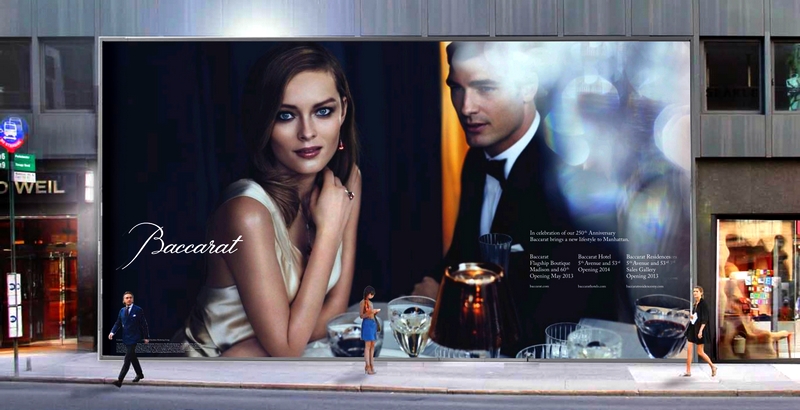 Baccarat (founded in 1764), the French luxury brand renowned for high-end and exclusive crystal products, celebrates the brand's upcoming 250th anniversary with a new flagship store in New York City scheduled to be open in May 2013. Located at 635 Madison Avenue at 60th Street, the expansive 2,800-square-foot store, designed by acclaimed architect and designer Rafael de Cardenas, will be "an experiential destination encompassing the Baccarat lifestyle". Baccarat's new global retail model will showcase tableware, lighting, decorative objects and jewelry.
"This new flagship store will be a landmark of the luxury, glamour and prestige that has set Baccarat apart," said Michelle Klein, President & CEO of Baccarat North America. "It will be a space for discerning shoppers to fully appreciate the brand's most coveted designs and to experience the unique Baccarat lifestyle, which celebrates its 250th anniversary in 2014."
Baccarat has enlisted architect and designer Rafael de Cardenas to create a contemporary concept that draws inspiration from the brilliance and artisanship of the brand's design history. Serving as an inspiring destination, the design exudes a crisp elegance through its surprising blend of rich woods and dark stones. The entryway's faceted surfaces reflect the brand's iconic sparkling chandeliers.
Devotees of Baccarat will have also the opportunity to experience the brand's exceptional lifestyle on a grander scale with the opening of the highly anticipated Baccarat Hotel & Residences New York, a joint venture between Starwood Capital Group and Tribeca Associates. The hotel is located on one of Manhattan's most prestigious blocks off Fifth Avenue, across from the Museum of Modern Art.