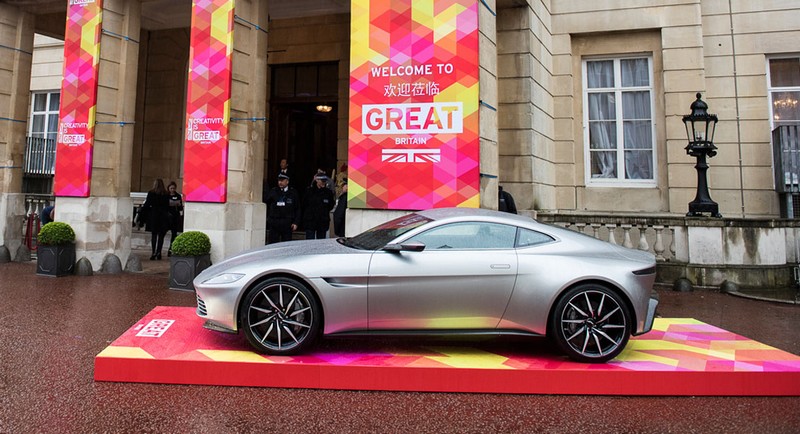 Aston Martin showcased a fully electric concept of its Rapide S four-door sports saloon. The new RapidE concept has been developed in collaboration with Williams Advanced Engineering at its facility in Grove, Oxfordshire.
Ahead of its imminent debut in the forthcoming James Bond film, Spectre, the Aston Martin DB10 was presented outside London's Lancaster House – the venue for a meeting between the Duke and Duchess of Cambridge and visiting Chinese President Mr Xi Jinping.
The luxury British sports car – built exclusively for Bond and limited to just ten examples – was on show as part of Aston Martin's ongoing support for the British government's successful, which showcases the best of what the UK has to offer to inspire the world and encourage people to visit, do business, invest and study in the UK.
"We see luxury electric vehicles as an intrinsic part of our future product portfolio and welcome ChinaEquity into the next phase of study for the project development. The exciting RapidE concept tangibly demonstrates the capability and ambition of Aston Martin towards developing low- and zero-emission sports cars," said Aston Martin CEO, Dr Andy Palmer.
Aston Martin and Chinese investment group, ChinaEquity, announced an agreement to explore the development of a production version of the RapidE concept. If successful, the new luxury sports car would be constructed at Aston Martin's global HQ in Gaydon, Warwickshire, and could be brought to market in around two years.
"We are excited to participate in the development of the RapidE and to make a contribution to Sino-British clean energy and green environmental strategy. We feel confident that there are significant opportunities for electric cars in China and the world," said Chairman Chaoyong Wang of ChinaEquity.
Chancellor of the Duchy of Lancaster Rt Hon Oliver Letwin MP who has supported the development of the project said: "Aston Martin is an iconic British brand, and I welcome their agreement today with ChinaEquity. It is a great example of British and Chinese businesses working together to develop links and bring benefits to the UK economy. It also demonstrates how a collaboration between the UK and China can develop the innovative low emission solutions needed to tackle the pressing global issue of air quality."