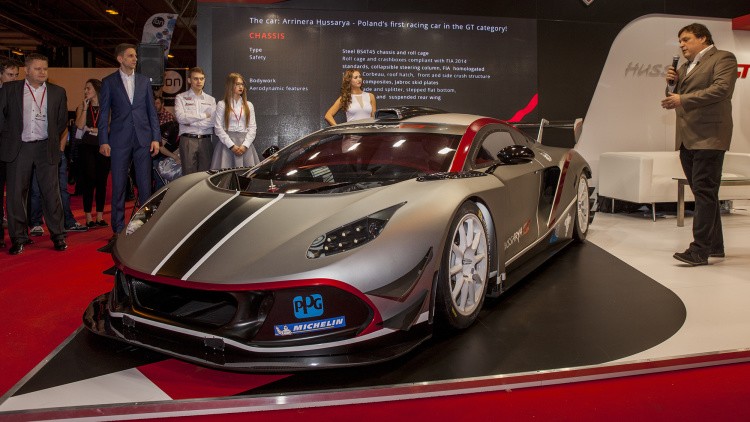 The young Polish race-car builder Arrinera, the manufacturer of the first ever Polish GT class Racing Car, made its debut during Autosport International's Racing Car Show in Birmingham, UK. The carbon-aluminum honeycomb structure called Arrinera Hussarya GT is to be an 'on demand' car, with specification created according to its future owner's needs.
Arrinera Hussarya GT has a V8 engine with a 6.2L capacity, generating from 420HP up to 650HP and over 580Nm till 810Nm of torque. We will see the £139,000 racecar in series like the Pirelli World Challenge and British GT Championship.
The designers of the supercar put a lot of thought into downsizing its weight. This was achieved thanks to a special BS4T45 steel used especially in motorsports cars. As a result, the racing car weights 1,250kg.
The race car's aerodynamics is biased toward track racing featuring a low positioned splitter diffuser and a flat floor. Small canards (dive planes) located on the sides of front section of body increase frontdown-force and create diagonal air vortexes which, together with front "Air curtains", minimize the influence of rotating front wheels on air flow.
With the drive on the rear wheel, Arrinera's is fitted with a Hewland LLS sequential, half-automatic, six-speed gearbox, steered via paddles located at the steering wheel. The car also has Pectel SQ6M inbuilt gearshift actuators, controlled through the steering wheel, integrated with traction control.
The Arrinera has a Cosworth ICD Pro computer – developed by Polish motorsport electronics manufacturer, Ecumaster, which enables readings and recordings of data and power distribution system.
The race car has a push-rod type wheel suspension which was designed specially for the Arrinera by Ohlins and is protected by
copyright. It consists of two classical, triangular swingarms and regulated by shock absorber springs. The brake kit for Arrinera Hussarya GT was supplied by Alcon and consists of 380mm disc brakes and 6 piston calipers.
The Polish supercar startup is currently in the process of bringing the Hussarya 33 to the street.