Anna Hu's Jadeite "Orpheus" ring – the highest auction sales price For A Chinese Contemporary Jewelry Artist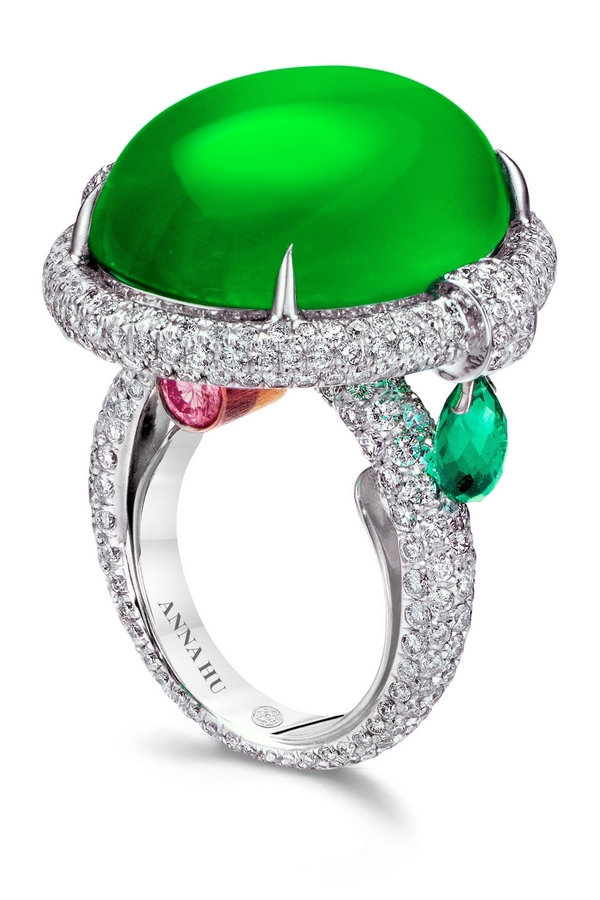 Anna Hu breaks the world sales record for a Chinese contemporary jewelry artist at Magnificent Jewels auction at Christie's in Hong Kong. Following intense bidding, the final price was $2,592,663.
The "Orpheus" ring is a lyrical invocation of the ancient myth of Orpheus and Eurydice in precious gems. The heart of the ring features a magnificent jadeite cabochon in an intense emerald green of brilliant translucency. The jadeite solitaire weighs an impressive 45.39 cts and is set in an embrace of pave white diamonds. A drop of briolette emerald, shaped like a note, adds musicality to the design and marks it a unique creation by Anna Hu , a classically trained cellist. Intricate details in exotic yellow and pink diamonds mounted in 18k gold of white, pink, and yellow harken back to Anna Hu 's roots in French haute joaillerie and classical Chinese art (Tang sancai). The total weight of diamonds is 4.51 cts.
Anna Hu founded her namesake brand, Anna Hu Haute Joaillerie, at the age of 30 and opened her first flagship boutique in New York's Plaza Hotel on Fifth Avenue, the epicenter of the world's finest brands. She is the only Asian American jewelry designer to work exclusively with French-trained artisans in their New York and Paris workshops. Highly educated in America with degrees from Colombia University, the Gemological Institute of America, Parsons School of Design, and NY's Fashion Institute of Technology, Anna is as much a scholar as she is an artist and her designs reflect that rarity and sophistication. Her work combines eastern and western influences, often inspired by classical music, fine art and nature.