Motor Trend Names Tesla Model S as 2013 Car of the Year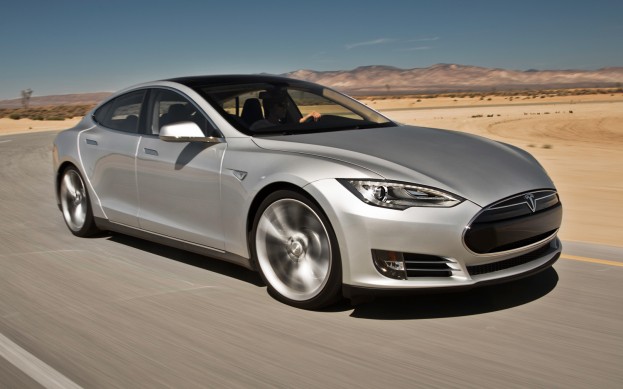 Motor Trend Magazine, one of the leading brands in automotive publishing, has selected the 2013 Tesla Model S as its 2013 Car of the Year, marking the first time a vehicle not powered by an internal combustion engine has been selected in the 64-year history of the award. 25 contenders (45 with variants) were put through Motor Trend's battery of testing designed to examine virtually every aspect of each vehicle.
Phase I was intended to eliminate vehicles that did not measure up to the award's six criteria: Advancement in Design, Engineering Excellence, Efficiency, Safety, Value, and Performance of Intended Function. The Car of the Year is not chosen from a direct comparison against the other contenders, but rather as a result of how it measures up to these key criteria.
Judges narrowed the field to 11 cars that would live to fight on in Phase II, a 28.5-mile mix of highways, city streets and tight canyon roads through scenic Tehachapi, Calif. Judges focused on how the 11 finalists performed in real-world conditions to evaluate factors including road and wind noise, steering response, and ride quality, as well as features in the car such as audio, climate, and infotainment systems (navigation, hands-free voice controls and smart phone pairing).
"We had an extremely competitive field for Motor Trend's Car of the Year," said Edward Loh, Editor-in-Chief of Motor Trend. "However, the Tesla Model S floored our panel of judges. The goal of the award is to name the car that best meets our six criteria, and the Tesla Model S accomplished that best. It is a testament not only to the luxury sedan and electric car segment, but to American engineering overall. To be the first car in the 64-year history of the award to be powered by something other than gasoline must mean it is very special. It is, and thus we're excited to name the Tesla Model S our 2013 Car of the Year."
In addition to the Tesla Model S, the 2013 Car of the Year competition included:
Compact Cars: Chevrolet Spark, Dodge Dart, Nissan Sentra.
Near-Lux Cars: Acura ILX, BMW 3 Series (Finalist), Cadillac ATS (Finalist), Hyundai Azera, Lexus ES, Toyota Avalon (Finalist).
Family Cars: Chevrolet Malibu, Ford Fusion (Finalist), Honda Accord (Finalist), Nissan Altima.
Premium Lux Cars: Cadillac XTS, Lexus GS (Finalist), Lexus LS, Mercedes-Benz S.
Green Cars: CODA, Ford C-Max Hybrid (Finalist), Toyota Prius C.
Sports Cars: Porsche 911 (Finalist), Porsche Boxster (Finalist), Scion FR-S, Subaru BRZ (Finalist).
Car of the Year is one of several coveted honors Motor Trend bestows upon automakers, including Best Driver's Car, Sport/Utility of the Year and Truck of the Year.