---
This article titled "Ai Weiwei, Julian Assange and graffiti grannies – the week in art" was written by Jonathan Jones, for theguardian.com on Friday 18th September 2015 15.21 UTC
Exhibition of the week
Celts
The misty world of druids, King Arthur and the Book of Kells is brought to life in an epic survey of ancient Britain and our ideas about it.
• At the British Museum, London, from 24 September until 31 January.
Other exhibitions this week
The World Goes Pop
A global survey of pop art, less Campbell's Soup and more manga than westerners usually imagine it.
• At Tate Modern, London, until 24 January.
Mat Collishaw
Dark and sensual explorations of the psyche and society from one of the cleverest minds in contemporary British art.
• At New Art Gallery, Walsall, and Birmingham Public Library from 25 September until 10 January.
Prem Sahib
Minimalist evocations of the body and the senses in Sahib's first big London show.
• At the Institute of Contemporary Arts, London, from 24 September until 15 November.
Hannah Collins
Emotionally powerful and historically atmospheric photographs by a substantial and serious artist.
• Baltic, Gateshead, from 25 September until 10 January.
Masterpiece of the week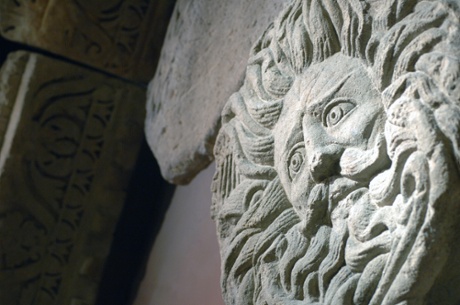 The Gorgon's Head
Carved by Gaulish craftsmen for the pediment of a Roman temple at Bath's hot natural spring, this face seems eerily Celtic and magical – the green man of the woods, the face of Merlin – although archaeologists currently suggest it may be the Roman god Oceanus. Alternatively, it is a snake-haired gorgon protecting the temple. Strange, spooky ancient stuff.
• At the Roman Baths, Bath.
Image of the week
What we learned this week
That Ai Weiwei and Anish Kapoor led a walk of compassion for refugees
That Ai Weiwei and Julian Assange have been hanging out and taking selfies
And that Ai Weiwei's new exhibition at the Royal Academy in London is moving, momentous – and gets five stars
That a portrait of the "awkward" girl who inspired the book Alice in Wonderland is going on show for the first time
That these extraordinary outsiders, a group of makers who don't know they are artists, will get their first major gallery show
All about the legendary "graffiti grannies" of Lisbon
How Bridget Riley's pounding psychedelic art will change the way you see everything
What the most endangered buildings in Britain are
Why Brazil's pop artists risked everything – exile, arrest and torture …
… But Tate's new exhibition The World Goes Pop is a bitty and disappointing tour of minor art
That an Iraqi family who fled Islamic State are on the Taylor Wessing photographic portrait prize shortlist
What it's like inside the London megaport you didn't know existed (expect robots and the world's largest cranes)
What life's like for the people who fled Syria for Lebanon
That Frank Gehry says his plan for LA will make New York's High Line look 'pishy'
That art's master illusionist, Alex Chinneck, defies gravity (again) with an upside-down pylon
That this might be the best photograph ever taken of cowboys
That The Broad, a $140m new museum that resembles a supersized cheese grater, has opened in LA
How the world caught up with photographer Wolfgang Tillmans
What the dead zones of capitalism look like
And finally …
Put yourself in the picture: share your artworks about art in our new Readers' art project
Come to Your Art, Our Walls, an exhibition of the best artworks by Guardian readers until 8 October at the Guardian, 90 York Way, London.
guardian.co.uk © Guardian News & Media Limited 2010
Published via the Guardian News Feed plugin for WordPress.