Abarth 'fuoriserie' at the 2013 Geneva International Motor Show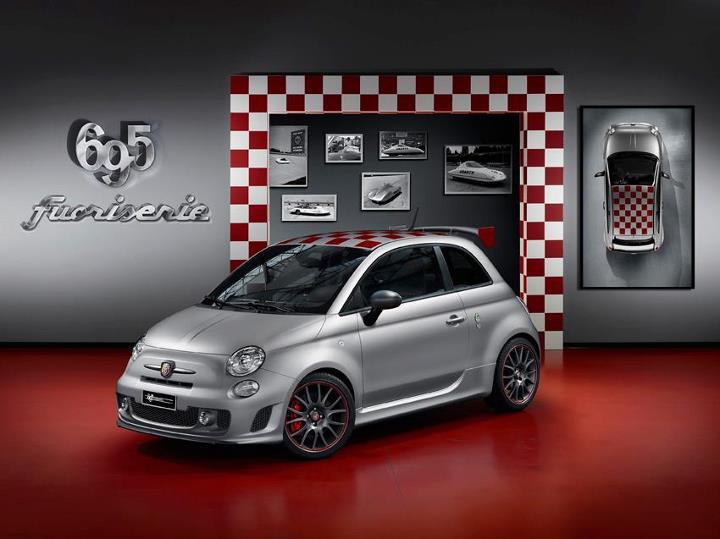 At the 2013 Geneva International Motor Show (which runs March 7 to 17), Abarth introduces the new Heritage collection and Abarth 'fuoriserie', a programme devoted to customers who want the exclusivity typical of custom cars together with top performance levels. The new service represents "the greatest level of customisation combined with the exclusivity of a car built and dedicated to each individual customer".
Associated with the spirit of motorsport and the history of Abarth, the new Heritage collection features the Abarth 695 'Record' and the Abarth 695 'Scorpione', with customisations that update the liveries of historical models, namely the Abarth 750 Record Bertone and the A112 or 124 Abarth.
The line-up at the Swiss show will also include the Abarth 695 'Hype' and Abarth 695 'Black Diamond' belonging to the New Wave collection, where the focus is on the latest trends and a quest for innovative materials and technologies.
Even the Punto is getting a makeover through the Punto Supersport. Customers can now choose a hand-crafted painted and polished roof and bonnet livery. The 1.4 MultiAir engine upgraded to 180 HP also comes as standard.
Abarth is also increasing its power on the track: the classic races for the European, Italian and Swedish Trophies will see the addition of new challenges on the Benelux and Portuguese circuits. That is not the end.
Race lovers who dream of the track can take part in the second edition of Make It Your race, a unique talent show for aspiring drivers: this race in stages starts with online selection and involves local events before allowing the very best to battle it out in a final race at Monza together with professional drivers. The entire exciting process will unfold in the same way as a talent show and be broadcast by international TV channels.