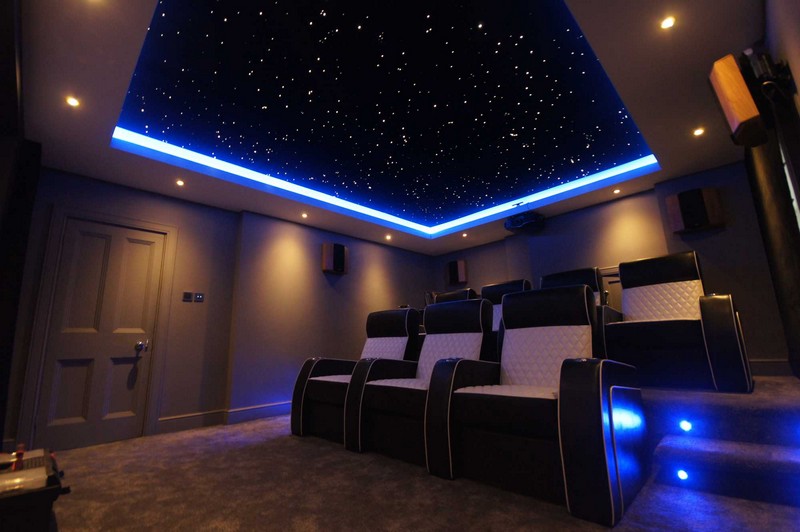 There's nothing quite like a star ceiling to add the finishing touch to a dedicated home cinema room, helping to make the room a special refuge where you can really relax.
Seen in cinemas, on yachts, cars and theatres, these professional convincingly realistic starry-night effects can be added to your ceiling. Fibre-optic Infinity ceiling panels from Starscape includes hundreds of fibre-optic stars, in four different sizes.
Fibre optic star ceilings are perfect in the bedroom or nursery for creating that sensation of sleeping out under the stars, and a star ceiling also adds that finishing touch to a dedicated home cinema room. Fibre optics can also be used in a huge range of other innovative lighting applications, both indoors and out.
"Ready-made star ceiling panels are a quick and easy-to-fit solution for solid/downstairs ceilings while a DIY star kit may be the most cost-effective solution for the bedroom cinema room," explains starscape team.
The Infinity star ceiling is a lightweight, versatile, modular panel system that can be installed on solid ceilings. This makes it ideal for downstairs and basement rooms where there's no access from above the ceiling. It's also great for retro-fitting to existing home cinemas since it installs very quickly – perhaps two to three hours for a typical room – and with no mess. A very high star density of 100 stars per square metre means that Infinity comes with guaranteed Wow factor.
One of the Infinity system's features is its non-reflective finish. Contrast the ceiling with the reflected light from the wall and framed posters. Home cinema purists favour non-reflective surfaces since the darker the environment the better the image on the screen will look.