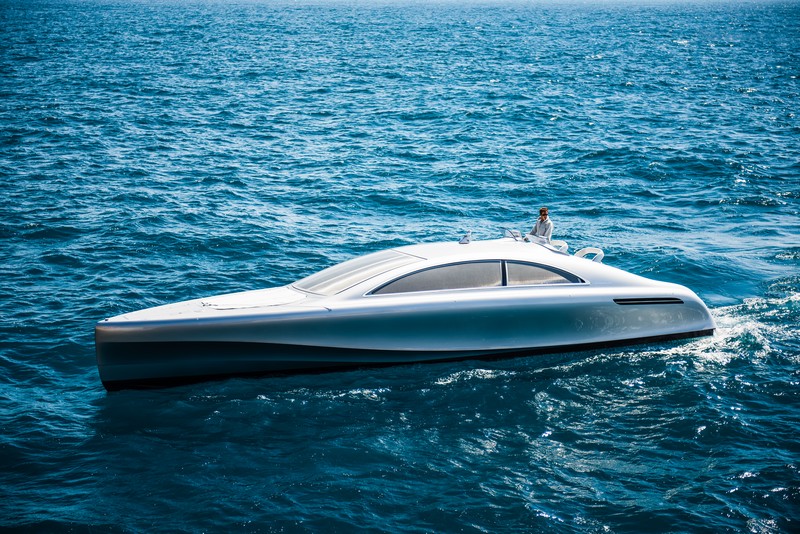 Mercedes-Benz unveiled its first-ever luxury motor yacht – Mercedes-Benz Arrow460–Granturismo Yacht. The luxury motor yacht "Arrow460–Granturismo" designed by Mercedes-Benz has embarked on its maiden voyage off the coast of Nice.
The 14-metre long, 706 kW (960 hp) "Silver Arrow of the Seas" combines the performance of Mercedes-Benz sports cars with unique innovations from the boat industry. The yacht combines the advantages of an open boat with those of a hull cabin cruiser in unique fashion. Its crossover design offers the ultimate in variability, resulting in a boat that is equally suitable for day trips and overnight stays on board.
"In developing the new motor yacht, we have transferred our expertise to the marine industry, creating something never seen before in the process. The 'Silver Arrow of the Seas' stands for modern luxury, avant- garde style and comfortable elegance. The yacht embodies the Mercedes-Benz's progressive, dynamic design philosophy of sensual purity on the water. Or, to put it another way, it is hot and cool in one, and stands for emotion and intelligence," said Gorden Wagener, Vice President Design Daimler AG.
The 14-metre long, 706 kW (960 hp) luxury motor yacht "Arrow460–Granturismo" can accommodate up to 10 persons. The large side windows are retractable, and the windscreen can be raised. This means that passengers can sit comfortably in the interior while enjoying an all-round view and the feeling of sitting in the open. Tables and beds are extendable, and therefore available as and when required. Superior comfort is assured by a luxurious bathroom unit and separate dressing room. As standard the yacht is equipped with every feature an owner might wish for. Apart from an air conditioning system and a high-quality audio system, it has a "wine- cellar" and an ice-making machine.
"Together with Silver Arrows Marine we have managed to develop a totally new boat concept. By virtue of maximum variability, the yacht combines the advantages of an open boat with the generous interior and privacy of a cabin cruiser. It weds charismatic design with perfect functionality, much in the same way as is familiar from our road vehicles. As such, the 'Arrow460–Granturismo' is sure to cause a stir on the seas and at marinas throughout the world in the coming years," added Wagener.
"Almost everything about Arrow 460 Granturismo is unique, from its concept to the smallest bespoke detail. It is a motor yacht with a personality that truly embraces life, combining the best marine engineering with the inspired innovations and elegance that the world associates with the Mercedes-Benz name. By merging marine and automotive worlds, with their respective design language, technologies and ideas, we have created a new standard of motor yacht, unlike all others," said Silver Arrows Marine Chairman Ron Gibbs.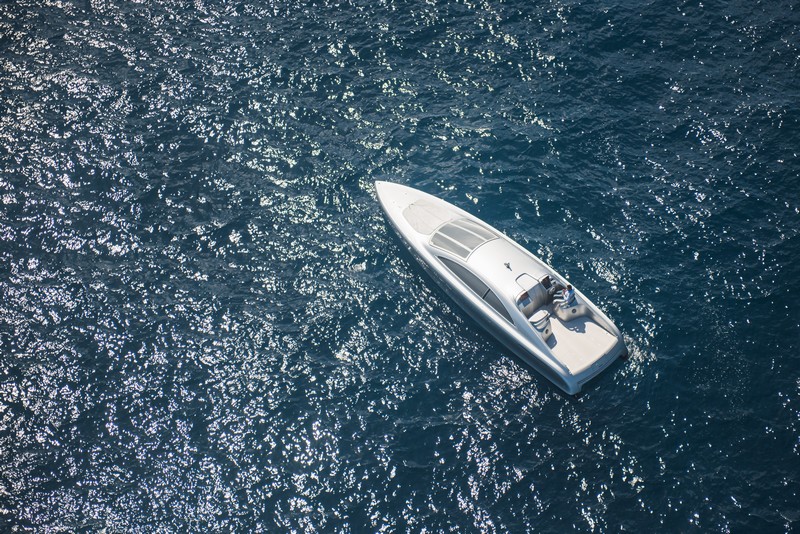 Mercedes-Benz Style transfers the brand's design and high standards of luxury, aesthetics and technological innovation to other areas of life. In 2011 the Airbus Helicopters "EC145 Mercedes-Benz Style" lifted off as the first mobility product beyond the automobile. The interior, which excels with exceptional variability and exquisite materials, was created by Mercedes designers. All the seats are mounted on rails and can be positioned in various arrangements for four to eight persons, or completely removed. The new "H145 Mercedes-Benz Style" is tailor-made for luxury-class business and private travel. To date, ten units have been delivered to customers.
At present the designers are working together with Lufthansa engineers to create a completely new and luxurious cabin concept for short and medium-range aircraft. The classic division between the ceiling, walls and floor is blurred by a dynamic, spiralling division of space. This gives rise to new, independent spatial zones without the typical arrangement of seat and wall elements. The new sense of space is additionally reinforced by Mercedes's typically strong emphasis on contrast in terms of material, colour and lighting.
Since 2015 the label has cooperated with the Frasers Hospitality Group, an internationally leading provider of luxury apartments and associated services. Mercedes-Benz designers have fitted out six apartments in London and nine in Singapore. In addition they have developed the futuristic "Ameluna" hanging pendant together with the Italian lighting design company Artemide. With its visually sophisticated combination of clear contours, sensual surfaces and intelligent high-tech, was inspired by the underwater world. The high- end variant of the lamp additionally comes with a separate light source in various colours, which generates ambience lighting, familiar from Mercedes vehicles. "Ameluna" is controlled from an app. It was presented at the Light + Building exhibition and at the Salone del Mobile in Milan. The spring/summer collection from Mercedes-Benz Style Eyewear, produced in cooperation with Rodenstock, Germany's leading producer of spectacle lenses and frames, goes on sale at specialist dealers in April 2016.