Zonda 764 Passione to be the very last Zonda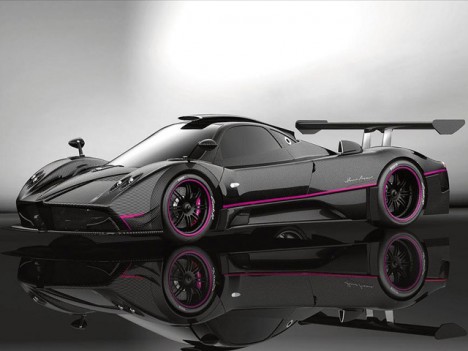 Pagani, the Italian manufacturer of sports cars and carbon fibre founded in 1992 by Argentinian Horacio Pagani, is building the very last Zonda that will ever roll out of its factory in San Cesario sul Panaro, near Modena, Italy. One of the reasons? The V-12 engine that goes into every Zonda has been ceased from production by AMG.
After twelve years of production, Pagani will end Zonda production with Zonda 764 Passione, a ultra-luxury sports car infused with pink highlights. Horacio's amazing machine will have pink painted brake calipers, pink trimming lines in the body, pink elements of the engine, and will be based on most recent Zonda 760 line. Expect a 760-horsepower 7.3-liter AMG V-12 fitted to the 760 RS and 760 LH.
Pagani's first model, the Zonda, is propelled by mid-mounted V-12 DOHC engines manufactured by Mercedes-Benz's AMG division. The car's design was inspired by jet fighters and the famous Sauber-Mercedes Silver Arrow Group C cars, and features several unique design elements, including its circular four pipe exhaust.
Some of the early Zonda engineering was done by Formula One champion Juan Manuel Fangio. The car was originally to be named the "Fangio F1" after him but, following his death in 1995, it was renamed for an air current above Argentina.