Krug & Chef Marc Forgione Dinner Benefitting the James Beard Foundation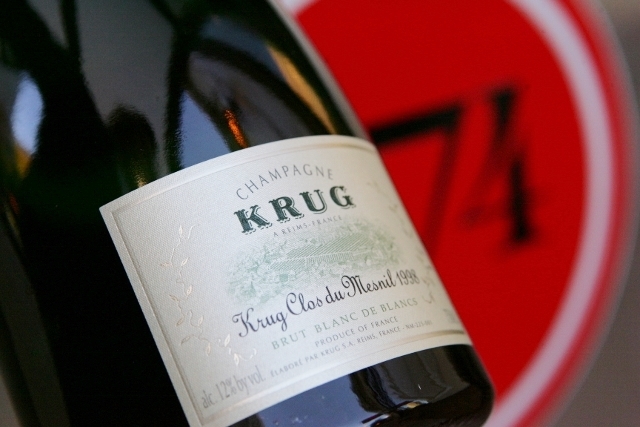 After launching Krug House New York at a luxurious town house in downtown Manhattan last summer, the concept has been re-imagined in other key markets, including Aspen and Los Angeles. Conceived as a unique way to bring to life the generosity and unique savoir-faire behind the Maison, Krug House allows guests to immerse themselves in the meaningful and timeless experiences that define Krug.
This October, Krug Champagne – the world's first luxury Champagne House – announces the return of Krug House New York. The lineup of programming that includes: a private dinner to honor the recipient of the second annual Krug Lifetime Achievement Award; exclusive Krug tasting dinners benefitting The James Beard Foundation hosted by Iron Chef Marc Forgione and Olivier Krug, 6th generation, and Margareth Henriquez , President and CEO of Krug Champagne; private sommelier tastings and intimate lunches with Oliver Krug and Krug's esteemed Cellar Master Eric Lebel; and an unforgettable evening fete creatively curated to represent the universe of Krug;
"With each Krug House we strive to recreate Joseph Krug's unique vision of a champagne house founded on the philosophy that the essence of Champagne is pleasure itself," says Carl Heline, US Brand Director for Krug Champagne. "The New York Krug House is not a venue in the traditional sense, rather a private home that speaks to the generosity of Krug. Every artifact and antique has a story that can be traced back to a smile and a dream. The Krug spirit is everywhere – in the bones, in the conviviality of the floor plan – it's clear the house was designed to share special moments. To share Krug."
Krug House New York will commence with a private party to honor Madeline Triffon, recipient of the Second Annual Krug Lifetime Achievement Award. This prestigious accolade was conceived as a way to honor and celebrate exceptional achievements in wine service, education, and hospitality and was first awarded to fellow Master Sommelier and industry veteran, Roger Dagorn, last October.
The Second Annual Krug Lifetime Achievement Award will be presented with an intimate dinner ceremony featuring Krug's unique roster of prestige cuvees and attended by Madeline Triffon's friends and colleagues. America's first certified female Master Sommelier, and a former Chairman of the American Chapter of the Court of Master Sommeliers, Madeline Triffon is currently Master Sommelier for Plum Market West in Bloomfield, Michigan.
For the first time, Krug House New York is partnering with another visionary craftsman who shares this commitment to undisputed quality – Chef Marc Forgione. The Michelin starred Chef will host two private charity dinners with Olivier Krug and Margareth Henriquez on October 8th and 10th, working alongside Krug to create and execute a pairing menu featuring Krug's exquisite collection of prestige Champagnes, including Krug Grande Cuvee, Krug Rose, and Krug Vintages 1998 and 2000, along with other exquisite surprises for these exclusive events.
Krug House New York Event Calendar

Sunday, October 7th
Krug Lifetime Achievement Award Dinner
By Invitation Only
Monday, October 8th
Krug Dinner with Chef Marc Forgione
$300 per ticket
Proceeds to Benefit The James Beard Foundation
7:30 PM
Wednesday, October 10th
Krug Dinner with Chef Marc Forgione
$300 per ticket
Proceeds to Benefit The James Beard Foundation
7:30 PM
Thursday, October 11th
Krug Lovers Party
By Invitation Only