Glenfiddich Unveils Malt Master's Edition to Celebrate 125th Anniversary YearGlenfiddich unveils new limited-edition expression: Malt Master's Edition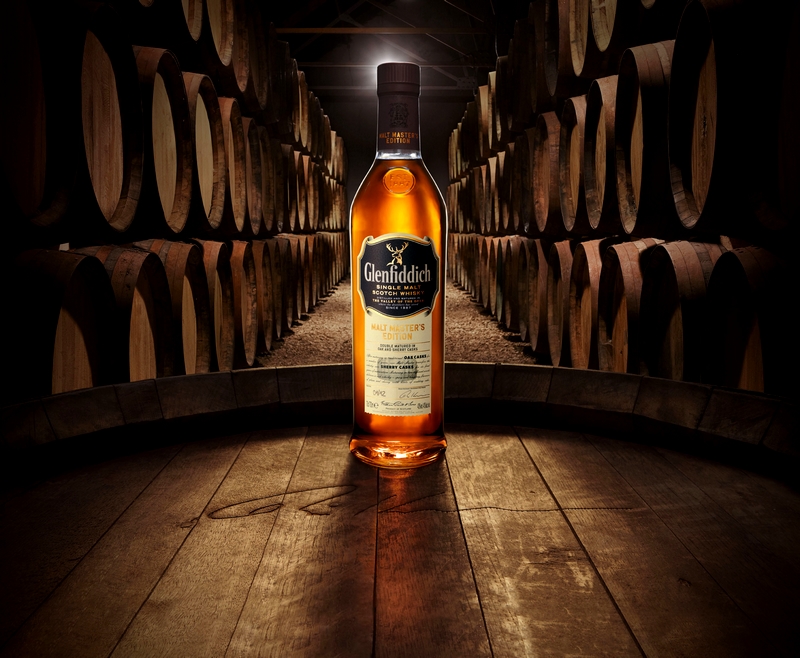 Glenfiddich's Malt Master Brian Kinsman created an exceptional limited-edition that is the first expression to adopt the double maturation process. Glenfiddich Malt Master's Edition encapsulates the fifth-generation family-owned distillery's innovative casking techniques. The whisky is complex in taste and flavor imparted from two different woods. Using the highest quality of both Sherry and Refill Bourbon casks throughout the Glenfiddich range, this rare liquid reflects the distillery's historic 125 years of creating the most sought after whiskies in the world.
As Malt Master, Kinsman is in charge of the Glenfiddich's pioneering whisky making process, from cask selection and overseeing the marrying of different ages and characters to managing the unique maturation process within the warehouse in the Dufftown, Scotland. A chemist by training, Kinsman became Glenfiddich Malt Master in December 2009, having first served an eight year apprenticeship under his predecessor David Stewart, who held the post for 35 years and is currently the industry's longest serving Malt Master.
"It is a true honor to be the sixth Malt Master at Glenfiddich during the distillery's milestone 125th Anniversary year," said Malt Master Brian Kinsman. "Glenfiddich established the single malt Scotch whisky category in 1963, when we became the first distillery to successfully export outside Scotland. I am proud to launch the Glenfiddich Malt Master's Edition as a tribute to the pioneering history that goes into each and every bottle of whisky we produce. The aim with all of our limited edition expressions is to showcase the distillery's special quality of the liquid, which this rare innovation captures so beautifully."
Glenfiddich Malt Master's Edition delivers a rich, ruby-red whisky with a complex nose that intermingles damp earth and whisky-soaked wood with deep vanilla and a touch of smoky embers. At first taste, the whisky has a sherbet zing which then slowly takes on a spicy, fruity character of plum and cherry with hints of toasted almond and wedding cake. The finish is silky and smooth.
Glenfiddich Malt Master's Edition (ABV of 43%) is available with a retail price of $79.99.
Generally recognized as having pioneered the single malt category in 1963, when it introduced the first range of non-blended malts, Glenfiddich to this day retains the pioneering tradition established by William Grant, making it the proud recipient of nearly 200 international awards since 1998 and making it the number one selling Single Malt Whisky in the world. The Glenfiddich range includes the core 12 (40% ABV; RRP $45.99), 15 (40% ABV; RRP $54.99), 18 (40% ABV; RRP $84.99) and 21 Year Old (40% ABV; RRP %154.99) expressions, as well as a series of rare and precious expressions, including the renowned Glenfiddich 50 Year Old, a bottle of which sold in 2009 for a staggering $38,000.