Continued demand for accessible luxury fashion
Interest is strong for luxury automobiles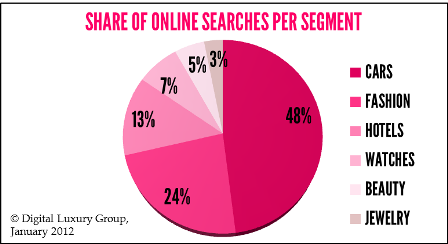 In partnership with Luxury Society, the world's largest community of luxury executives, Digital Luxury Group (DLG) has deciphered the top 50 most-searched for luxury brands in the United States in 2011. It will be very interesting to compare the result with a similar study for Europe.
470 million intentions expressed by American consumers using Google and Bing to search for luxury  related to 500 luxury brands from 6 different segments (watches, jewelry, fashion, beauty, automotive, hospitality) were ranked by DLG.
Whilst uncovering the most in demand luxury brands online, the "US Top 50 Most-Searched Luxury Brands in 2011" study identified the following key trends:
Luxury automotive brands are clearly leaders, with BMW and Audi ranking in the 1st and 2nd spot across all brands. Out of the top ten most-searched for luxury brands, six were automotive brands. American mid-level luxury brand, Coach, ranks 3rd overall, outperforming both Louis Vuitton and Chanel in consumer interest for luxury fashion and accessories brands.
Travelling Americans do their hotel research online and Hilton Hotels, ranking in 6th position of most-searched for brands, surpassed Sheraton and Wyndham Hotels. Ranking 13th overall, Rolex was the most-searched watch brand, while Cartier (22nd overall) leads the way for jewelry brands. Along with Tag Heuer  in 44th position, these two brands were the only representatives amongst  luxury watches in the top 50 ranking. Cartier (22nd overall) leads the way for jewelry brands. The only other Jewelry brands to feature in the top 50 are Swarovski  in 41st position and Bulgari in 47th position.