Mercedes-Benz will premiere the S65 AMG 2014 – a true eye-catcher with a self-assured presence.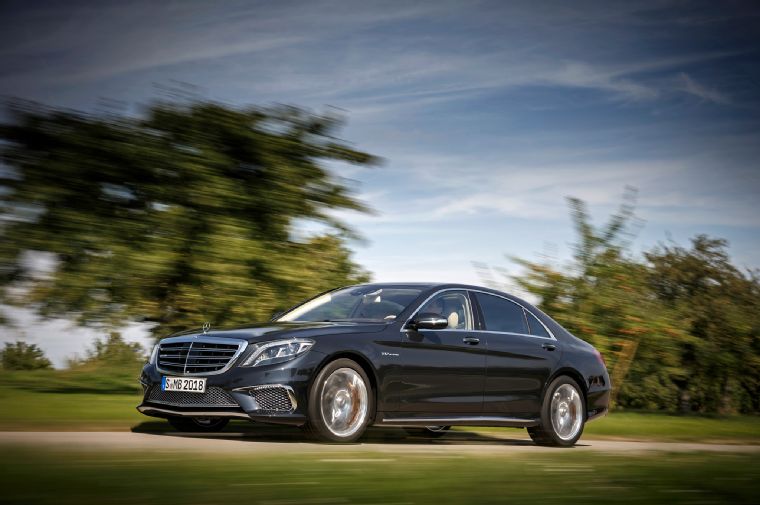 At the upcoming Los Angeles Auto Show, Mercedes-Benz presents S-Class 65 AMG luxury sedan. The S65 AMG is the only high-performance 12-cylinder automobile from a German premium manufacturer – and it's a car with a pedigree: the first generation of the S65 AMG (V 220) was launched in 2003 (2005 in the U.S.), with the second generation (V 221) being produced from 2006 until 2013. 
"Soon after the successful launch of the S63 AMG, we are unveiling the new S65 AMG. Supreme exclusivity and incomparable dynamism provide the guarantee of a high fascination potential. With the third generation of the S65 AMG, we offer our loyal and discerning V12 customers a unique high- performance automobile," said Tobias Moers, Chairman of the Board of Management of Mercedes-AMG.
The AMG 6.0-liter V12 biturbo engine delivers 621 hp (463 kW) with a maximum torque of 738 lb-ft – figures that enable the S65 AMG to outperform all other vehicles in its segment. This superiority is highlighted by the car's performance: the S65 AMG accelerates from 0 to 60 mph in 4.2 seconds, with a top speed of 155 mph (electronically limited). The strengths of the 12-cylinder biturbo engine from Mercedes-AMG include its effortless acceleration in all speed ranges as well as its refined operation with the distinctive V12 sound typical of AMG. In short: the S65 AMG impresses with its superior and stylish performance.
The S65 AMG features as standard the AMG sports suspension based on MAGIC BODY CONTROL. The new S-Class is the first car in the world able to recognize road surface undulations in advance. If ROAD SURFACE SCAN detects such undulations with the help of the stereo camera, MAGIC BODY CONTROL adjusts the suspension in advance to suit the situation. The "Comfort" and "Sport" modes are available for a driver-defined suspension setup. While AMG-specific elastokinematics on the 4-link front axle and multi- link independent rear suspension make for greater directness when a dynamic driving style is adopted, the AMG sports suspension based on MAGIC BODY CONTROL ensures the legendary Mercedes long-distance comfort.
The 2013 Los Angeles Auto Show takes place at the Los Angeles Convention Center from November 22 to December 1, 2013.