MANSORY Zapico custom bike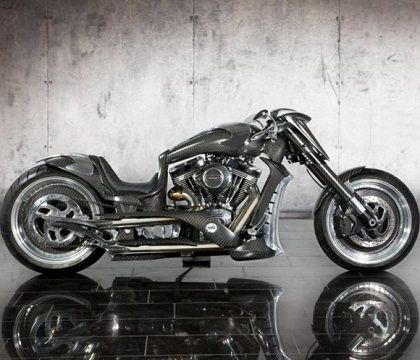 It's not only for four-wheeled luxury vehicles that the top-quality range from high-end manufacturer Mansoryhas received awards; its genuine custom bike is famous too. This is shown most impressively by the Mansory bike Zapico, developed in collaboration with bike customiser Thomas M. George.
The hand of company boss Kourosh Mansory is plain to see: the finest carbon, most lavishly processed, decorates the impressive-looking cruiser while the front mask, bug spoiler, seat module, primary shield and silencer as well as the applications on the fuel tank, the frame, fork, wheel rims and airbox all originate from the MANSORY factory in the town of Brand in the Upper Palatinate region of Bavaria. The bike's leatherwork is further testament to the exquisite craftsmanship applied – unmistakeably Mansory.
The custom Mansory bike is driven by a powerful 124 cubic inch (around 2,080 cm³) V2 engine made by the well-known American engine manufacturer S&S. This large two-cylinder engine delivers a full 160 hp to the extra-large rear tyres and can accelerate the 340 kg bike from 0 to 100 km/h in just 3.3 seconds.
Company owner and namesake Kourosh Mansory and his team have been customising exclusive car brands like Aston Martin, Bentley, Ferrari, Porsche and Rolls Royce since 1989. Mansory stands for high-tech production combined with master craftsmanship and the finest materials. Harmoniously designed aerodynamics packages, ultra-light aluminium wheel rims and powerful engine performance upgrades form the basis of the company's technology range. Top-quality accessories and stylish interiors complete the range.
[adsenseyu1]
Key technical data for MANSORY Zapico custom bike:
Tyres:
Front: 130/60/18″
Rear: 280/35/18″
Wheel rims:
Front: 3.5 x 18″ carbon disc
Rear: 10 x 18″ carbon disc by Mansory
Engine:
S&S T 124 V2 (spring-loaded vibration), the only one of its kind found in this suspension worldwide
Capacity: 124 cubic inches (ca. 2,080 cubic cm)
Power: 160 hp at 5,200 revs per minute
Gears: 5 gears
Bodywork:
CFRP by MANSORY:
Design by Thomas M. George
Front mask, bug spoiler, seat module, primary shield, silencer applications, fuel tank, frame, fork, wheel rims, airbox
Aluminium applications on the fuel tank, spoiler and rear fender.
Leather: By Mansory
Weight: Around 340 kg with the tank filled up
Acceleration: 0 to 100 km/h in 3.3 seconds.
[adsenseyu1]