The SEMA Show takes place October 31 – November 3, 2017 at the Las Vegas Convention Center.
Bollinger Motors announced that they surpassed 10,000 reservations for their B1 all-electric sport utility truck over the weekend. These pre-orders represent hundreds of millions of dollars in potential revenue for the company from eventual vehicles sales. Fleet orders are not included in that number as those are not being taken until pricing is announced.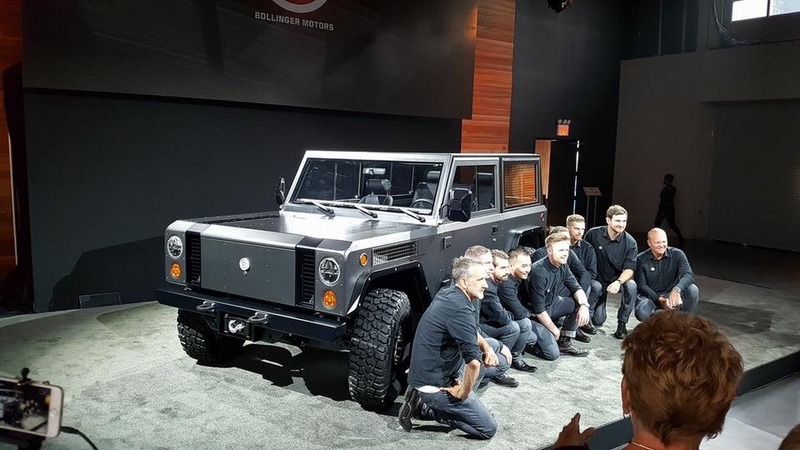 "I can't believe we've reached this number of reservations so quickly. The media attention from our reveal in July was amazing and the thousands of emails from fans we keep getting are incredible," said Robert Bollinger, CEO Bollinger Motors. "I think we really built something unique. A lot of people from all over the US and the world want a tough, capable truck that's also electric and we can't wait to start production."
The company also announced that the Bollinger B1 will make its industry debut at the Specialty Equipment Manufacturer's Association (SEMA) show which runs from October 31st through November 3rd in Las Vegas.
On September 6th, Bollinger Motors revealed the first image of the 4-door version of its B1 all-electric sport utility truck. The sketch also shows off a new orange exterior color which will also be available at launch.
"We always wanted to make a 4-Door version of the B1," explained Robert Bollinger. "And our assistant designer Ross Compton and I developed a great sketch. The vehicle still has great proportions and it's amazing off-road capabilities remain intact since we only had to stretch the chassis by 9 inches"
Adding the 2 doors creates a new overall vehicle length of 159 inches and new wheelbase of 114 inches. While the truck will have the same class-leading ground clearance (15.5 in), adjustable wheel travel (+5/-5 in), approach (56) and departure angles (53) it will have a new breakover angle of 31 degrees.
The lengthier vehicle now provides an additional 6 cu. ft. of cargo volume for a total of 101 cu. ft. Both the 2- and 4-door variants will have the same battery options available of either 60 kWh or 100 kWh.
While the Bollinger B1 sports serious off-roading credentials, the vehicle also has impressive performance statistics generating 360 horsepower and a massive 472 lb-ft of torque. And with the instant torque provided courtesy of the electric drivetrain, the B1 has a noteworthy 0-60 time of just 4.5 seconds and a top speed of 127 miles per hour. The B1 weighs in at just 3,900 lbs giving it a 10.8 power to weight ratio. With a payload capacity of 6,100 lbs, the gross vehicle weight rating (GVWR) checks in at just over 10,001 lbs.
"The B1 combines Bollinger Motors' advanced all-wheel-drive system with our all-electric powertrain to produce best-in-class horsepower, torque and ground clearance," said CJ Winegar, Bollinger Motors engineer. "This vehicle signifies a huge leap above what is currently on the market. There's nothing like it out there."
The B1 employs a dual-motor powertrain configuration using front- and rear- mounted synchronous electric motors driving all four wheels, delivering up to 270 kW (360 hp) power. The production B1 will offer two lithium ion battery pack options: 60 kWh or 100 kWh, producing either 120 miles or 200 miles in range.
"Bollinger isn't trying to start the next Tesla, and he's not trying to compete with electric cars like the Chevy Bolt," commented theverge.com "His company isn't pursuing autonomous tech, or worrying about how ride-sharing is going to affect the future of transportation. Bollinger is simply trying to prove that there's room for some grit in the typically clean electric vehicle space. He just happens to be doing it in the middle of goddamned nowhere." Read more about Robert Bollinger, the founder of the small new American EV startup.