Japanese House of Suntory announced the global introduction of Yamazaki Sherry Cask 2016.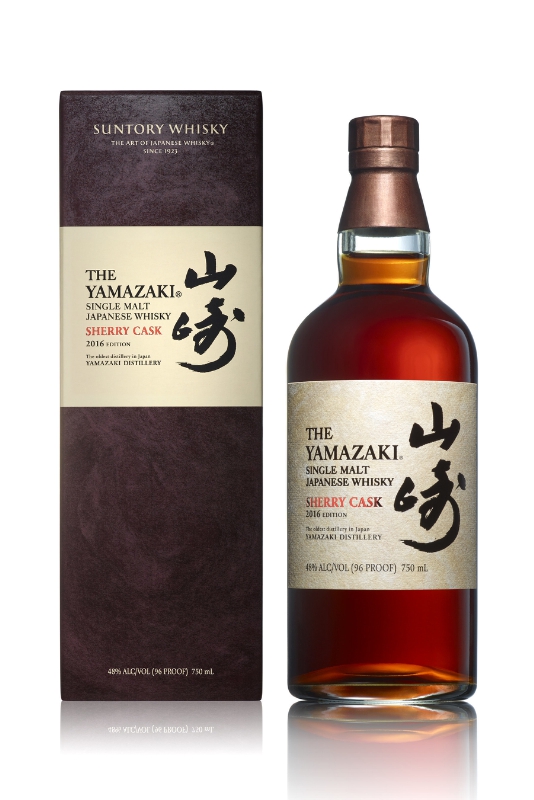 Chief Blender Shinji Fukuyo from award-winning Japanese Suntory distillery is often compared to an artist. His blends are
deliberate designs meticulously chosen from more than 100 malt whiskies. Each taste is a color and aroma, specifically curated for the occasion. Fukuyo is clear that he did not blend the Yamazaki Sherry Cask 2016 for the novice. The Yamazaki Sherry Cask 2016 is created for the "Suntory Whisky Lover"—a lover of complex, refined and subtle tastes. Like the rest of the Yamazaki Cask Collection (Mizunara, Bourbon Barrel, and Puncheon), the sherry cask is a critical component that differentiates and characterizes the award-winning Yamazaki Single Malt Whisky.
It may have come as a surprise that Suntory Whisky Yamazaki Sherry Cask 2013 was named "World Whisky of the Year" in Jim Murray's 2015 Whisky Bible. However, sherry cask whisky has been a constant staple of the Suntory Whisky portfolio since 1924, a year after the distillery began construction. Shinjiro Torii, the founding father of Japanese whisky first started making his whiskies by leveraging sherry casks imported from the wine of southern Spain needed to blend his famous Akadama Sweet Wine. Hence, the sherry cask was the first cask used by Suntory Whisky and plays an important role in the origin of Japanese whisky.
Sherry casks are both revered and feared for their strong character, as they can easily overpower a whisky's flavour. The Yamazaki malts can also be affected by this sherry/Spanish oak cask flavor. However, in the case of the Yamazaki Sherry Cask, Suntory's Chief Blender Shinji Fukuyo selects only those casks in which the delicate balance of chemistry between the Yamazaki malt and sherry cask can be achieved, thereby enhancing Yamazaki's characteristically rich and multifaceted flavor. The meticulous selection process of the Spanish oak, the management of the sherry casks, and the overall aging process ensure the final award winning quality of this liquid.
The Yamazaki Sherry Cask 2016 leverages the same lot of whiskies as was used for the Yamazaki Sherry cask 2013 for its base. These whiskies have matured for two more years. To this blend, Fukuoy adds various rare sherry cask single malt whiskies, some of which are more than 25 years old, creating a whisky that has a deep richness, mellowness and complexity of flavors.
"Yamazaki Sherry Cask 2016, a single malt whisky, is presented at 48% alcohol by volume (96 proof) and will be available in market as of February 1, 2016. The suggested retail price is $300.00. Five thousand bottles of Yamazaki Sherry Cask 2016 have been produced globally," announced Suntory Whisky, a pioneer of Japanese whisky.
Suntory Whiskies' portfolio includes two single malt whiskies and one blend: Yamazaki—Japan's #1 Single Malt, multi-layered and profound, Hakushu—verdant, fresh, and delicately smoky, and the noble blend, Hibiki—Japan's most highly awarded blended whisky.