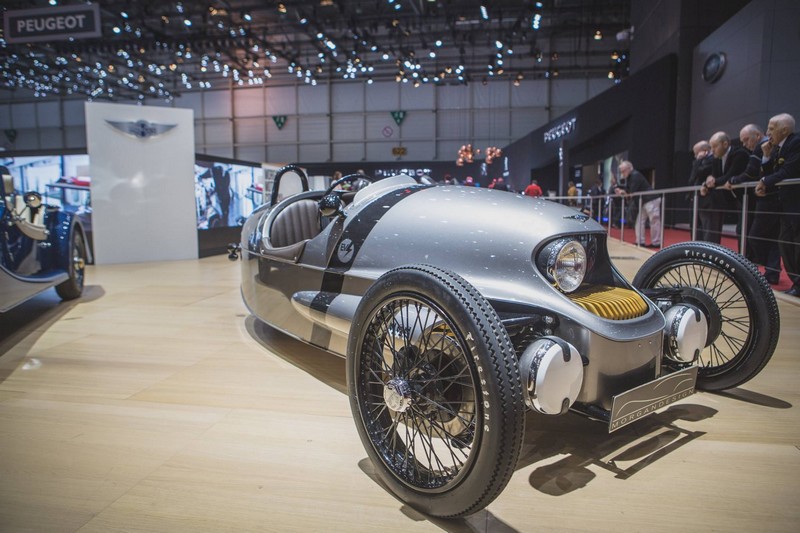 Following a soft launch of the Phase 1 concept EV3 in 2015, British automotive manufacturer Morgan Motor Company showcased at the Geneva Motor Show the final" pre-production phase" car which reveals the restyled body and interior. Weighing less than 500kg, the all-electric 3 Wheeler has a range of 150 miles. Morgan EV3 looks at the world of zero emissions motoring from an entirely different perspective.
Lightweight agility is complemented by performance figures that challenge those of the petrol 3Wheeler. 0-62mph takes less than 9 seconds and a top speed in excess of 90mph. Encased within the tubular space frame chassis is a 20KWh Lithium Battery and a liquid cooled 46kW motor driving the rear wheel.
The EV3 is the first Morgan vehicle to utilise composite carbon panels in its body construction. The carbon bonnet, tonneau cover and side pods are made in the UK, and much like the remaining aluminium panels, are hand worked over an ash wood frame. Taking inspiration from 1930's aeroenginerace cars, classic motorcycles and 1950's fantasy automatons, the face of the EV3 is designed to function.
The tail lift once seen on 1930's Morgan 3 Wheeler race cars, has been re-introduced, subsequently creating a visually forward stance. This is enhanced with low slung running lights that carry through the cylindrical form of the side pods. An entirely new dashboard arrangement features a classic 'magneto' switch for drive selection, a digital screen, wood, brass and polished aluminium.
The EV3 will go into production in the fourth quarter of 2016 and will be priced comparably to the petrol 3 Wheeler. This launch coincides with an announcement that the Morgan Motor Company willreceive government funding towards a £6m consortium-based project developing future hybrid andfull EV Morgan vehicles.