What about your mobile competence? L2 Prestige 100: Mobile IQ: study
Sephora, Nordstrom, Macy's, NET-A-PORTER and Bloomingdale'ssecure the top spots in the inaugural L2 Prestige 100: Mobile IQ report that measures the mobile competence of 100 brands.
The Mobile IQ distribution reveals a significant, widespread underinvestment in mobile, as nearly half the brands were designated as Feeble.

While more than half the brands in the Index maintain both an app and a mobile site, 16 percent of brands
have yet to produce either. Icons such as Hermès, Patek Philippe, Bottega Veneta, and Marc Jacobs rely exclusively on their traditional site experience, which in some cases proves inaccessible on mobile devices.
The L2 ranking measures the mobile competence of 100 brands drawn from five industries: Beauty & Skincare, Fashion, Hospitality, Retail, and Watches & Jewelry. Brands were measured against more than 250 data points across four dimensions: Mobile Sites, Mobile Apps, Mobile Marketing, and Innovation & Integration, and were assigned a Mobile IQ and a corresponding class of Genius, Gifted, Average, Challenged, or Feeble.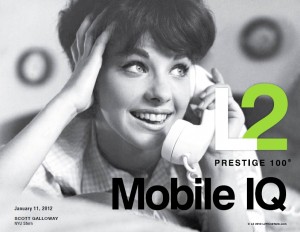 Only two-thirds of prestige brands maintain a mobile-optimized site, and one-third of these mobile development efforts do not yet support commerce. While 70 percent of brands have mobile apps, fewer than 20 percent of brands have created unique app content for tablet devices such as the iPad, which register high usage among affluent consumers, finds the L2 study.
Anothe key finding is that the retail brands outperformed other prestige categories by a significant margin. Of the 14 brands classified as either Gifted or Genius, half are retailers.
Many prestige icons (16 percent of brands) have not yet developed a mobile-optimized site or a mobile app, significantly limiting their ability to effectively reach mobile consumers. The ratio of mobile searches to desktop searches for prestige brands exceeds expectations set by the share of traffic generated by mobile devices at large. This observation underscores the urgency to adapt search engine optimization, email marketing, and other digital efforts for mobile platforms.
"Mobile competence may be a crystal ball for a brand's global prospects," says Galloway. "Ground zero for growth in prestige exists among consumers who are increasingly turning to a small screen to learn about, and ultimate consummate purchases of prestige brands."
In the fourth quarter of 2010, more smartphones were shipped than PCs for the first time.1 By 2015, more users will access the Internet wirelessly via a mobile device than from a wired Ethernet connection.2 Over the next five years, m-commerce sales are set to quintuple.3 On the year's biggest shopping day, Black Friday, online retail traffic from mobile devices comprised 14.3 percent of page views, up from 5.6 percent last year, and mobile sales ballooned to 9.8 percent of online sales, up from 3.2 percent last year.4
Throughout the past decade, analysts have relentlessly predicted "The Year of Mobile." It now looks as if we are in the fledgling innings of a mobile era.
Top Ranked Brands in the L2 Prestige 100: Mobile IQ Study:
1.    Sephora (Long-standing, sustained, iterative investment in mobile pays off)
2.    Nordstrom (New mobile app leapfrogs peer efforts with firm link between in-app and in-store experience)
3.    Macy's (Active SMS program and Xmas app experience add unique elements to strong
mobile portfolio)
4.    NET-A-PORTER (Unique apps for local promotions, store exclusives, and spinoffs complement strong mobile site)
5.    Bloomingdale's (Engaging, offer-centric mobile site overshadows generic iPad catalog app)
T6.    L'Occitane en Provence (Both mobile app and site feature weak aesthetics, but excel in functionality)
T6.    Tiffany & Co. ("What Makes Love True" mobile app demonstrates strong geolocal aptitude)
8.    Neiman Marcus (Differentiated app approach on iPhone ("Gifts") vs. iPad ("Catalog") works
to its advantage)
9.    InterContinental Hotels & Resorts (Presence across four of the five mobile app platforms; "Concierge InsiderGuides" iPad app provides unparalleled local insights for 100+ global properties)
10.    Estée Lauder ("Illumination" iAd campaign and high-functioning mobile site compensate for
one-dimensional apps)
11. AVEDA (New "My Style" app invites users to upload personal hairstyle while mobile site provides exclusive offers for mobile customers)
12. RALPH LAUREN (Digital innovator demonstrates balanced investment across mobile app, mobile site, tablet experience, and mobile advertising)
13. SAKS FIFTH AVENUE (Strong iPad catalog app compensates for low-impact mobile site)
14. YVES SAINT LAURENT (New mobile site brings fashion label in sync with advanced, beauty-centric apps)
15. DAVID YURMAN (Mobile site launched in November is a welcome replacement for aging iPhone app)
16. DIANE VON FURSTENBERG (M-commerce does not carry over from site to app; instead promotes exclusives like Signature Skin iPhone covers, the App Wrap dress, and DVF-endorsed music)
17. ERMENEGILDO ZEGNA (Singular focus on iPad virtual store, which is consistently promoted across all digital properties)
18. MANDARIN ORIENTAL hotel group ("Cities by MO" provides expansion content for "MOHotels" app depending on user's destination or interest)
19. RITZ-CARLTON (Simple, streamlined mobile site and "World Concierge" campaign on Foursquare
compensate for disappointing apps)
20. FOUR SEASONS HOTELS AND RESORTS (Industry leader in Foursquare followers, with tips for 83 properties)
20. GUCCI (Sophisticated, technologically advanced "Gucci Style" app immerses user in
brand-curated content that extends well beyond the clothes)
[adsenseyu1]

While there are four Genius brands in the L2 Prestige 100, Sephora exists in a class of its own.
The brand's mobile site feature product videos organized by content type and filterable by brand. Other key features include a GPS-based store locator, shopping list creator, order history/tracking, and a section for mobile exclusive offers.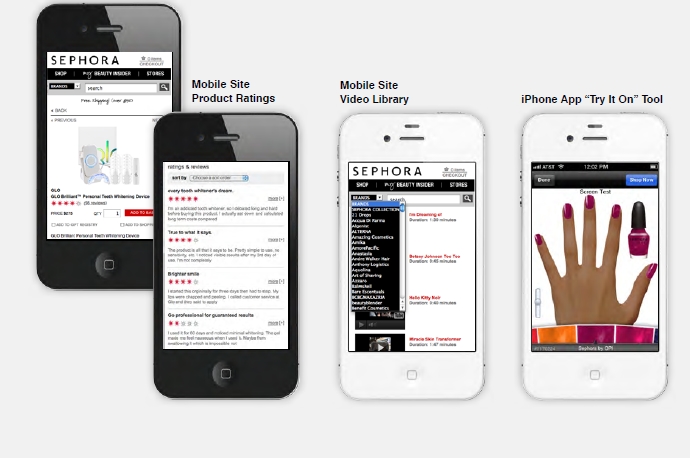 Sephora's iPhone app and mobile site share the same basic look and feel, with the latter offering additional features such as a "Beauty Advice" section, "Try It On"—a tool that allows the user to adjust skin tone and nail polish color on a virtual hand, and barcode scanning functionality to augment in-store shopping.
The brand's iPad app features how-to videos with a side-by-side mirror powered by the device's camera, allowing users to see their own faces while following makeup application instructions.