The VQ46 DC – an all-aluminium sport cruiser with a great go-kart agility.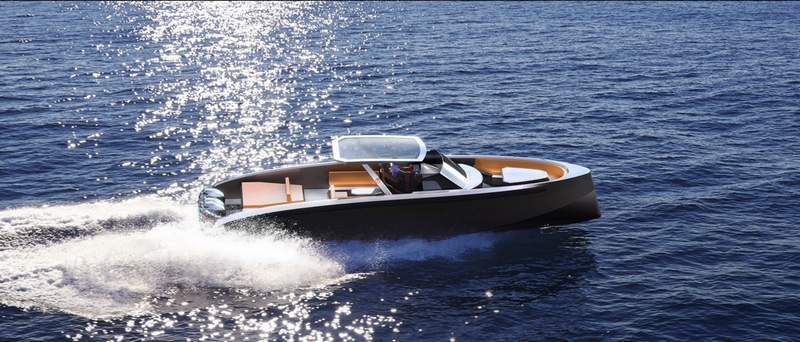 The new Vanquish VQ46 from Vanquish Yachts is offering a new take on luxurious dual console boating.
According to the shipyard, the first VQ46 Dual Console is currently being built at the Vanquish facility in Holland, and will be ready in time for the 2016 season. The future owner will have an extensive customization in terms of the boat's exterior colour, interior materials and various on board features. The renowned Dutch yard can adapt the entire layout of the yacht to owners' preferences – this is just one of the many advantages afforded by the use of aluminium, a supremely flexible material which allows a high degree of freedom. Owners can also choose materials, colours and engines entirely at their own discretion.
"The Vanquish VQ46 concept stands out from anything remotely equivalent in this size range," stated Vanquish Yachts team.
Three 400 horsepower Mercury Verrado R outboards give an impressive top speed of 63 mph. The knife-like bow allows the yacht to cut through the waves with ease, making an appreciable contribution to a very real feeling of comfort on board. A deep walkaround ensures superb freedom of movement for passengers, while the layout provides comfortable seating for 12 to 14 people and three sunbathing spots.
The comfort levels have also been optimised even further on the VQ46 Dual Console, making longer trips a breeze. The interior comprises a galley with sink and refrigerator, as well as a spacious bathroom with toilet and shower. The wide lounge area for six to eight people on the foredeck is flanked by a good-sized galley, while the interior also comprises a well-appointed cabin for two to three people plus a head with shower. An awesome sound system from Brian's Custom Audio will be custom fitted and adapted to the specific characteristics of the boat and the owners' personal wishes.
In addition to day trips with larger groups, this sport cruiser can also be used as a tender for superyachts. Being equipped with a high-quality rub rail as standard, it can easily approach another vessel with no risk of damage – the joystick controller lends a helping hand in this respect.