There are a thousand different ways to salute the passing of time and to make each moment precious and unique, endlessly… For women, and women alone, Christophe Claret has chosen just one of them. Romanticism.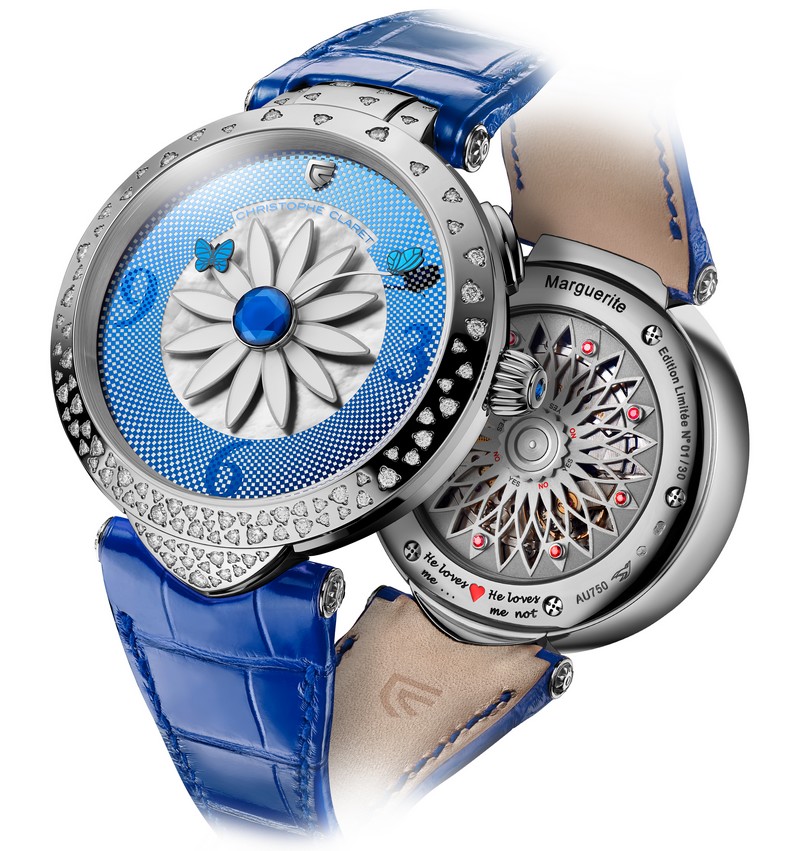 An undeniably poetic watch driven by a unique sense of playfulness and optical illusions, Christophe Claret Marguerite is part of the Margot line, Christophe Claret's very first ladies' model. This creation is giving substance to a full-fledged feminine collection that consists of complicationsexclusively devoted to women. Christophe Claret invites two butterflies in orange Super-LumiNova, to provide a joyful escort for the passing of time.
Unveiled in 2015, the Marguerite watch, is already available in five different white gold or 5N redgold versions adorned with "snowflake" or "champagne" setting and featuring vivid shades of blue,red and green depending on the version.
For this new model, Marguerite is clothed in diamonds, more than 600 in total. Christophe Claret matches the boldness of this charmingly romantic mechanism with an equally daring case design. Toaccentuate the 42.50 mm silhouette in 5N red, the bezel and the lugs are set with more than 380 diamonds of different sizes.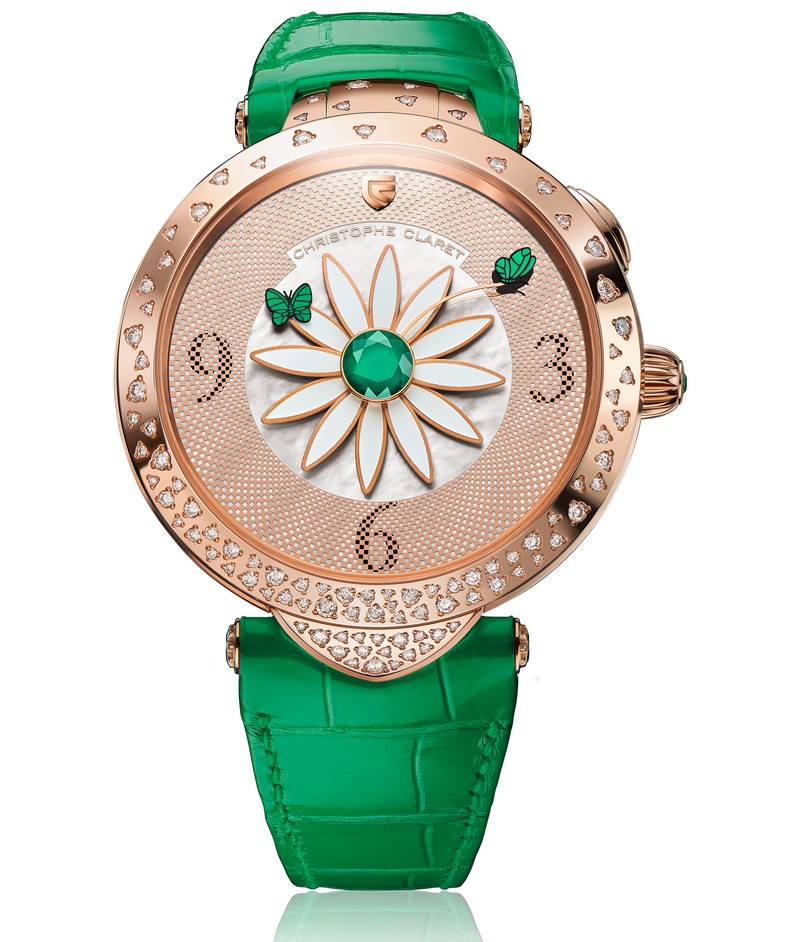 At the heart of this watchmaking fable, two graceful butterflies flit around a daisy whose petals setwith more than 220 diamonds overlap in the same way as a real flower. The darkerbutterfly, symbolizing the female, is perched on a daisy petal that rotates every hour. Meanwhile, the lighter one, embodying the male, indicates the minutes. Sitting lightly atop a stem attached to the precious pistil made of rubies, it literally flutters around the white mother-of-pearl dial.
The ultimate romantic watch, Marguerite turns lovingpassion into the stuff of intimate daydreams. In addition to the Arabic numerals at 3, 6 and 9 o'clock,the dial presents a second display. One press on the pusher at 2 o'clock makes the numbers disappear to reveal the phrase: "Il m'aime passionnément" (He loves mepassionately). This message can be personalized via a configurator on the brand website. The watch can display any messagerequested by the owner, in the desired language, with a limited number of characters.