The world's most expensive dinner comes with The Jane Seymour Ring And Will Benefit 8,000 Nigerian Children.
World of Diamonds Group commits to saving at least 8,000 Nigerian children every year through this extraordinary experience. Here are the details.
"Billionaires, celebrities and royalty travel the world in their own planes. But none of these personalities would have ever enjoyed an 18-course feast of this standard in the air, even if they had a whole Boeing 747 to themselves."  – Karan Tilani, World of Diamonds Group, the creator of The Ultimate Dinner, World's Most Expensive Dining Experience.
Founded in 2001, Russian-based World of Diamonds Group was founded by Mr. Boris Ivanov. Little is known about Mr. Ivanov, however, his nephew who spearheads some of the Group's initiatives is the successor of the family business.
World of Diamonds' Karan Tilani has few equals when it comes to unleashing the power of diamonds. The rise of the experiential travel is challenging the brightest minds to up their game. They are producing some of the most innovative and exciting luxury lifestyle experiences. In 2016, World of Diamonds Group made big waves with a Jane Seymour Ring announcement (read our covering of this stunning ring and the events surrounding the launch). The 2.08 carat, VS1 Fancy Vivid blue diamond set in 18-karat rose-gold-plated platinum with floral motifs, embodies the beauty, grace, and talent of Hollywood actress, Jane Seymour. The unique ring is setting a new benchmark for high-end experiences in the sky. The Jane Seymour Ring became the highlight of a $2 million dining concept that takes place on a 4-hour private jet trip. The 18-course degustation dinner created by Michelin-starred restaurant Jaan is paired with luxury amenities including 10,000 roses, diamond chopsticks, and fireworks. It is worth noting that the Jane Seymour ring is currently valued at more than double the cost of the dinner experience.
For 2018, World of Diamonds is prepared to soar to new heights. Exclusive gourmet experiences aren't a new concept, but The Ultimate Dinner by World of Diamonds is a cut above the rest. As charity has been a constant in the company's philosophy, World of Diamonds' vision for the project was inspired by the motto that our true wealth is the good we do in this world.
The sensorial journey at 30,000 feet above ground might be the best dinner experience of your life. Here's your chance to make a difference and save 8,000 lives. World of Diamonds Group will make a substantial donation from the sale of the Ultimate Dinner to benefit Dinnødhjælp, the humanitarian non-profit organization fighting for children's rights in Nigeria. Besides offering food, shelter and education for the "witch children," the sale of the Ultimate Dinner will help refurbish an existing inoperative hospital, which will offer medical care for mosquito-borne diseases, cancer, HIV, polio, hepatitis, and viral diseases.
"Our primary purpose is saving the so-called witch children in Nigeria, where the belief in witches is a big problem. At the same time as we give the rescued children a good future, we fight against the superstition, so we in the future can prevent more children being tortured, and at worst killed," explained Anja Ringgren Lovén, the founder of Dinnødhjælp. Recognized as the most influential person in the world in 2016,  aid worker Anja Ringgren Lovén and her organization is helping accused witch children to live a dignified life. Belief in witchcraft thrives worldwide, especially in Nigeria, where an estimated 10,000 children are tortured, raped and abandoned in every year.
"Witch accusations in Nigeria may occur due to death and illness in the family, harvest failure, layoffs or infertility. According to traditional African beliefs everything has a supernatural source, and it is often the children who are made the scapegoats," notes dinnoedhjaelp.dk.
"My motivation is simply impacting the lives of 8,000 seriously underprivileged children every year," Karan Tilani, director of World of Diamonds Group told Forbes. "The commitment from WOD Group will completely expand the scale of their efforts and we hope that this gesture will inspire other companies to help children around the world and in Africa. Children are our future and deserve to be treated with the same level of dignity as anyone else."
Dear Karan Tilani, 2LUXURY2 is honored to meet you. Your expertise in the diamond business is a valuable resource of information for our audience. World of Diamonds Group has attained a reputation for its dazzling and fancy colored diamonds, and as one of the largest privately held diamond corporations globally. Now, World of Diamonds Group and its partners are elevating luxury experiential travel to the next level.
#Can you give us the details about the ultimate dinner experience for two. What royal treatment the couple will enjoy?
Karan Tilani: The Jane Seymour ring is the first and only jewelry named after the former Bond girl, celebrating her illustrious career. The Emmy and Golden Globe award winner designs her own 'Open Hearts' collection and is the brand ambassador of Signet Jewelers, the world's largest jeweler with nearly 3,600 stores in the US, UK, and Canada. However, none of those jewelry pieces bear her name.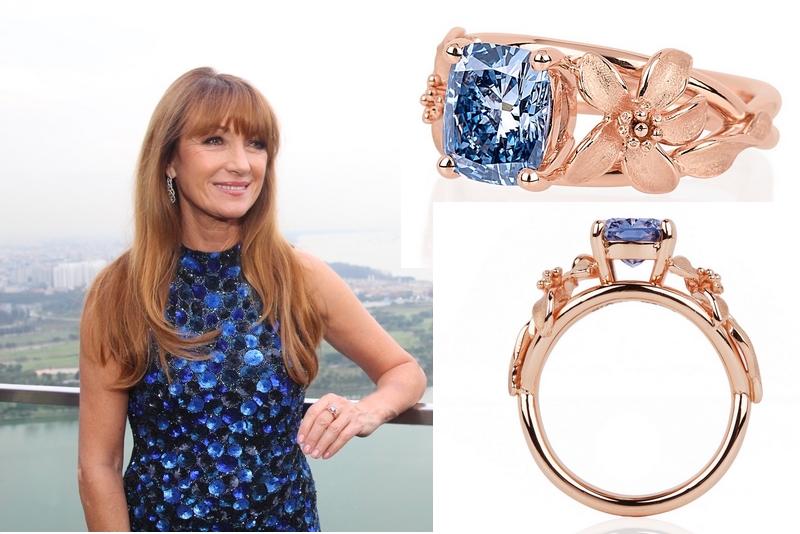 The ultimate dinner includes a 3-hour pre-dinner luxury yacht cruise, a Rolls-Royce chauffeured journey to and from the dinner, and Chef Kirk Westaway from Michelin-starred JAAN, one of the finest restaurants in the world, who will prepare a feast. This feast is an 18-course cuisine which will be served on board a US$30 million private jet on a 4-hour flight, which specially departs from and arrives back in Singapore. The couple will be able to enjoy all these, along with dining with two pairs of gold-plated chopsticks worth US$34,000 and which are set with 84 diamonds (nearly 8.5 carat of high-quality colorless diamonds) in total, personalized with their names. The chopsticks are for them to keep after the dinner, for a lifetime memory. The dinner will be served with vintage wines, 10,000 roses that are presented progressively, and it ends with a fireworks display.
Even though the dinner is taking place on a private jet, the couple will have to be in Singapore to enjoy the experience, as the jet departs from and arrives back in Singapore (the flight takes place specially for the culinary journey). The buyer and his/her partner will be offered 4 days 3 nights all-expenses paid trip for 2 to Singapore, to enjoy this dinner. The hospitality includes first-class return flights to Singapore from anywhere in the world, exclusive usage of the CIP private terminal, welcome drinks, a 3 night stay in the presidential suite of a five-star hotel (the presidential suites of Swissotel The Stamford or Fairmont Singapore for the customer to choose from), a chauffeured Rolls-Royce for their entire trip, additional complimentary Michelin-starred meals and VIP hospitality at renowned clubs and spas.
#What were the challenges you were facing in making the extraordinary a reality? Who are your partners?
Karan Tilani: Some challenges faced are coordinating the logistics so that this is an unforgettable experience for the winners of the dinner, and researching the flavor profiles of various cuisines as the human palette reacts very differently at 36,000 feet and at 800 kilometers an hour.
The main partners for this dinner experience include Jaan (a Michelin-starred restaurant and one of the world's best), One15 Marina Club Singapore, Singapore Air Charter (which lists royalty, heads of state and major corporations amongst its clientele), Simpson Marine (Asia's leading yacht dealer), Swissotel The Stamford and Fairmont Singapore (both hotels are under AccorHotels), and World of Diamonds Group. We have several other partners who are engaged in other aspects, from the florists who will prepare the 10,000 fresh roses to specialists who will execute the fireworks display.
#Can you tell us when you started working in the diamond and jewelry industry? Why did you choose to work in this industry?
Karan Tilani: It has been over 4 years for me in the diamond industry and with World of Diamonds Group. From young, I have always been fascinated with the sparkle and intricacies of a diamond and this gradually developed into my passion. The trade has also been a family business and I wanted to pursue the continuity of our heritage. World of Diamonds Group has always been behind some of the finest diamonds and jewelry pieces. Through joint ventures with artisans in Europe and the Americas, we are almost fully integrated in diamond mining, polishing, high jewelry creation and distribution to leading houses of the world.
#How did you become interested? What is compelling about this industry?
Karan Tilani: I have been appreciating diamonds since the age of 14. Born into a family of prestige, I had the privilege of bringing the valuable gemstone to school for show-and-tell sessions. As a connoisseur of extraordinary diamonds, my aunt has been attending auctions to secure important pieces; she married a diamond mogul and was eventually in the trade. Being exposed to the family business in my early teens, I was captivated by the tiny, brilliant stones which command sky-high prices. The fact that it takes immense patience and skill to release the beauty of a diamond evoked my interest.
#What are three main challenges in your work?
Karan Tilani: Due to our widespread market reach, we have colleagues and partners based in almost every part of the world. I often experience situations where some of our partners are uncomfortable in making decisions in certain countries because of varying cultures and working styles.
A second challenge I face being associated with one of the world's largest privately held diamond corporations is meeting the unique demands of the mega-rich. I've personally recommended many of the high-fliers whom have approached us to shop at some of the luxury brands as we rarely cater to individual requests. We do not engage in the retail scene as it's a conflict of interest, since we already work with several upscale jewelers.
To the discerning few whom we cater to directly and who embrace the epitome of luxury, we have had  requests for a diamond encrusted Spirit of Ecstasy (the bonnet ornament on Rolls-Royce automobiles), diamond chandeliers and even diamond shoelaces. For the wives of billionaires and members of royal families, catering to their every whim involves extraordinary diamonds, hours of intensive labor undertaken with painstaking excellence and exceptional designs.
Lastly, thefts, robberies and kidnappings are pertinent in the diamond industry. It's a life-threatening danger that lurks behind every important member of the trade. Our Group has a strong foothold globally and I've had to accept overseas travel with bodyguards, as much as I despise the additional attention. Often this challenge could be part of a larger, more complex scenario such as sabotage. They can be competitor-motivated or politically-motivated and can extend to the cyberspace. For example, we had our website and data compromised in 2017, and an entity leveraged on that to defame our Group. In such cases we work strongly with law enforcement agencies including the courts to seek for damages, and web authorities such as Google, Microsoft and Facebook to penalize the culprits.
#Diamonds are an investment vehicle. This is one of the big themes in the diamond business right now. What are the most important advice you have for a potential buyer of such rarities like colored diamonds?
Karan Tilani: Look at blue diamonds in particular. They are appreciating at an insane rate, and it is not a bubble by any means because they are incredibly rare and are the world's most portable wealth. However, most people who want to buy a blue diamond would likely not be able to get access to one. Only one blue diamond can be found on the market for every 100 Picasso paintings up at auction.
#What are the demographics who typically spend money on diamonds right now?
Karan Tilani: They are the people that the world doesn't always talk or hear about. The ultra-wealthy tend to observe a lower-profile, and among our top private clients are from Russia and the Middle East. We notice that the Chinese are also emerging as connoisseurs of rare fancy colored diamonds.
#What personalities from the artistic world would you love to name a ring after?
Karan Tilani: Marilyn Monroe, Michael Jackson and Picasso.
#Can you point to some trends in the industry? Buying a single impressive diamond or a small portfolio of rare stones? What color and clarity grades do you recommend to your HNWI customers?
Karan Tilani: The pattern of the wealthy would usually be to acquire large colorless or yellow diamonds, and then gradually move toward premium fancy colors such as pinks, and when they are ultra-wealthy, they look at blue, green, orange and red. Green, orange and red diamonds are extremely rare but they are harder to sell as compared to blues, because blue diamonds are very appealing in hue. It is the color of the sky and the oceans. Clarity grades do not matter as much in fancy colored diamonds, as long as durability of the stone is not compromised by heavy inclusions. The inclusions should also not be very prominent, although the color of the diamond (if it is of a strong saturation) usually conceals  the diamond's impurities. I always recommend exotic colored diamonds of a desirable saturation and a decent clarity grade (it does not even have to be VVS or VS), as such diamonds are phenomenally rare to begin with.
# Why Fancy Intense, Vivid, and Deep blue diamonds are the most desirable and considered to be the best diamonds in the world?
Karan Tilani: Blue diamonds are extremely rare, but the rarest of the rarest are Fancy Intense, Vivid and Deep blue diamonds as they command desirable saturation levels. There are blue diamonds which feature a secondary color such as gray, and such diamonds are also not as valuable as blue diamonds with no inferior secondary color.
# What is your favorite diamond saying & quote?
Karan Tilani: You are not fully dressed until you sparkle.
# Do you have a personal mission?
Karan Tilani: Philanthropy is meaningful and fulfilling. Both myself and World of Diamonds Group have supported non-profit initiatives including the Sarah-Grace Sarcoma Foundation which raises funds for research in pediatric tumors, CRIB which supports women entrepreneurs, Say No to the Oppression of Women – a UN initiative, Women on a Mission – a programme to help underprivileged women and girls from specialized residential homes in Singapore, the Red Cross, Mission to the Seafarers and Riding For The Disabled Association which saw HRH Princess Anne (Queen Elizabeth's only daughter) in attendance.
World of Diamonds Group has organized a jewelry design competition to promote innovation and creativity among young students and generously rewarded the winners; we have contributed to the Amber Lounge charity which raises funds for the Special Olympics, the Elton John AIDS Foundation, the Nelson Mandela Children's Fund and Sergio Pérez Foundation, while also being involved in numerous other fundraisers of varying scales. The vacation which we launched this year for US$14 million has an "experiential giving" component where we plan on distributing 2,500 bicycles to rural children in Cambodia so they can make their journey to school, as well as providing drinking water for 50,000 kids in the Philippines. It makes no sense to please the most discerning of clientele without extending kindness that delivers higher levels of fulfillment to humanity.
# Can you share with us some of your plans for the company? What do you expect from 2019?
Karan Tilani: World of Diamonds Group will continue to be behind the world's most expensive (and lavish) creations, and we will continue such collaborations in 2019 and beyond.
# And the last question – a tradition for our interviews – what is "LUXURY" for Karan Tilani?

Karan Tilani: Luxury is living it up.