Sotheby's Diamonds Celebrates Ten Years of Exceptional Jewellery With Commemorative Collection.
In celebration of its tenth anniversary, Sotheby's Diamonds unveiled a commemorative collection of jewellery to mark the occasion. Sotheby's Diamonds is a joint venture between Sotheby's auction house and Diacore, a multinational diamond company focused on rare exceptional diamond craftsmanship. Sotheby's Diamonds' ten-year tradition of distilling nature as its primary design inspiration continues with the creation of the Pink Diamond Flower Brooch born out of the brand's iconic Tree Brooch, as well as the Day Series Earrings, which truly capture the variation of light throughout the day with an array of handpicked gemstones and diamonds.
"We are currently evaluating a number of options for expanding the business to the next level. We look forward to bringing more exceptional designs, superb-quality diamonds and engaging experience to connoisseurs in our next decade," explained Patti Wong, Chairman, Sotheby's Diamonds and Sotheby's Asia.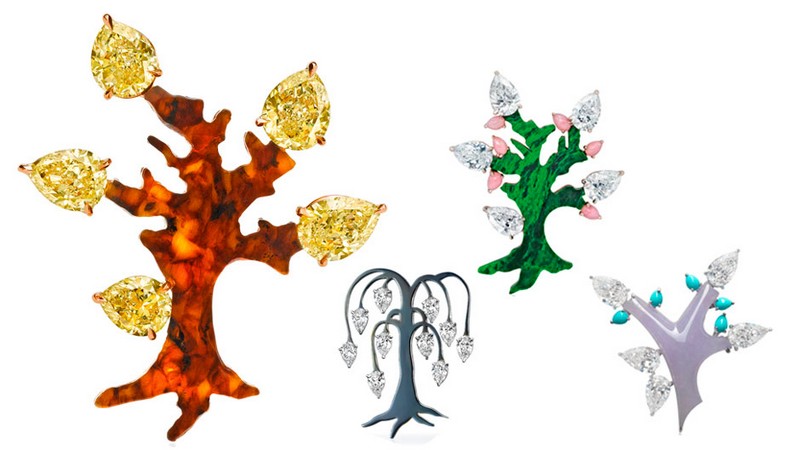 The Diamond Flower Brooch
Legend has it that a diamond represents the strength of a ten-year milestone. The Diamond Flower Brooch features fancy pink diamonds and D-colour flawless diamonds as a stunning interpretation of flora. Each diamond was cut and polished by the renowned Diacore Diamond Group and carefully handpicked by Sotheby's Diamonds to ensure that each diamond received worthy grades of polish, symmetry and proportion, which unlock the maximum potential for returning light to the eye. The dazzling diamond petals and surrealist curve of the 18k rose gold stem are a true metaphor for feminine beauty.
Inspired by Monet's Water Lilies and Rouen Cathedral series, the Day Series Earrings highlight the journey of light throughout the day. Working under the Impressionistic notion of Nature, Sotheby's Diamonds approaches this series as an aesthetic and technical challenge. The highest quality materials were painstakingly handpicked from a variety of gems among them the rare jadeite of Asia and Australian opal for the Series comprising six pairs of earrings ranging from Dawn, Sunrise, Noon, Dusk to Midnight and Midnight Sun to capture these moments and elements of light. Each material was crafted to frame the perfectly cut centre diamond as a way to maximise the reflection and refraction of light.