The new Oyster 675 – set to be the centre of attention.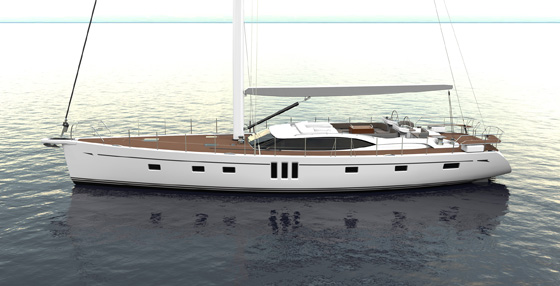 With its lower profile, stretched deck saloon window visually triggering a sense of power and purpose in a manner akin to the more tasteful of performance road cars, this Oyster 675 joins the latest 'Coupé' range.
Defining a new phase in Oyster's development, the company launched the all new 675. Pairing with the Oyster 745 concept introduced in Autumn 2013, the Oyster 675 completes for now a new third tier to Oyster's range, "meeting the evolving needs of owners and how they view and crew their sailing".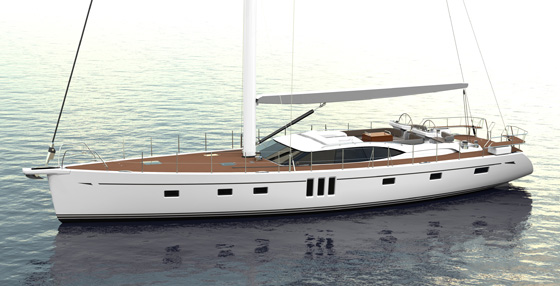 The twin rudder hull by Humphreys Yacht Design is configured and engineered to take a more powerful rig plan than the smaller yachts, with options for carbon masts and rigging and performance sails that will make this model appeal to those who enjoy fast passages and have, perhaps, a keen eye also on the trophies at Oyster's exclusive regattas. Yet this is not a lightweight racing yacht, it has everything an Oyster should, just in a hull form that gives an extra 10 per cent on the water and with either the swinging centreboard or standard keel versions, comfortable performance is guaranteed.
Externally the sweeping teak and rollover-bulwark decks show a practical plan for sail- handling and play, including foredeck stowage for the tender and step-down sunbathing platform for fun time at anchor. An extended transom version further enlarges the aft deck and gives an even more determined look to the profile while also enabling a dinghy garage.
Internally, with two spacious double guest en suite cabins complementing the full beam master suite and a fourth cabin for crew (with options for en suite facilities), the Oyster
675 brings together choices to detail the yacht for family, for occasional charter, or for long distance exploring and adventure, with professional help aboard.
The 675 also has two main interior options revolving around the galley location, owners choosing between an enclosed highly efficient and seaworthy galley just aft of the main saloon or a traditional 'linear' design through which you can walk to the master cabin making this model a really spacious yacht to enjoy in comfort.