As most people can appreciate, the bathroom is an important space in any home. If money is not an issue, you are in the perfect position to create a luxurious and exquisite bathroom that portrays both your style and sophistication.
Indeed, most bathrooms designed by those with barely any monetary restrictions often boast striking amenities that can rival or even surpass the elegance of a five star spa or hotel.
From metallic bathtubs (copper is usually the standard for those without restriction) and taps that are as expensive as many people's entire suite, a luxurious bathroom can be incredibly striking.
However, one of the best things about designing a luxury bathroom is that there are cost-effective alternatives that one can utilise to give the impression of luxury without the huge expense. This can go a long way to increasing the value of the home in question, which is another huge benefit if you are thinking about selling your property in the near future. A well-designed bathroom is a fantastic selling point so regardless of your budget, make sure your bathroom is up to scratch before you put your house on the market.
In this guide, we explore three of the finest bathrooms you will ever see. Remember, if you are looking to design your own bathroom, you can take inspiration from both the images and the descriptions below.
Bathroom one – an azure dreamland
This bathroom is effectively partitioned from the master bedroom by a double sided fireplace in an exquisite stone setting. Partitioning an en-suite can create the feeling of more space, which is perfect if you are trying to design a luxury bathroom.
The bathroom features wood framed tranquil azure walls, with large windows to create the feeling of additional space. A stunning tiled floor leads to a luxuriously large bathtub, elevated in such a way that it offers unparalleled views out the window. This is great if there is no chance that anybody can see you, but not so ideal if you have neighbours.
To replicate a bathroom like the one in the image, why not consider seeking a more cost-effective alternative to the wood framed walls and tiling?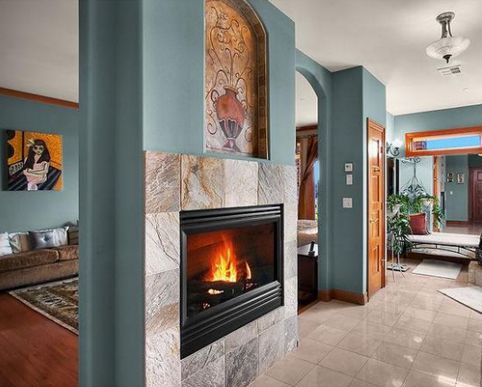 photo source : www.frontdoor.com/photos/spectacular-views-mercer-island-wa/
Bathroom two – old world opulence
The theme of this luxurious bathroom is what many would describe as classical. The rustic features have clearly been crafted to the highest of standards and while the elaborate designer would have been expensive, the quality really makes all the difference when it comes to opulent design.
With warm colours, lavish finishes and imported fixtures such as high-quality bathroom taps, this washroom is ideal for anybody who appreciates the elegance and timeless attributes of a rustic setting. If you want to recreate this decadent look using premium quality bathroom fixtures, why not browse the stylish range of bathroom taps by Mira?
A copper bathtub with elaborate faucets takes central prominence in the room and sits perfectly on the tiled flooring. Together with an expensive sink, the bath drastically heightens this washroom's appeal.
Its ceiling features metallic lighting fixtures that cast a glow on this spectacular bathroom. It also boasts a spacious tiled shower room with multiple showerheads and a number of fixtures to give it
that extra special touch.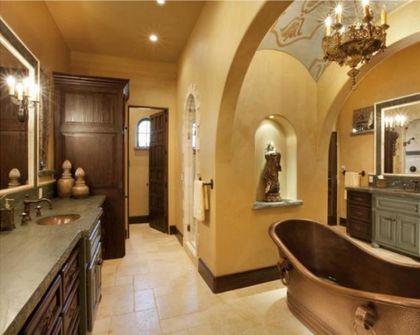 photo source : http://www.frontdoor.com/photos/dream-bathrooms-henderson-nv-2011
Bathroom three – natural surroundings
This one of a kind bathroom is a delightful blend of stone, glass and wooden materials. The combination of the three elements makes this bathroom one of the most stylish and elegant washrooms that you are ever likely to see.
It comes fitted with a fireplace, a spacious 'step up' bathtub with exquisite taps and a glass-encased shower.
The most striking feature is the large windows, which in this instance, overlook a stunning mountain range. However much like the first bathroom, this only works if you know that nobody will be able to see you from the other side!
The perfectly tiled flooring paired with luxury rugs and unique lighting fixtures make this bathroom truly one of a kind.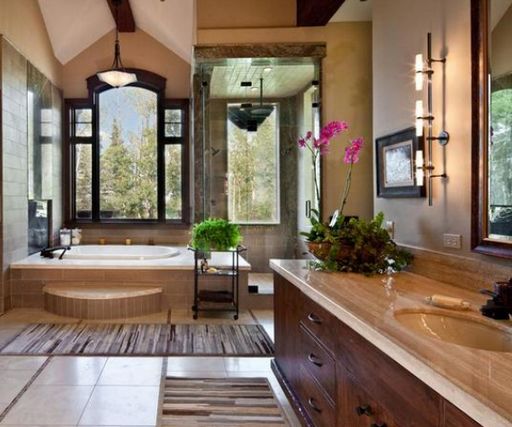 source : http://www.frontdoor.com/photos/natural-influence-park-city-ut
Above, we have explored three of the most luxurious bathrooms you will ever lay eyes on. All are different in design so hopefully there is something that takes your fancy.
Remember, if you want to emulate one of the above bathrooms but do not have an unlimited budget at your disposal, make sure you take the time to seek out alternatives. With a little research, you can often find features and materials to replicate the look and feel of a luxury bathroom without the expensive price tag.
Furthermore, and perhaps most importantly, take the time to find a fully qualified bathroom designer who can work alongside a construction firm in order to create your perfect bathroom.