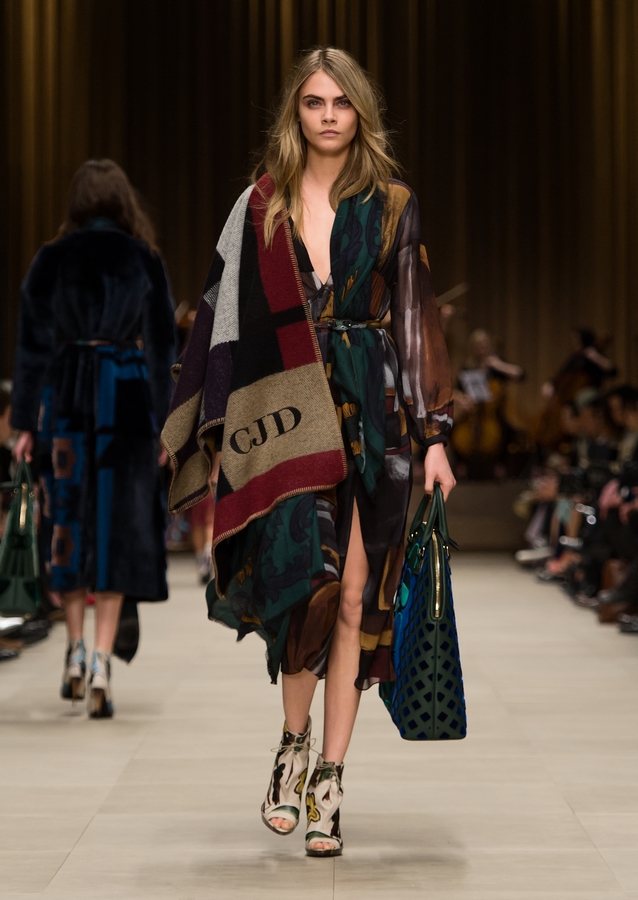 ---
This article titled "The good, the glad and the celebrities: Burberry hails return of the poncho" was written by Julia Kollewe, for theguardian.com on Wednesday 15th April 2015 10.54 UTC
The humble poncho has once again become the latest must-have fashion item. More commonly associated with Mexican bandits in spaghetti westerns and wasted teens at music festivals, monogrammed blanket ponchos have become a hot seller for Burberry.
A host of celebrities including Victoria Beckham and Sarah Jessica Parker have stepped out in ponchos by the British fashion house. Models and style pioneers Rosie Huntington-Whiteley, Suki Waterhouse and Cara Delevingne have also wrapped up in the £895 reversible ponchos, personalised with their own initials.
The retailer's chief financial officer, Carol Fairweather, said sales growth for ponchos had been "phenomenal". She added: "There's lots more to come from the poncho story."
Burberry credited further "investment and innovation". After the success of its autumn-winter blanket poncho range, the firm reworked the shape and introduced new colours and fabrics such as suede, along with fringes and buttons. For example, Burberry reworked its £895 Prorsum wool and cashmere poncho in a yellow, white and black palette for spring.
Along with its famous trenchcoats and scarves, the demand for ponchos drove sales growth at Burberry in the past six months. The firm, known for its traditional camel with red and black check patterns, beat City expectations with 9% growth in like-for-like retail sales in the six months to 31 March, Burberry's second half. Overall revenues climbed 9% to £1.4bn.
The chief executive and chief creative officer, Christopher Bailey, who took the reins from Angela Ahrendts last May, described the second-half performance as robust. "Customers responded strongly to product innovation, especially in our core British-made heritage trenchcoats and scarves," he added.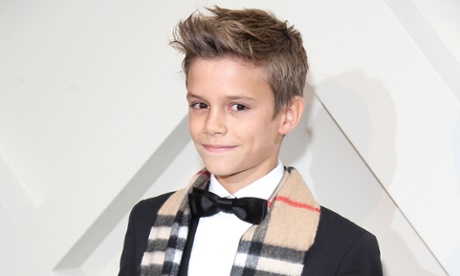 Burberry launched a heritage line of trenchcoats last year and now sells them in a bigger range of sizes, as well as three different shapes, lengths and colours. It also ramped up marketing of its cashmere scarves, which are woven in Scotland. Burberry's first global Christmas campaign starred Romeo Beckham, Victoria's 12-year-old son, in a Burberry trench and scarf.
Another ad campaign, for the newly launched My Burberry fragrance, featured Delevingne and Kate Moss, in the brand's trademark camel trench coats. Fairweather said the "halo effect" boosted both the beauty and fashion businesses, and held out the prospect of more exciting ad campaigns this year.
Burberry enjoyed double-digit growth in sales in the Americas and Europe, the Middle East and Africa. It opened seven major shops, including new flagship stores in Los Angeles, and Osaka in Japan.
Paul Thomas of retail consultants Retail Remedy said: "Christopher Bailey and Burberry have proved the doubters wrong. Combining the roles of CCO and CEO raised a lot of eyebrows, but Bailey has carried on where Ahrendts left off."
The only weak spot was Asia, where Burberry reported low single-digit sales growth. Like other major international brands, the company has been hit by China's crackdown on corruption and gift-giving among government officials. Hong Kong saw the biggest slowdown in sales, following last year's unrest, whereas mainland China and Korea held up with mid-single-digit sales growth.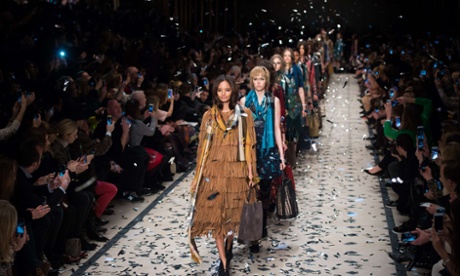 Fairweather said: "We are still seeing growth from the Chinese consumer everywhere but in Hong Kong."
Brewin Dolphin analyst Nicla di Palma said: "We continue to like Burberry's best-in-class digital strategy, although we are aware that 2015-16 will be a difficult year for luxury companies due to the slow down in Asia-Pacific, which is the highest margin region. Recently, Chanel cut its prices in China by up to 20%, which is a concern.
"On the conference call, management stated several times that it intends to maintain its price position vs competitors, which means that it will probably cut prices in Asia, although it might increase prices in Europe. Management is also proactively cutting costs." Fairweather stressed that Burberry would not leave Hong Kong.
Richard Hunter, head of equities at Hargreaves Lansdown stockbrokers, said: "There are a couple of blots on the landscape for the company, in the form of a decelerating Hong Kong, a high-margin market and, from an investment perspective, a relatively paltry dividend yield of 1.7% when set against the current interest rate environment."
Anusha Couttigane, senior fashion consultant at research firm Conlumino, said: The high-profile marketing campaigns which galvanised so much interest in the brand last year have led some commentators to question whether this risks diluting Burberry's luxury credentials.
"Yet even long-established luxury labels have to adapt to the new world. Tomorrow Burberry will invite followers to join in with the launch of its LA flagship store via closed-circuit social media channel Snapchat. It is this willingness to evolve with the consumer that is helping Burberry to remain relevant in an increasingly digitised market."
guardian.co.uk © Guardian News & Media Limited 2010
Published via the Guardian News Feed plugin for WordPress.