'Nightstalker' Jeep Inspired By 160th Military SOAR Division unveiled by Starwood Motors.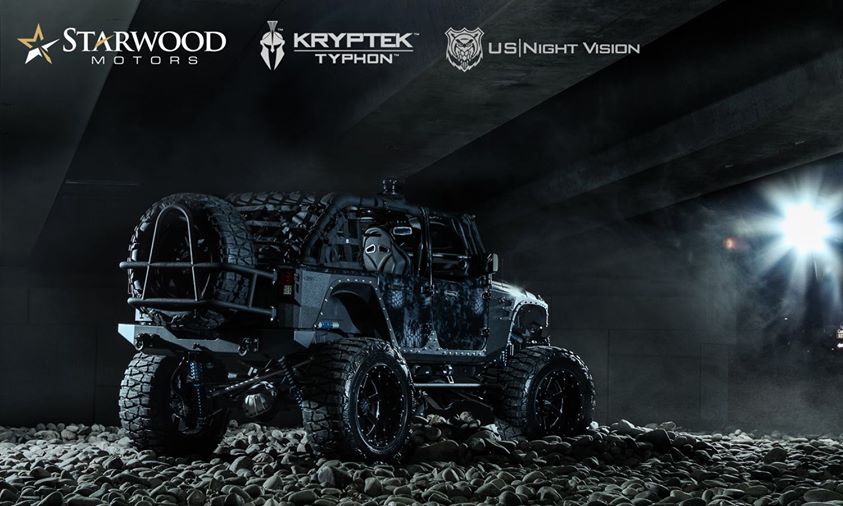 A new military-inspired Nightstalker custom Jeep was unveiled by Dallas-based auto dealer Starwood Motors. The Jeep was inspired by the pilots of the 160th military SOAR division, who became known as the 'Nightstalkers' because of their capability to strike undetected at night. Time and again, soldiers of this unit have demonstrated a commitment to their motto, "Nightstalkers Don't Quit."
The Jeep features custom Jeep gun mounts by Gunner Fabrication and a unique camouflage pattern designed by Kryptek. Dubbed "Typhon," the pattern utilizes a multi-directional design to conceal in a multitude of terrains which the company says make Kryptek camo the ultimate in passive battlefield deception.
"Polished off with Starwood's famous Kevlar finish, this Jeep is the first of its kind," said Starwood general manager Davis Speight.
U.S. Night Vision brought cutting edge technology to the build, incorporating an ATAC 360 Degree Thermal Camera mounted above the roofline of the Jeep. The company is recognized for providing law enforcement agencies and the U.S. military with advance quality night vision, thermal imaging, infrared and lasers.
The Jeep's Alpine audio system was created specifically for the Nightstalker and installed by factory authorized techs. Baja Designs also fitted the Nightstalker with custom IR lighting. To top it all off, an sPOD accessory wiring module with custom switch panel was also added.