All cars are built to serve the basic function of taking us from A to B, but as we well know, some of them are definitely more luxurious than others. When it comes to the latest premium and luxury cars for 2014, some of the world's most acclaimed carmakers are promising to deliver exceptional vehicles that push and surpass the boundaries of comfort and performance. It's safe to say that 2014 will be a bountiful year as far as high-end vehicles are concerned, but it also means that many of you will be forced to make hard decisions. As always, we're here to help you out, so we decided to create a list containing 8 of the most fantastic luxury cars for this year.
1. Chevrolet Corvette Stingray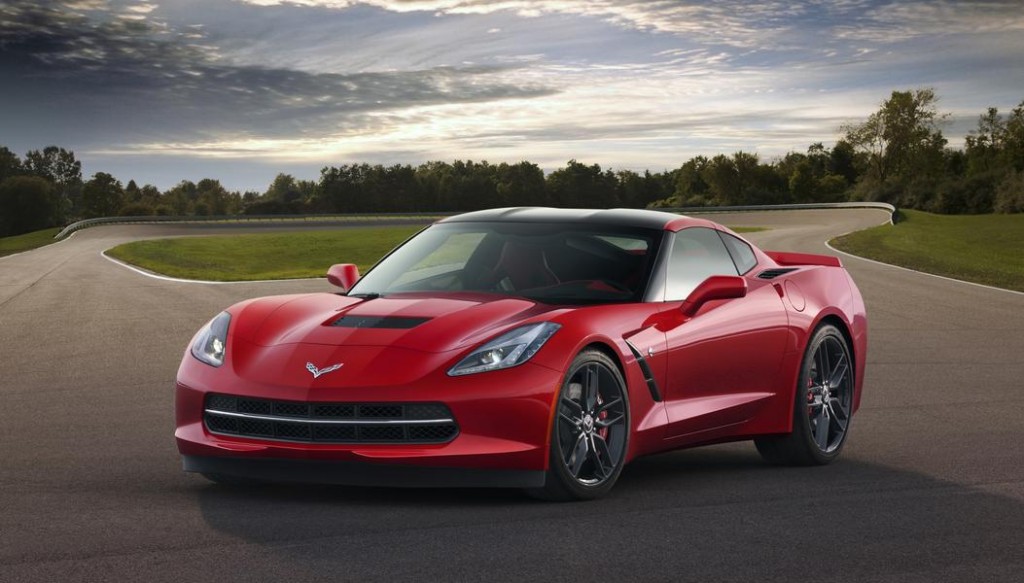 The Chevrolet Corvette is making a strong comeback in 2014 through the Stingray – a spectacular vehicle that promises to deliver an unmatched driving experience. Even though it still looks quite menacing, as a Corvette should, the new Stingray is actually quite easy to handle thanks to its chassis-control technologies, improved steering and new suspension. You might be inclined to think that this is a hardcore sports vehicle suited for speed maniacs and racing enthusiasts, but you'd be surprised to find out that the Stingray's interior features a rather domestic and very technologically advanced dashboard as well as high-end materials throughout. The Corvette Stingray might just be the most comfortable and techy Corvette yet, while its 6.2-liter V8 allows it to live up to its name as far as performance is concerned. With 450 lb. ft. of torque and 450 horsepower under the hood, this stunning car is able to perform a 0-60 sprint in just 3.8 seconds.
2. Mercedes-Benz S-Class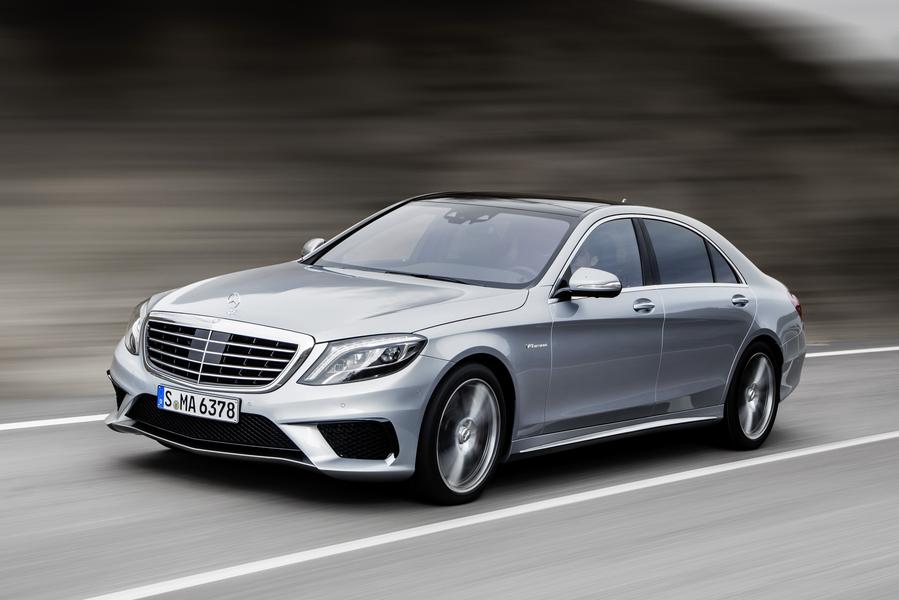 The 2014 version of the Mercedes-Benz S-Class is nothing short of a masterpiece. Since decently "luxurious" options such as heated seats and leather upholstery are rapidly becoming mainstream, the famed German automaker needed to go above and beyond in order to ensure that its best car would be one of the most luxurious in the world. With a new look and a whole new array of technological marvels, the S-Class is able to deliver an unparalleled driving experience. The car comes with 2 main powertrain options based on a 455 horsepower twin-turbo V8 engine and a beefier 577 horsepower 5.5-liter twin-turbo V8. The technological marvels we mentioned before involve spectacular chassis control systems as well as a low-speed autonomous driving mode that automatically adjusts the suspension according to different road conditions. Additional options include massaging rear seats, a high-end climate control system as well as heated armrests. Nothing spells luxury as Mercedes-Benz does.
3. Jaguar F-Type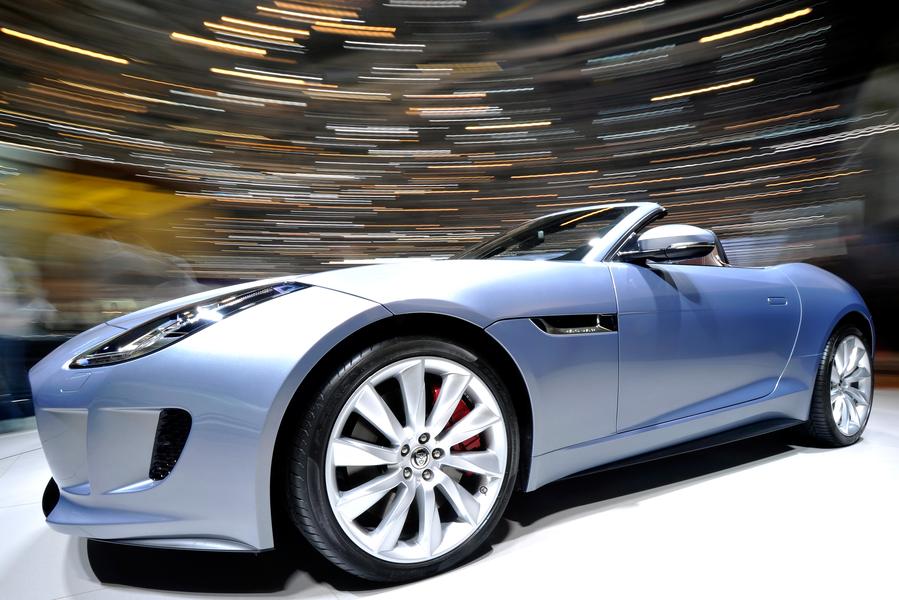 Now that we've covered Chevy's and Mercedes-Benz's offerings, how about taking a look at Jaguar's F-Type? This quick and gorgeous-looking automobile features a lightweight body as well as a sophisticated suspension system that delivers a smooth ride while cruising through the city as well as impressive handling when cutting corners on the race track. When it comes to power, this thing flaunts a 5.0-liter supercharged V8 engine that delivers 495 horsepower, but there is also a toned down and presumably cheaper version involving a 3.0-liter supercharged V6 that's good for either 340 or 380 horsepower. This means that this gorgeous beast can perform a 0-60 dash in just a bit over 4 seconds -a performance owed in part to a high-end seven-speed automatic transmission that feeds all the power to the rear wheels.
4. Cadillac ELR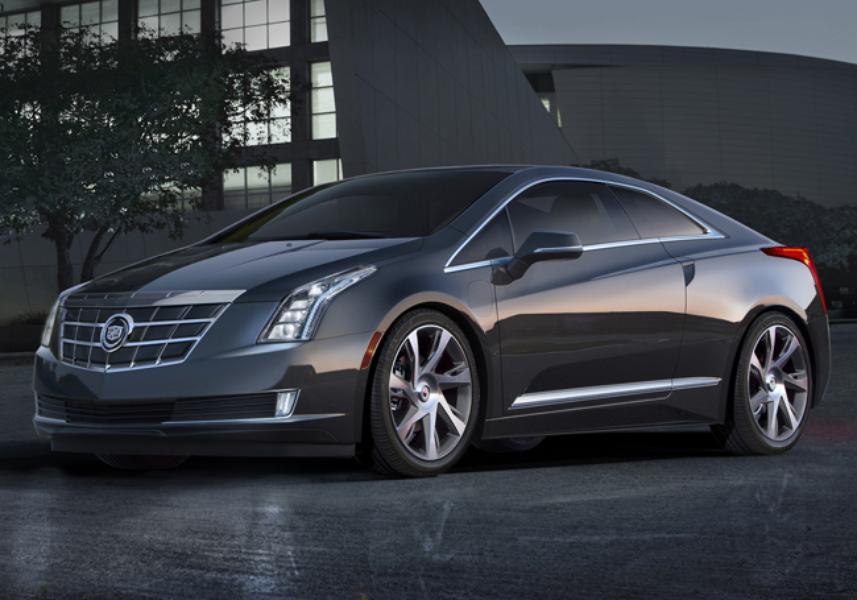 The Cadillac ELR has many things in common with the Chevrolet Volt, and that can only be a good thing. Aside from its dashing looks and luxurious interiors, this particular coupe impresses with a very advanced powertrain that is based on a powerful electric motor and a rechargeable battery pack. The Cadillac ELR boasts a range of 35 miles on a single charge, which makes it perfect for quick trips around the city. However, the car was also equipped with a backup generator powered by gasoline just in case it runs out of juice. The generator charges the battery pack and provides much needed power, but if you time your trips carefully, you might never need to use it in the first place.
5. BMW 4 Series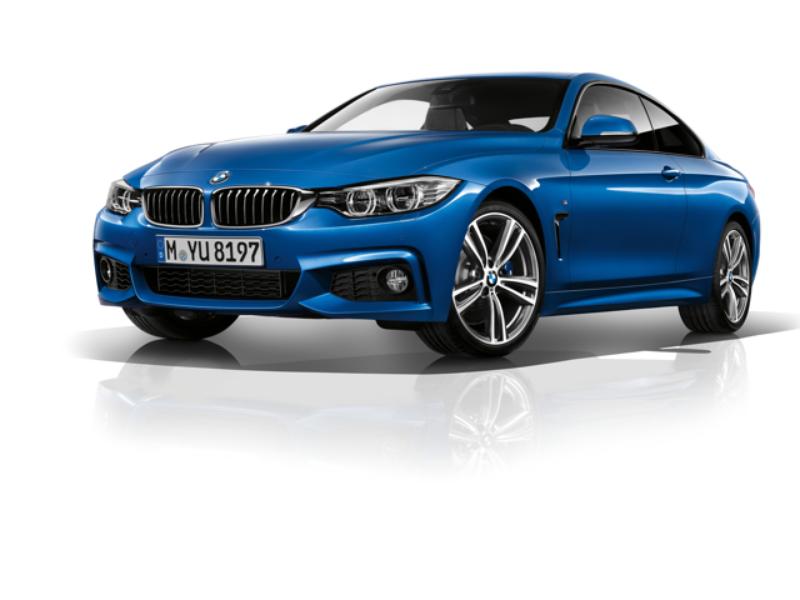 Of course, we couldn't skip on BMW's offering for 2014. The new 4 Series is actually a redesigned and improved version of the 3 Series, which means that it features a fresh exterior design as well as numerous high-end amenities and complex technologies. For example, the 3 distinct trim lines named Luxury, Sport and M Sport offer different driving experiences based on the driver's needs, while a forward collision warning system and a cruise control system ensure a safe and comfortable ride. The BMW iDrive multimedia control system is also worth mentioning, since it ensures incredible entertainment options while providing Bluetooth connectivity and speech recognition facilities. Power-wise, the BMW 428i comes with a 240 horsepower turbocharged 2.0-liter four-cylinder engine, while the 435i version boasts a 300 horsepower 3.0-liter turbo-six engine.
6. Cadillac CTS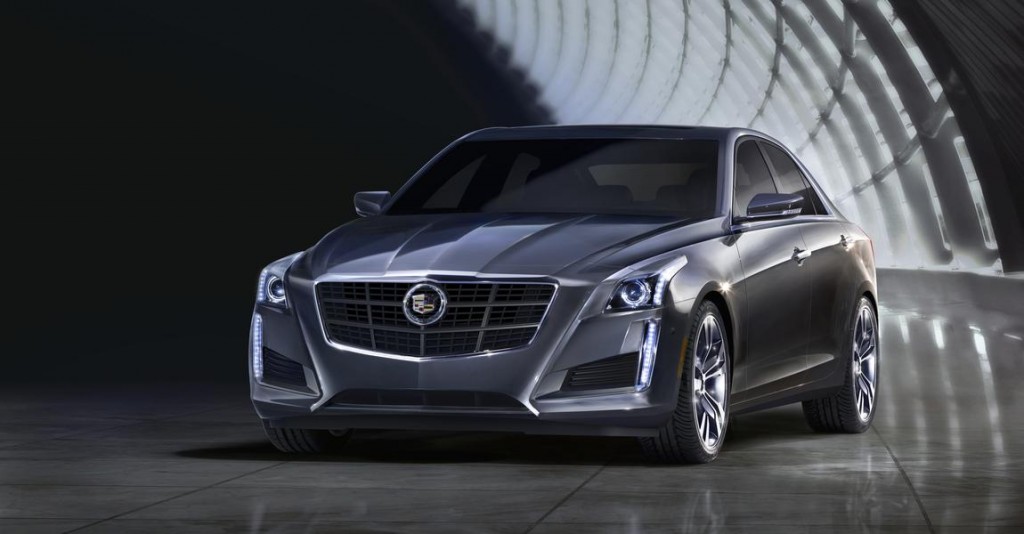 Cadillac makes another appearance on our list with the new CTS. With an aggressive looking exterior and plenty of horsepower under the hood, the Cadillac CTS comes with a generous list of improvements when compared to its 2013 counterpart, but this also means that it is a lot more expensive. With a price tag that starts at about $45,100, Cadillac fans can opt for a 2.0-liter turbocharged four-cylinder engine that delivers no less than 272 horsepower, but those who wish to go faster can choose the 3.6-liter V6  version featuring 321 horsepower. There is also a special Vsport version that includes a spectacular twin-turbo V6 of 420 horsepower for those that really want to take this thing on the track. As we've come to expect from a luxurious Cadillac, the CTS impresses with a lavish interior that comes in 8 different versions and with different trims. Some popular options include carbon fiber, aluminum or wood elements. Mixing the best of both worlds, Cadillac's experts equipped the CTS with a Magnetic Ride Control suspension that ensures optimum cornering capabilities while providing a very comfortable ride. Other noteworthy options include a self-parking system and a touchscreen-based operating system.
7. Fiat 500L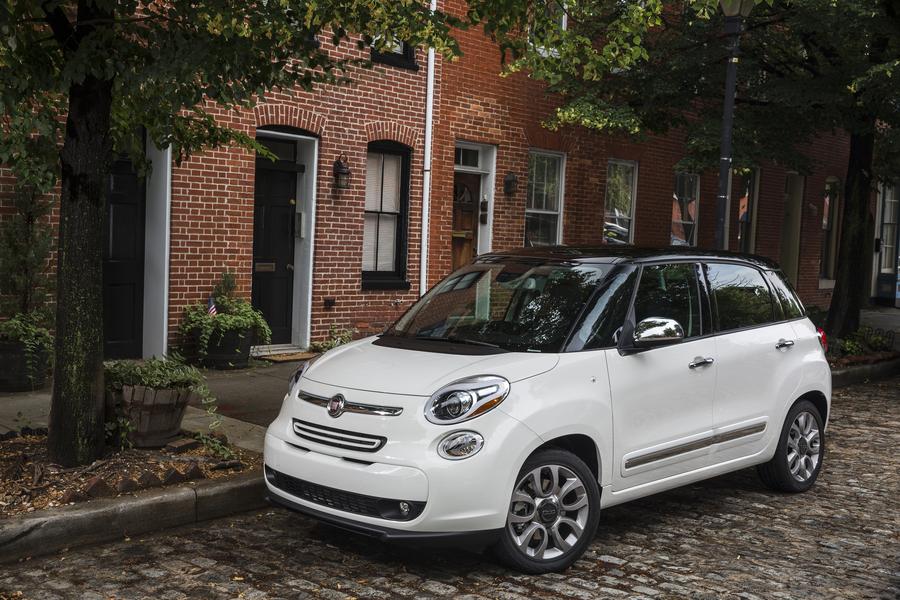 Targeting the premium segment of small cars, FIAT brings in 2014 the bigger brother of the 500. Fiat has a long collaboration related with luxury business. We cannot contest the powerful bounds between FIAT and other  luxury brands such as Gucci, Guerlain etc. FIAT 500 is a statement car and his big brother aims to became a statement car as well. And that's why we included this model in our preferences. The FIAT 500L is more spacious and more comfortable than its 2-door counterpart, but those aren't the only qualities that make it stand out. This beautiful little hatchback is actually able to accommodate 5 people it complete comfort thanks to a longer and wider body that ensures 42% more interior space as well as some extra 13.6 cubic feet of luggage space. Under the hood, we find a small yet powerful 1.4-liter engine that is able to deliver 160 horsepower and 184-pound feet of torque. Small yet spacious and adequately powerful, the Fiat 500L might just be the most practical car on our list.
8. 2014 Audi A8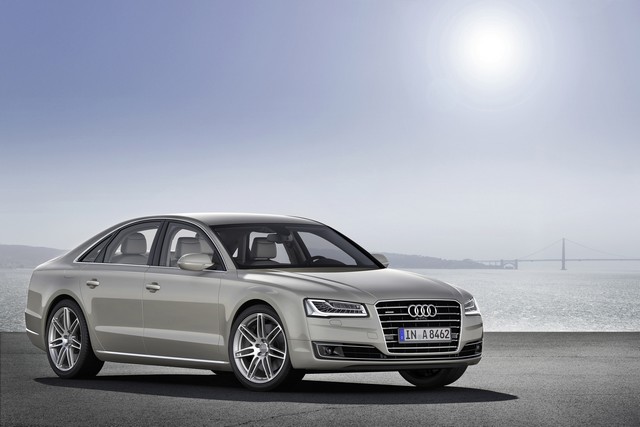 Perhaps the most spectacular entries on our list is the new and improved Audi A8. The 2014 Audi A8 received a spectacular facelift that involves some pretty impressive exterior modifications, including a new hood, a new front grille and a redesigned front bumper. The changes also comprise new LEDs in the taillights and headlights as well as new additions to the rear bumper such as two rhomboid tailpipes. As we've come to expect from a top-of-the-line vehicle such as the A8, the interior is drenched in luxury. Amenities include air-conditioning systems, massaging seats, internet connectivity and a superb Bang & Olufsen Advanced Sound System. When it comes to power, the A8 is equipped with a 3.0 liter V6 TFSI engine flaunting 310 horsepower or with a 6.3-liter W12 boasting 500 horsepower. Those who are looking for a more economical approach can always opt for the  3.0 TDI version, while a 2.0-liter TFSI hybrid version might also stir some interest with its 245 horsepower output.
An article by Madalina Salceanu
About the author :
Graduated in Psychology , Madalina is passionate about travel, expensive things, fashion and blogging. You can find more interesting articles on her personal blog : http://raredelights.com/