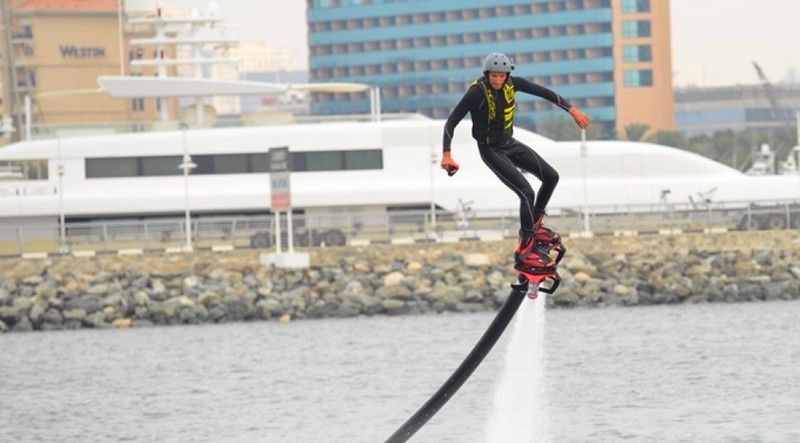 The maritime sector in U.A.E. contributes about 5% to the Emirates' national economy. Complementing a stunning superyachts display, Dubai International Boat Show 2016 (DIBS), the region's leading leisure marine event, will showcase a thrilling new line-up of activities for visitors. The 24th Dubai International Boat Show at the Dubai International Marine Club – Mina Seyahi is open to trade visitors and the general public from 3pm – 9.30pm daily from 1 – 5 March 2016.
The 2016 edition will offer activity-based features including fishing and sailing trips, and adrenaline-fueled water stunt shows, giving enthusiasts and newcomers a taste of the leisure marine lifestyle that the region has to offer.For the first time ever, beach access is open to visitors who can to take part in even more water-related leisure and sporting activities.
DIBS Watersports and Watersports stunts: Water sports enthusiasts will get the chance to experience enthralling shows where experts will perform daredevil stunts with Jet Pack, Fly Board, and Fly Bike in association with yacht and watersports provider, Day & Night Dubai.In collaboration with water sports centre, Water cooled UAE, catamaran taster sessions, stand up paddle boarding sessions, windsurfing man oeuvres, and kayaking adventures are all on offer on the water. Kite surfing kit displays and technique discussions will also be available.

Hands on Boating Experience: Dubai Boat show has teamed up with Marine Concept Sea School and yacht Charter to offer complimentary hands-on boating experiences. Participants can learn sailor requisites, such as safety equipment, vessel check outs, rope work, basic knots as well as docking and undocking in a confined area, while family and friends can watch from the dedicated viewing gallery.

DIBS Fishing and Fishing Trip Experience: Out-at-sea fishing experiences are available for fishing enthusiasts. Activities include quick fishing and trolling activities in collaboration with Boat Pilot UAE. At the DIBS' Fishing zone, participants have an opportunity to learn about the latest rods and equipment, casting demonstrations, competitions, and seminars.
DIBS Sailing, Match Racing & Sailing Experiences: As sailing grows in popularity across the region, a dedicated sailing section will help newcomers learn more about the activity. Budding sailors will meet and interact with experts and other enthusiasts as well as explore the latest sailing boats on the market. Members of the public will get the chance to enjoy the pleasures of sailing, with visitors invited to take the helm, trim the sails or simply sit back and enjoy the ride with the unique opportunity to participate as crew on a Match Race.

Sahtein: This year, the prestige show hosts 'Sahtein', a gourmet food event from Dubai Food Carnival, which includes on-yacht dining experiences, a chef's table at the VIP Lounge, dinner cruises, afternoon tea and Friday brunch on a luxury yacht.An enticing new show-wide gastronomical experience will be on offer by award-winning chefs, premium restaurants, and renowned food brands serving cuisines from around the world.

'Be an Underwater Star' Photography Competition: Aspiring photographers, and diving and underwater sport enthusiasts are encouraged to take part in an underwater photography competition at DIBS.In conjunction with DMEX Middle East, participants can submit a photograph for the 'Best Ocean Life', 'Best Coral Life', and 'Best Underwater Selfie' categories, which will be reviewed by a highly-qualified jury of panelists.