Series version of the electric BMW i3 unveiled simultaneously worldwide.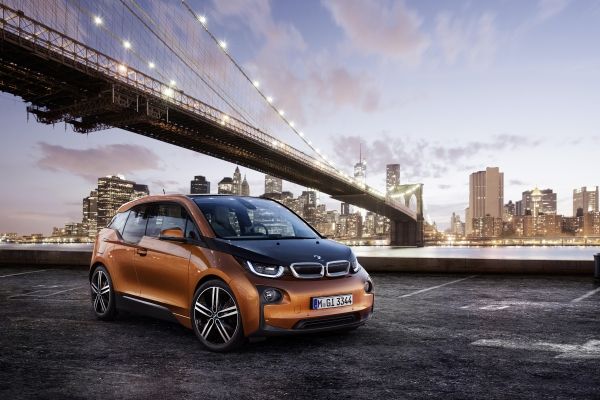 The BMW Group debuted the series version of its innovative electric vehicle, the BMW i3, simultaneously in New York, London and Beijing.
The vehicle achieves a range of 130 to 160 kilometres. The BMW Group's experience with test fleets of MINI E and BMW ActiveE cars has shown that a range of 130 to 160 km is quite sufficient for the vast majority of drivers. The average distance driven daily worldwide is no more than 64 km.
"Innovation drives change. The i3 is more than just a car. It's a revolutionary step towards sustainable mobility. It is purpose-built around an electric power train to serve the needs of our megacity customers," said Chairman of the Board of Management of BMW AG, Norbert Reithofer, at the world premiere in New York on Monday.
If desired, the BMW i3 is also available with a range-extender, which maintains the charge of the lithium-ion battery at a constant level enroute, as soon as it falls below a specified value. This is performed by a two-cylinder gasoline engine with 34 hp (25 kW), mounted adjacent to the electric motor above the rear axle. The range extender increases the car's maximum range in day-to-day driving to around 300 kilometres.
The BMW i3 features a large number of technological innovations – such as a carbon-fibre passenger cell and a chassis made of aluminium – and sets new standards in the field of lightweight construction. With a curb weight of 1,195 kilogrammes, it is lighter than most vehicles in the compact segment, yet offers significantly more space for up to four occupants.
Its low weight contributes to the agility and dynamic performance of the BMW i3. The car's electric drive-train generates output of 125 kW/170 hp and peak torque of 250 Newton metres, which is immediately available from a standing start. The BMW i3 sprints from 0 to 60 km/h in 3.7 seconds and from 0 to 100 km/h in 7.2 seconds. Its top speed is limited to 150 km/h for efficiency reasons.
The BMW i3 will be released in Germany and other European markets in November 2013. The market launch of the BMW i3 in USA, China, Japan and several other markets will take place in the first half of 2014.
The electricity needed for production of the BMW i3 at the Leipzig plant is generated from wind power. In addition to its CO2-free electricity supply, the plant also uses 50% less energy and 70% less water than the average for the already highly-efficient BMW production network.