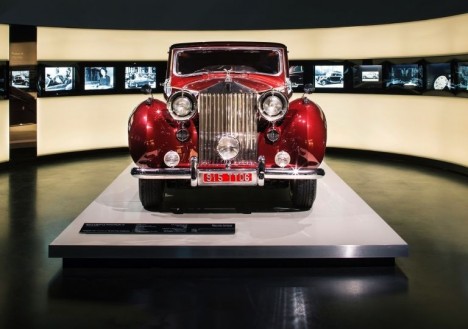 Rolls-Royce has a double celebration. The British luxury car manufacturer celebrates the tenth year of the marque under BMW Group ownership. The company commemorates yet another key milestone – the 150th anniversary of the birth of Sir Henry Royce.
What better way to celebrate than with 'Strive for Perfection' – the first ever Rolls- Royce Motor Cars exhibition at the BMW Museum in Munich.
Rolls-Royce Motor Cars is enjoying sustained success. The company recently announced a new global sales record and substantial sales growth in Mainland Europe for 2012. Rolls-Royce is represented by 16 dealerships in Europe.
The displays tell the story of the world's leading super-luxury goods manufacturer in chronological detail; from the meeting of the company's founding fathers, Sir Henry Royce and the Honourable Charles Stewart Rolls in 1904, through to the present day.
"This outstanding and historic exhibition proudly celebrates the tenth anniversary of the renaissance of Rolls-Royce Motor Cars under BMW Group ownership", said Torsten Müller-Ötvös, Chief Executive Officer. "Our contemporary motor cars present a unique blend of German expertise and technology and outstanding British craftsmanship and design. It is therefore appropriate that this key moment in the story of this Great British manufacturing success story is told in the BMW Museum, an iconic location which is both the 'soul and the memory' of the BMW Group."
Situated in the landmark BMW Museum bowl and covering more than 1,000 square metres over five floors, the exhibition includes 15 original Rolls‑Royce motor cars dating from 1907 to 2012. The collection includes the famous Rolls-Royce 10EX, one of the most significant experimental cars in the world, built in 1926 to demonstrate the performance potential of the 'New Phantom'. Sir Henry Royce engineered and drove 10EX himself in his relentless pursuit of automotive perfection.
The historic cars are complemented by beautiful descriptive displays, with themes including coachbuilding, craftsmanship, Bespoke design, engineering and advertising. The narrative includes historic displays of the famous Spirit of Ecstasy hood ornament and the 'Pantheon' radiator grille, both unmistakably icons associated with Rolls-Royce motor cars.
The exhibition is accompanied by displays of timeless craftsmanship from other British luxury manufacturers, including men's and women's fashion, leather goods, time pieces, shoes, silver and glass ware.