Largest yacht ever to be build in China joins the Fraser Yacht sales fleet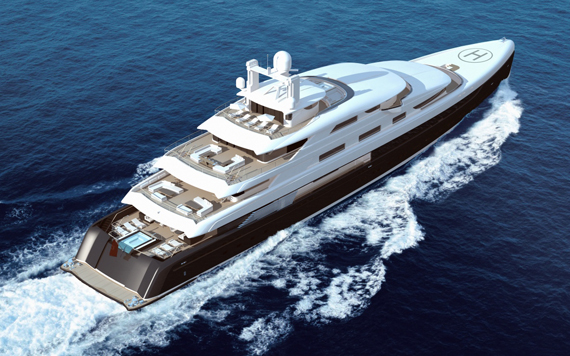 The imposing 88m Illusion, China's biggest superyacht, is currently build in China by Fraser Yachts, the largest luxury yacht service provider in the world. Illusion's wide beam of 15.6m will create huge volume over the six decks and create a gross tonnage of
3,500GRT. Illusion superyacht is scheduled for delivery mid‐2015.
Illusion is currently under construction at Rafflesshipyard, in China' Shandong province where the stunning 90m NERO(1,400GRT) and the 88m(2,385GRT) ASEANLADY were also built. The naval architecture was drawn up by AzureNaval,responsible for the design of some of the largest yachts in the world, including SEVENSEAS, ALFANERO, CAKEWALK and ANASTASIA to name but a few. While the exterior styling was designed by RSD which has designed a variety of yachts up to 170 min length.
The modern, elegant and Asian‐inspired interior has been conceived by the renowned Sander Sinot, whose design skills also created the sumptuous interiors of the 78 metre Feadships MUSASHI and FOUNTAINHEAD. Powered by Rolls Royce diesel electric propulsion
engines, ILLUSION will have an impressive cruising speed of 14 knots and a maximum cruising speed of 17 knots.
Due to her construction in China, Illusion will not be subject to any import duties if she were to be purchased by a Chinese client wanting to use herin home waters.
A model of ILLUSION will be on display at the Fraser Yachts stand (E17) at the forthcoming Hainan Rendez‐Vous taking place from the 30th March – 2nd April 2013 in Sanya.