Since 2007, Isabelle Gellé, a French perfumer based in Yorkshire has been striving to make people rediscover the smells of Nature through botanical perfumes. Ahead of her time, Isabelle anticipated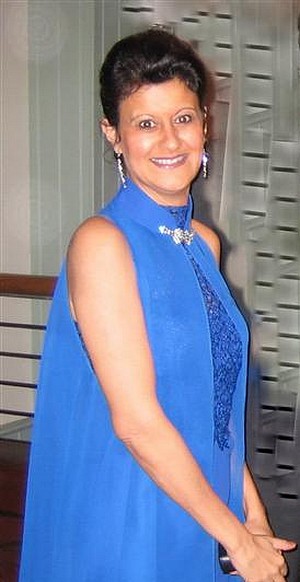 that consumers would want to return to periods when natural ingredients were the only known things around.
Isabelle is a native of the Indian ocean islands which makes her naturally enclined to know a lot about tropical scents. She started her career in West Africa as a country manager, buying and selling spices, Arabic  gum and green tea. She lived and worked in many foreign countries and her travels led her to develop her creativity for all what Nature has got to offer as well as for everything beautiful and uncompromised luxury.
She started to create perfumes at the early age of 10, using gardenia flowers and other tropical plants macerating in coconut oil and scenting beeswax candles. Her extensive knowledge of the spices and aromas business in Africa, allowed her to get acquainted to the unlimited scents of Nature.
She is a self-taught perfumer with a passion and wide knowledge of botanicals and she focuses on the Art rather than the Science of Perfumery, creating a bridge between Ancient and Modern scents. Holder of a diploma in aromatherapy from Oxford College and an Indian head massage practitioner, she also holds a City & Guild Certificate in teaching in the further education and regularly organises workshops to teach and introduce students to methods of creating natural perfumes according to traditional methods
What means luxury to you in one word?
Bespoke
What are your models or fundamentals in life which you will recommend to others?
Treat Nature as you would treat yourself i.e. with indulgence and respect
What is your criteria for luxury in order of preference
-Makes you feel unique and is unique
-Is handcrafted with passion
-Is timeless
-Less is more
What is your favorite luxury brand(s) and why?
Bottega Venetta because it promotes the sensual side of leather and is synonymous with Italian craft;
Crabtree & Evelyn because their toiletries are made of high quality botanicals and smell like an English garden;
Chanel because their fashion is unfashionable
Name 5 luxuries which are "indispensable" for you and why:
– A break in a boutique hotel because it gives positive energy and makes me feel pampered;
– My MG sports car with which I can't do without because it's such a nice no-nonsense car to drive;
– Darphin skincare products because of their effect on my skin;
– My Blackberry Torch which ensures I am always connected to the world;
– A gourmet meal just to remember that life should be a pleasure
Digital and Luxury. Love or Hate? What means "digital" for you ?
Don't love nor hate. I use digital products because they are part of our society and it is difficult to do without them but they are not a necessity. "Digital" to me means moving along in the fast speed society.
How will be luxury in the future ?
Nostalgic I think.  I believe luxury in the future will mean respecting Mother Nature more than ever and making the most of scarce resources because we will have realised that we have not been gentle to our Earth and we will appreciate what's left of it.