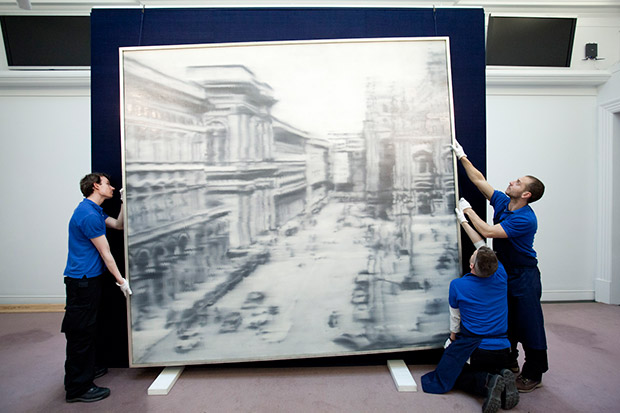 Park Hyatt hotels have invested in world class contemporary art, architecture and design as an expression of the personalized and individual experience offered in each Park Hyatt hotel since opening its first Park Hyatt hotel in Chicago over 30 years ago. Today, artwork at Park Hyatt hotels around the world includes Lucio Fontana's 1984 sculpture "Testa Di Medusa" in the Cupola Lobby Lounge at Park Hyatt Milan, six works by Polish American painter Ed Paschke that hang in Le Bar at Park Hyatt Paris-Vendome, and a 570-square-foot mural by Sol LeWitt that the artist painted specially for the Park Hyatt Zurich foyer, among others.
It's no wonder, Park Hyatt and Sotheby's have announced an exclusive collaboration that aims to provide rare and exceptional experiences and to curate connoisseurship activities in art and beyond. Offerings for guests and clients of both brands will include exclusive promotions, as well asevents and curated experiences, beginning in early 2014.
"Providing our guests with unique access to contemporary art has always been an integral part of the Park Hyatt ethos," said Katherine Melchior Ray, Vice President of Luxury Brands for Hyatt Hotels & Resorts. "Our work with Sotheby's developed through the recent sale of Park Hyatt Chicago's 1968 Gerhard Richter painting 'Domplatz Mailand,' and we feel that this relationship broadens Park Hyatt's authentic commitment to fine art and design this year and beyond. Sotheby's fine balance of rich company history and pioneering, innovative spirit towards art and connoisseurship resonates with the Park Hyatt brand and the interests of our guests. We look forward to curating joint experiences for our guests and clients around the world."
Park Hyatt's newly formed relationship with Sotheby's furthers the brand's legacy of excellence in the arts and is the first of several art initiatives that the Park Hyatt brand will be launching within the next year, announced the hospitality group.
"Sotheby's has long recognized that great works of art, as well as the collectors interested in consigning and acquiring them, inhabit the global sphere. Park Hyatt's worldwide presence and signature approach to personalized luxury in hospitality, combined with the brand's dedication to the arts, make this a very relevant and valuable partnership for Sotheby's. We are pleased to share special access and offerings from Park Hyatt with our top clients and look forward to inviting Park Hyatt guests into the Sotheby's world of art, wine, diamonds and unique, curated experiences," said Amy Todd Middleton, Sotheby's Worldwide Director of Marketing.