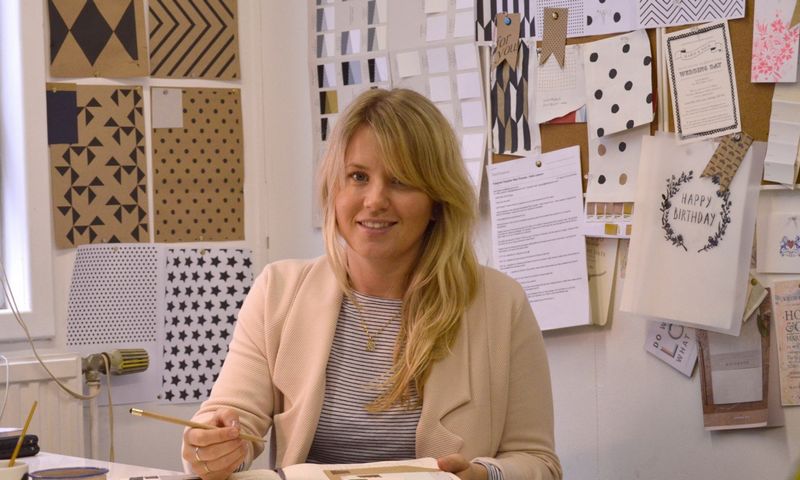 ---
This article titled "Small business in the spotlight … Katie Leamon luxury cards & stationery" was written by Kitty Dann, for theguardian.com on Saturday 11th April 2015 07.00 UTC
Describe your business in a nutshell
Luxury cards and stationery, all handmade in England. A lot of them are also handprinted and the rest are handfinished. We do paper products – cards, stationery, gift wrap – as well as a few other things like pencils – but the main focus is the cards.
What inspired you to start the business?
One summer a few years ago my brother found this at home stamp-making kit, and over one weekend we made all our drawings into stamps.
In 2011, I made some into cards and took them to a shop in Bermondsey and then a couple of months later it was [London department store] Liberty's Open Call [pitching day]. They picked up on the cards and said how much they liked them. A month later I did the Pulse trade show [annual exhibition for gift and interior sellers] and that's where I met Selfridges and Paperchase.
How important are trade shows and how do you prepare for them?
Trade shows are absolutely essential for our business.
A week goes into how products are displayed at a trade show – the finishing touches are very important to me. For example, we always paint the walls in a show to go with all the illustrations. And then we just make it into an inviting, homely space, with lots of fresh flowers and a vintage feel. We use [props] that are similar to the look and feel of the brand, trying to get that personality across. When I first started out, I would start to plan what the next show would look like a few months in advance.
A lot of the time when you first meet people at trade shows you have no idea what store they are from. You are pitching to them in the same way as you are pitching to Joe Bloggs.
Is 'Made in Britain' good for sales?
A lot of our stockists like the fact that it is all made in England – it is really important. I think if everything was done overseas where you don't get to see the whole production process, I wouldn't feel comfortable from a design point of view. You need to make sure that everybody involved really gets the brand.
How do you ensure your products stand out to buyers?
Address things to particular buyers to give it a really personal touch so they know they are not just being sent a selection of everything. You need to pitch personally to them.
There is so much competition, so I think it's about trying to stay ahead of the game, trying to think of that new collection and get it going quite rapidly. I have spoken to buyers at times and asked: "What can we do to make sure we are still here in a few years' time?" They say that they want to see something fresh at a show. So trying to keep ahead while staying true to your brand is important.
What are your plans for the future?
I would like to do some collaborations. I like the idea of doing a wallpaper or homeware collaboration. Also I would love to do partyware – it's really big in Australia. Things like paper plates and paper cups for high-end events like bridal shows.
What's been the hardest part of running a business?
I would say probably managing the people. I don't have a particularly business brain, I am definitely more creative-minded.
What advice would you offer to budding entrepreneurs?
You need to think about exactly what sort of brand you want to be and have a set idea of the brand identity before you start out so you can keep it really tight and really niche.
Katie Leamon is the founder of Katie Leamon
guardian.co.uk © Guardian News & Media Limited 2010
Published via the Guardian News Feed plugin for WordPress.