Shiseido Honorary Chairman Yoshiharu Fukuhara Receives one of the most prestigious award in the cosmetic industry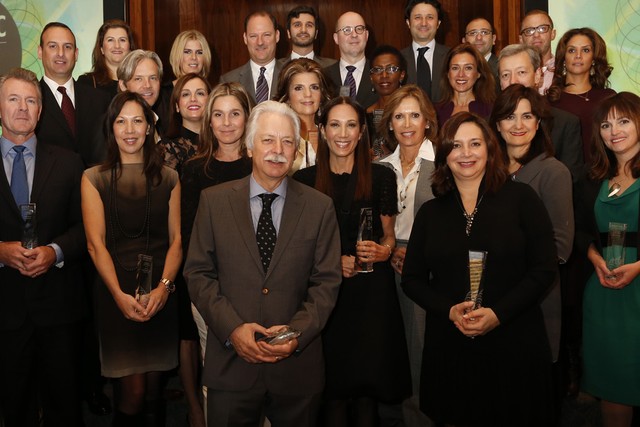 Women's Wear Daily (WWD) Beauty Inc, the leading influencer in the beauty industry, has awarded Shiseido Honorary Chairman Yoshiharu Fukuhara the "2012 Visionary of the Year Award" in recognition of his strategic development of the global business and rich contributions to the cultural value of Shiseido and the industry in total. This prestigious honor celebrates the achievements of Mr. Fukuhara amid the backdrop of Shiseido's 140th anniversary.
The annual WWD Beauty Inc Awards are hosted by the monthly beauty publication, which selects the top performers in ten categories among the prestige and mass markets. As the centerpiece for the event, the "2012 Visionary of the Year Award" was presented for extraordinary contribution to the beauty industry.
"If I can share my vision, I believe that everyone involved in the cosmetics industry must use their work to propose new values to move society forward in a positive fashion. I would like to encourage everyone to work together to further develop this industry with an eye toward what we can do to give back–and transform our world into a more beautiful place to live," said Mr. Fukuhara.
Pete Born, executive editor of beauty, WWD, commented, "Mr. Fukuhara truly defines the tenets of the word visionary. During his time at Shiseido, he brought East to West, and in so doing helped define the modern look of beauty. Among his many accomplishments: he was one of the first pioneers to go into China, back in the Early Seventies. He established his company's business in the U.S. and Europe, and championed the marriage of cultural creativity and corporate responsibility before such words were even in our lexicon. Although his grandfather started the business, he governed with a deep feeling of humanism, a trait that continues to characterize Shiseido as a company today."
The winners of the WWD Beauty Inc Awards:
Ad Campaign Of The Year – BENEFIT COSMETICS for Glamouriety
Brand of the Year: Mass – L'ORÉAL PARIS
Brand of the Years: Prestige – YVES SAINT LAURENT BEAUTÉ
Digital Innovator Award: Mass – REVLON
Digital Innovator Award: Prestige – SEPHORA
Launch of the Year: Mass – RED CARPET MANICURE
Launch of the Year: Prestige – AERIN
Newcomer of the Year: Mass – HAIR RULES
Newcomer of the Year: Prestige – CIATÉ
Product of the Year: Mass – GARNIER SKIN RENEW B.B. CREAM
Product of the Year: Prestige – NARS ANDY WARHOL COLLECTION
Marketer of the Year:
Gina Boswell, executive vice president, personal care Unilever (mass);
Jane Hertzmark Hudis, global brand president of Estée Lauder (prestige).
Creative Influencer of the Year: Frédéric Malle.
Corporate Social Responsibility Award: Groupe Clarins.
Retailer of the Year: Family Dollar (mass), Selfridges (prestige), Cos Bar (speciality)