Salon du Chocolat 2011. To eat without moderation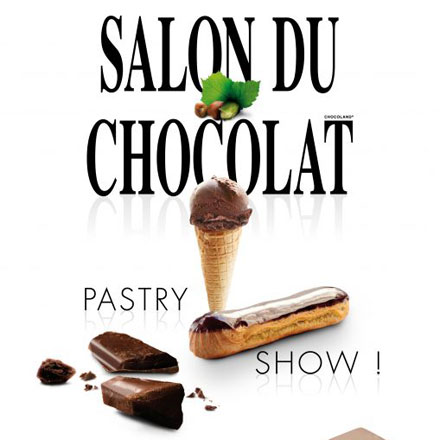 From 20 to 24 October 2011, the Salon du Chocolat settles in Paris, at Porte de Versailles, for its 17th edition in France.
The annual Parisian show Salon de Chocolat will deliver the 2012 chocolate trends. This year collaborations include chocolate house Cacao Barry, and plastic designer Willy G, whose strapless dress is studded with macarons and profiteroles.
The "Chocolate Trends" fashion show will unveil a prestigious collection of "couture" and fleeting creations invented by the twin imagination of talented designers and chocolatiers.
In a bid to unite the creative extravagance of traditional chocolate makers and that of young talented stylists, the Salon du Chocolat this year joins with the International Festival of Young Fashion Creators of Dinard. And for this 17th edition the Fashion Show will be patronized by an eminent designer:  Chantal Thomass.
The 2011 Fashion Show will take place in Paris between October 20 and 24 just like a real show against a baroque-burlesque backdrop and visitors will enjoy the gourmand and chocolated interpretations of:
Jean-Paul HÉVIN & designer Caroline CHUU pour AYA
François PRALUS & lingerie designer Maxine WATTAM
Sadaharu AOKI & designer MANIX WONG pour LACLOS
Vincent GUERLAIS & costumier Christian COURCELLES
Arnaud LAHRER & a styliste Amandine ZERBIB pour NO MAD CREATION
DES LIS CHOCOLAT par Denis JULLEMIER, 85/86 par Juliette ZAKOWETZ & Aela LEHMANN
Patrice CHAPON & LEON ROSE MAGMA
Frédéric CASSEL & la créatrice Virginie MARCEROU
Jacques BELLANGER & Audrey BIARNAIS
Philippe PASCOËT & Alexandra GERBAULT pour VIOLETTE LA MAGNIFIQUE
Stéphane BONNAT & costumier Christian COURCELLES
Sébastien BOUILLET & designer Nicolas FAFIOTTE
CACAO BARRY & plastic designer Willy G.
Christophe ROUSSEL & designer Jean DOUCET
Vincent LECHEVALLIER for MONBANA & designer Eva RACHLINE
Jean-Marc RUE et Keiko ORIHARA pour MONSIEUR CHOCOLAT & designer Manon BRESSON-CANCEL
CONFÉDÉRATION NATIONALE DES GLACIERS  DE FRANCE & Jean-Luc DECLUZEAU for HELIANTHÈME
CHOCOLATERIE PUYRICARD & BEN BRASS for Benjamin BOUT.
[adsenseyu1]