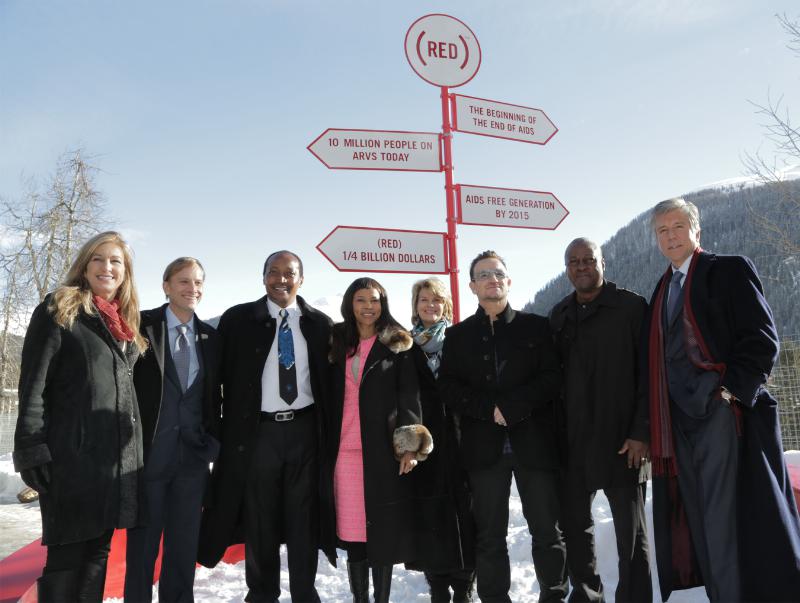 (RED) and rock group U2 intends to generate more than $10 million to fight AIDS through a partnership with Bank of America.The partnership will kick off with a commercial during the February 2 Super Bowl that will feature U2 performing a new song, "Invisible." The song will be available as a limited edition release on iTunes for free download during the game and for the following 24 hours. For every download during that timeframe, Bank of America will donate $1, up to $2 million total, to the Global Fund to Fight AIDS, Tuberculosis and Malaria, which provides life-saving HIV/AIDS treatment, testing and prevention services to tens of millions of people in the world's poorest countries.
(RED) has already generated more than $240 million for the Global Fund since being founded in 2006 by U2 lead singer Bono and Bobby Shriver in order to drive corporate donations to the fight against AIDS. The additional funding from Bank of America will help (RED) surpass a quarter billion dollars raised.
Key to the success of this initiative will be raising awareness among Bank of America's vast customer base and more than 240,000 employees, and providing opportunities for them to take action at this critical moment in the global effort to eradicate mother-to-child transmission of HIV by 2015. Bank of America serves one in two U.S. households with a network of approximately 5,100 retail banking offices and 16,300 ATMs, has one of the most visited websites in the world, and more than 30 million online banking users and 14 million mobile users.
(RED) funds are fighting AIDS in eight African countries – Ghana, Kenya, Lesotho, Rwanda, South Africa, Swaziland, Tanzania and Zambia – and are used to support HIV/AIDS grants which provide treatment, testing and prevention and care services, with a focus on ending mother-to-child transmission of HIV and achieving an AIDS-free generation. Of the more than $240 million generated by (RED), 100 percent has gone directly to the Global Fund for on-the-ground services, with no overhead taken out by (RED).