GIBBS Quadski – the world's first high-speed amphibian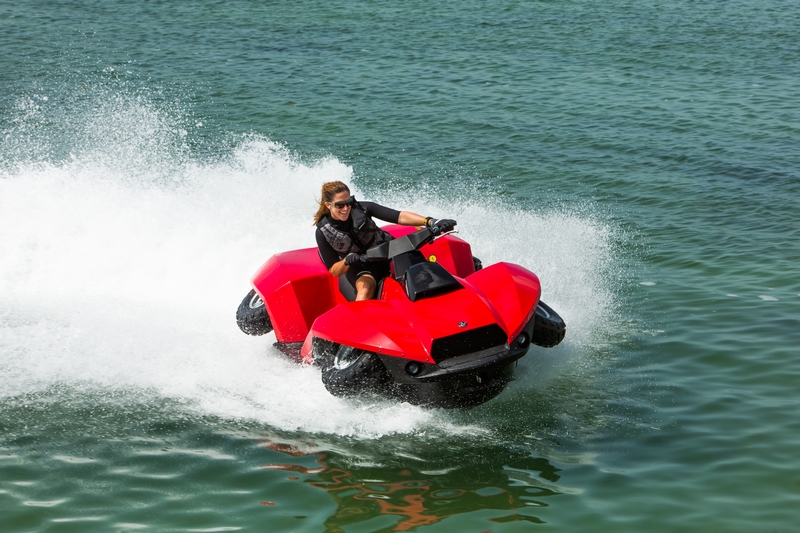 The dream of two visionary entrepreneurs — Alan Gibbs and Neil Jenkins — the Quadski, the world's first sports amphibian to operate at high speeds on both land and water, attracted crowds at major marine and powersports shows in the United States.
Representing an "entirely new form of transportation", the high-speed amphibian (HSA) has a durable, but light-weight composite hull and utilizes patented water-jet technology, being powered by a BMW Motorrad engine and transmission.
"Quadski represents an entirely new form of transportation," explained Alan Gibbs, the founder of Gibbs Technologies and Gibbs Sports Amphibians. "It is the only sports amphibian in the world capable of reaching speeds of 45 miles per hour on both land and water and can transition between both in less than five seconds."
The Quadski transitions from land to water in less than five seconds and reaches planing speeds in seconds. The new HSA weighs 1,300 pounds, is equipped with a 15-gallon fuel tank and retails for about $40,000. Quadski has a unique retractable suspension system that provides superb ride-and handling on land and then can retract in seconds after entering water. The new HSA's BMW four-cylinder, water-cooled engine is considered the lightest powerplant in its segment and features electronic fuel injection, a double-overhead camshaft and dry -sump lubrication.
Currently available in five colors – red, yellow, blue, silver and back – the GIBBS Quadski already is on sale in Florida and soon will go on sale at other dealerships.