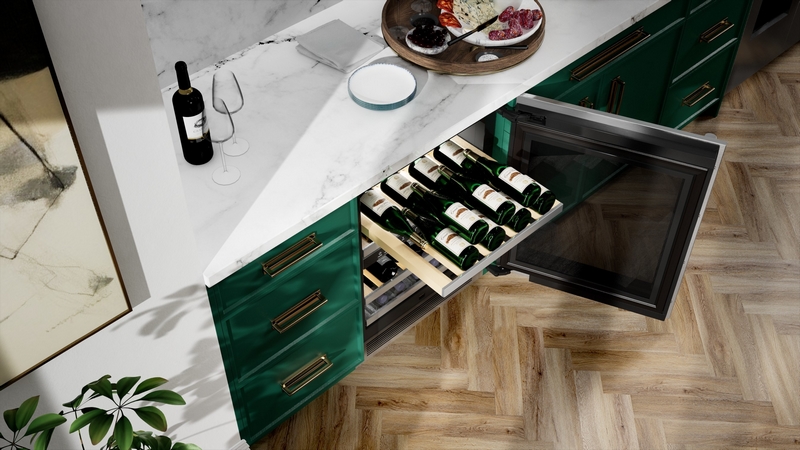 As people continue to spend more time than ever in the home, consumers are gravitating toward products that not only look beautiful, but also help them maintain a healthy and happy living space. These new kitchen & home additions are providing even more options to meet the varying preferences of today's at-home chefs. Read also about best of KBIS 2020 edition.
In today's world, bringing to market innovations with purpose is more important than ever.
Signature Kitchen Suite Introduced All-Gas Pro Ranges And Rangetops At KBIS 2021.
Along with the new ranges and cooktops, the expanded Signature Kitchen Suite culinary portfolio for 2021 features a new combination wall oven and the newly available 36-inch pro range with built-in sous vide, induction and gas burners – an industry-first innovation. For the home chef who prefers the increased cooking control and even heat distribution that gas cooking delivers, Signature Kitchen Suite is introducing both 36-inch all-gas pro ranges and rangetops.
At virtual 2021 KBIS, Signature Kitchen Suite is announcing the availability of its 36-inch dual fuel pro range with sous vide. This builds on the success of the brand's flagship 48-inch model with sous vide, induction and gas burners – and packs all these modalities in a smaller footprint. It is complemented by a 36-inch hood that is engineered to be installed without the need for a separate and oftentimes costly make-up air system, as the range stays under 39,000 BTUs, making this ideal for installations in urban homes or luxury high-rise buildings.
The Signature Kitchen Suite 36-inch dual fuel sous vide range just received top-level "Best of IBSx" (the International Builders Show experience) 2021 awards in both the home technology product and indoor product categories. In addition, its 48-inch multi-function cousin received the 2021 Spark Award from the National Association of Home Builders.
Advanced Undercounter Wine Refrigerator by Signature Kitchen Suite.
The innovative luxury appliance brand brings unique 'Wine Cave' Technology, best-in-class preservation features to Undercounter Wine Refrigerators.
Unique to Signature Kitchen Suite's wine refrigerators is Wine Cave Technology, which minimizes vibration, temperature fluctuations, limits light exposure and optimizes humidity, protecting collections from wine's most damaging elements. This technology mimics the ideal environment of historic old-world wine caves, like those located near Signature Kitchen Suite's Experience & Design Center in the heart of Napa Valley, Calif. This award-winning facility highlights the intersection of technology and culinary innovation for the new generation of Technicurean™ food and wine aficionados.
The new 24-inch panel-ready undercounter wine refrigerator holds 41 bottles of wine with unique features that make it the perfect place to maintain at-home collections.
Smart water products: Moen Showcased Innovations for a Healthy, Happy Home at KBIS 2021
To demonstrate how Moen is enhancing consumers' everyday interactions with water, the company has built a virtual house for the KBIS 2021 Virtual Experience that demonstrates the real-world benefits of its new innovations and designs. The house will showcase an array of exciting new products that offer trend-forward styles and smart technology for consumers who want to create a spa-like experience and improve health and hygiene within their homes.
U by Moen Smart Faucets make everyday interactions in the kitchen more convenient and efficient. The Smart Faucet offers completely touchless functionality and endless possibilities with intuitive voice-controlled technology to help homeowners complete tasks in the kitchen with precision — and help reduce the spread of dirt and germs, since there's no need to touch the faucet to activate water flow or temperature. A new "wash hands" command helps encourage more complete handwashing all while saving water.
Uniquely designed with the ability to infuse essential oils directly into the water flow, Moen Aromatherapy Handshower with INLY Technology creates an incredible and multi-sensory shower experience, when desired. The INLY Shower Capsules slide into an infusion dial on the showerhead that allows users to select a preferred dilution setting – high, medium, low or off. Moen also introduced Nebia by Moen Spa Shower with a patented spray technology that creates the sensation of more water, while actually using 45% less. Flo by Moen Smart Water Security System is a revolutionary system of products that helps protect the home from water damage and leaks, 24/7. The new offering provides homeowners with peace of mind their home is secure.
Cuisinart Leads the Outdoor Cooking Experience with Technology-driven and Kitchen-inspired Design of Pellet Grill offerings.
Elevating their pellet grill offerings, the new Cuisinart Clermont Pellet Grill and Smoker is designed to featurecapabilities of kitchen appliances like a large viewing window and sliding racks to deliver an epic outdoor cooking experience. With the 8-in-1 functions to smoke, grill, bake, sear, char-grill, barbecue, braise and roast, this multifunctional unit offers a total of 1,400 sq. inches of cooking space, a 40 lb. pellet hopper with probe storage in the lid, 5-tier slide-out rack system for customization, and 2 oven style probe thermometers to ensure the perfect temperature every time.
This pellet grill features include an extra-large backlit LCD controller with cooking read outs and Wi-Fi remote monitoring via the Cuisinart Easy Connect mobile app. From the extra-large wrap around steel work surface with paper towel holder and tool hooks along with an express ash clean-out system, you can easily achieve a commercial style outdoor grilling experience.
House of Rohl brings a spa-like retreat experience into the home.
In a first of its kind for the brand, House of Rohl introduces a collaboration between Victoria + Albert® and Wallpaper*, enhancing Victoria + Albert's RAL color service with three new unique palettes that add joy and calm to inner sanctums for Victoria + Albert's bathtubs and sinks. Compiled with inspiration from the current refocus on the home and desire for exploration and retreat, the color scales represent different moods: Wavelengths, which looks to deep, inky oceans, offering a tranquil spectrum inspired by Atlantic waters; Dune Retreat, a warm, contemplative and escapist palette reminiscent of shifting sands of the desert and natural minerals; and Light Industrielle, a minimalist range that is elegantly utilitarian, with a monochromatic understatement that is accented with subtle grey and orange.