The new Boxster Spyder debuts at 2015 New York International Auto Show.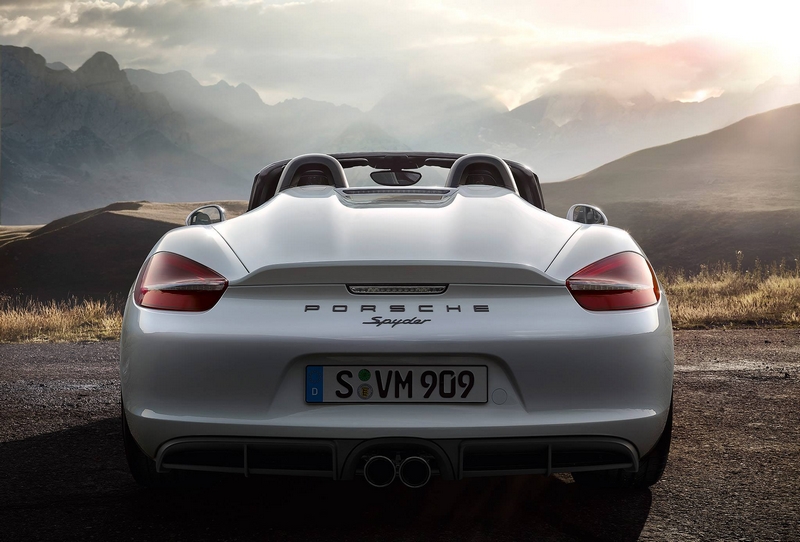 This roadster is not the typical roadster and not the typical Boxster, you'd expect. The new Boxster Spyder is a radical return to the origins of the roadster.
A new top model in Boxster family was announced by Porsche. The automotive company debuts Boxster Spyder at 2015 New York International Auto Show. The new addition is the lightest model of the current Boxster line, and the most powerful Boxster to date.
The Boxster Spyder offers a traditional sports-car driving experience which includes a firm sport suspension with a 20-mm lower ride height, brakes taken from the 911 Carrera S, more direct steering, and a 3.8-liter horizontally opposed six-cylinder engine with an output of 375 hp.
The distinctive design of the Boxster Spyder includes stylistic elements reminiscent of legendary sports and race cars from Porsche. Two prominent streamliners extending down along the sweeping rear lid behind the headrests pay tribute to the 718 Spyder from the 1960s. The manually operated, lightweight top is suitable for everyday use with an electric clasp.
The driver and passenger sit in standard Sport Seats Plus, while the new steering wheel with a diameter of 360 mm (compared to 370 mm in other Boxster models) helps ensure the mid-engine roadster can be driven precisely. In line with the model's traditional roadster character, neither a radio nor an air conditioner is included as standard equipment in order to reduce weight. However, both can be ordered as optional equipment at no cost. Furthermore, the entire range of Boxster audio systems is available for customers to choose from as an option, including the Porsche Communication Management (PCM) system with navigation.
The new $82,100 Boxster Spyder will be launched in the U.S. market in October.