Piecha's tuning and design for the Mercedes SLC.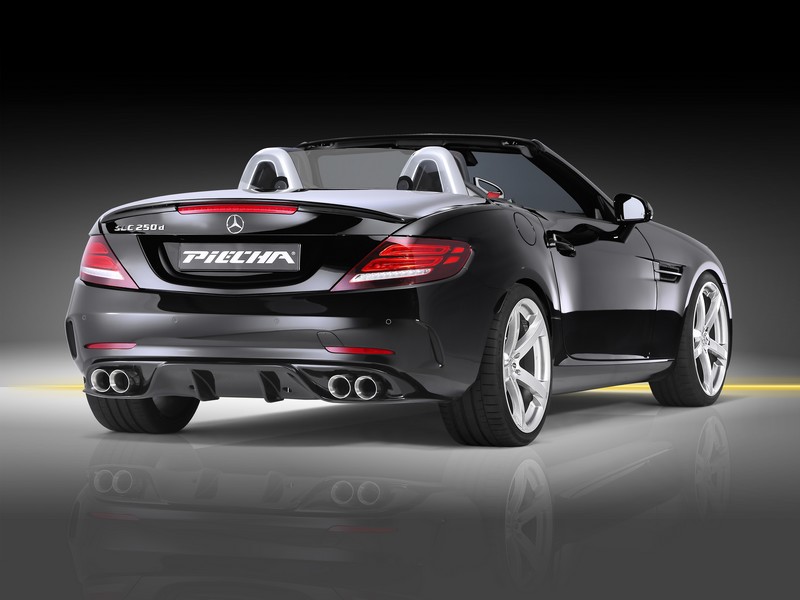 Even though this compact roadster with its epochal folding metal roof is now called SLC, Piecha Design, the German specialist in tuning and design for convertible and roadster vehicles (primarily for models from Mercedes-Benz and Jaguar), sends its congratulations on the car's 20th anniversary with new design and tuning components. Now, the roadster is in its third generation, the R172, and since this year has been called SLC. With a little fireworks of Tailor Made Performance made in Germany, Piecha makes this transformation even more visible.
The rear, for example, only slightly modified by Mercedes, Piecha has made much more striking and racy, also by the "quadrophonic" stainless-steel tailpipe inserts which can be installed in conjunction with the QUADRO rear diffuser in the entire series, up to and including the SLC 43. In visual terms, the four 90mm tailpipes are a class of their own. After all, even the most powerful SLC, the AMG 43, normally only features pseudo trims on the exhaust.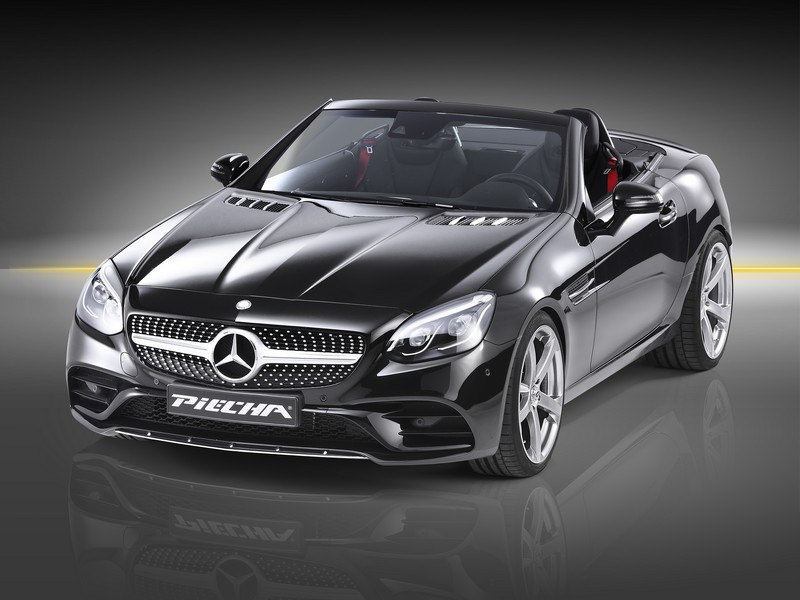 Mercedes has used the transformation to adapt the SLC to its other present car series with LED headlights, a diamond style radiator grill and a new front bumper. And the roadster is made even more attractive through customised springs that lower the centre of gravity by up to 25mm. Wheel spacers, a real-glass wind stop, chrome-plated Aerowings and new alloy wheels make the package complete.
"We specially recommend the new Jade R 19" wheels, available with a silver finish called "Hi Power". The front axle takes 8.5 x 19" wheels with 235/35 R19 tyres, the rear axle concave 10 x 19" wheels with mighty 275/30 R19 tyres, all without work at the body being necessary. With dimensions like these, a lowering of the car is almost a MUST-HAVE, not only for a better handling but also to make it look even better," said Piecha Design Team.
A REAL MUST-HAVE is Piecha's vario roof module: Simply push the button on your car remote key, for example while sitting in a café, and you will open or close the roof of your SLC. You can even open it until 60 kph. Another highlight: You can even eliminate more air turbulences with the module by closing the rear windows while driving with an open roof. And there is another MUST-HAVE – the Piecha Power Converter, "which provides a much better responsiveness of the gas pedal and more agility and fun."