Olivia Putman redesigns Nina Ricci's L'Air du Temps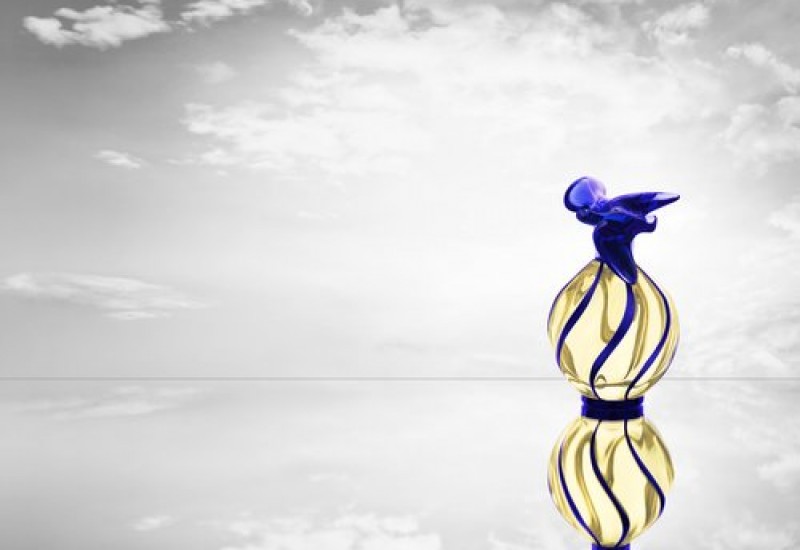 French designer Olivia Putman, daughter to Andrée Putman and heir to her mother's design studio, Studio Putman, works range from interior architecture to scenography, and design. The latest project saw the transformation of the iconic Nina Ricci's L'Air du Temps perfume bottle. This new interpretation remains true to the original design idea, but came with the sobriety inherent to Putman style. Launched in 1948, the fragrance L'Air du Temps by Nina Ricci saw its design revisited by Joan Rebull, Andy Warhol and David Hamilton.
Olivia Putman dressed the new L'Air du Temps evening scent for women in blue curves matched with the famous glass birds on top of the bottle.
Olivia Putman and Catherine Deneuve were ambassadors of the event "La France, un art de vivre" at the Ambiente fair in Frankfurt in March. As the biggest international consumer-goods fair, it attracted around 150,000 visitors in four days. Studio Putman's scenography proposed a vision of this very abstract notion which is French "art de vivre".
In March, Studio Putman announced that it won the international competition to design the new VIP lounges for Lan Airlines and OneWorld. The first lounges will open in the airports of Buenos Aires, Bogota and Santiago de Chile.