Lift efoil – an electric Flying Surfboard built from the Ground Up.
The LIFTeFoil features a fully submersible, silent electric engine designed from scratch.
With complete control in the palm of your hands, you can easily adjust your speed for an effortless, smooth ride. By simply pressing the throttle you can go up to 25 miles per hour or automatically shut off the engine by releasing the lever. Rich content such as speed and battery charge percentages are displayed on the screen. The waterproof controller also floats and comes with a strap to keep it secured to your hand. The hand controller commands the motor. The motor will automatically shut off by simply releasing the lever; if submerged in water; or outside a distance of 10 feet.
A unique feeling that combines the sensations of surfing and flying all in one.
"Our motor was designed to be an extension of you. Unlike gas engines, electric motors have no lag and deliver maximum torque on command. This instant response allows you to have complete control over the motor. There is no delay from rider input to motor output making your ride not only safer, but exhilarating," said Lift Efoil's designers.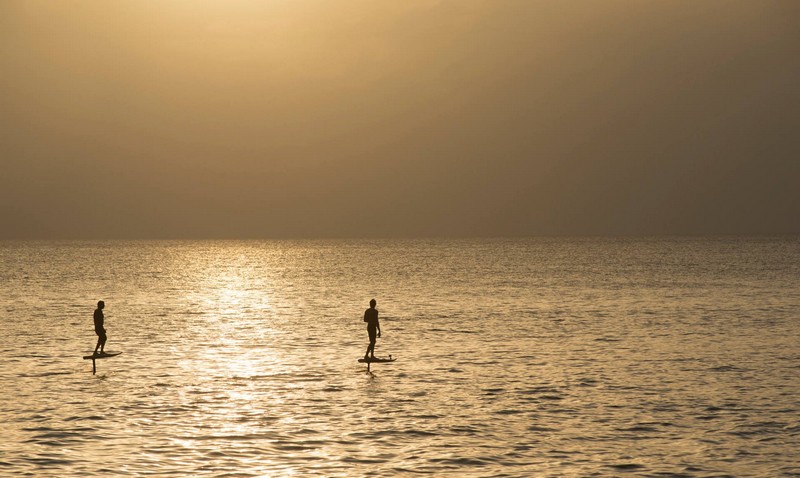 Just plug it in and go.
The company created a custom lithium battery built for a rugged marine environment. Coupled with performance and convenience, the battery offers the most comprehensive safety components on the market.
The battery is equipped with a Battery Management System (BMS) that protects the battery against overcharging, overcurrent, excess voltage, deep discharge, short-circuit and overheating. In addition, all safety related components contain a duplicate backup system.
It lasts up to an hour (riding at 15 mph) – depending on rider weight/speed- and is enclosed in a corrosion protected, IP67 waterproof housing that allows it to be transported and installed safely. The battery is also easily replaceable and rechargeable (Recharge time is 2.5 hours; Weight: 30 lbs.).
Depending on your weight and performance, LIftfoils offers two boards to choose from; The E1 and the E1 sport. Both board and foil are built with an advanced carbon fiber construction. The eFoil is easily assembled and taken apart. It breaks down into three separate components: board, motor/ mast and wings. Each component comes with a bag/carrying case for proper storage and transportation.