---
This article titled "New York Fashion Week Men's: streetwear, champagne and dandies" was written by Alex Needham, for theguardian.com on Friday 17th July 2015 15.20 UTC
The man in the crocheted top and hooded tabard outside Skylight Studios in New York's West Village is mournful. A fashion student at the Royal College of Art in London, he's here to promote his SS16 collection guerrilla style by handing out fanzines displaying his wares to the assorted buyers, fashion press and hangers-on attending New York's first ever men's fashion week, largely held in the venue, a repurposed photographers' studio. "Londoners are much more friendly – these people are tough," he complains, as New York's fashion industry marches purposefully into the industrial white hallway.
New York fashion week: men's, to give it its full title, is above all a business opportunity. Next week is market week, when buyers come to check out the collections on the racks and decide which they're going to select for their customers – boutiques, department stores and e-tailers like Matches fashion or Net-a-Porter's menswear site, Mr Porter. Having a New York men's fashion week now, three weeks after the fashion industry has attended the traditional menswear shows in Paris and Milan (preceded by LCM, the burgeoning menswear week in London) makes commercial sense: instead of merely perusing the clothes on the racks in the designers' headquarters, as buyers have traditionally done, they can experience the designers' visions in catwalk shows.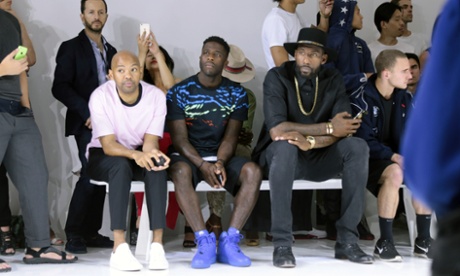 "Once you get guys on a runway and you have your special pieces and the music it comes more to life," says hotly tipped designer Tim Coppens. "It just helps for buyers to look, like how does this piece look when it's worn?"
Not that a lot of the big American designers have particularly pushed the boat out. Calvin Klein's menswear presentation on Tuesday afternoon simply seems like an agreeable excuse for a mid-afternoon booze-up, with a menswear collection the fashion industry has already seen in Milan last month displayed on mannequins as the fash pack mill around, occasionally thumbing the luxe fabrics. "Is that champagne or prosecco?" demands a particularly accomplished freeloader of the waiters proffering booze. When hearing it's champagne (of course), he plucks a glass off the tray and wades into the throng.
For younger designers though, NYFWM presents an opportunity. New York has never had a menswear week; usually the men's shows are mixed in among the womenswear, where they often get overlooked in a fashion world where female consumers still overwhelmingly generate the big bucks. However, that's changing – menswear sales are up every season, and even the New York Times has launched a men's style section to soak up all that lovely advertising. For what one imagines are similar reasons, the former editor of Vogue Paris, Carine Roitfeld, will launch a menswear magazine next season called CR Men's Book. The press release contains the crushing Carine edict, "I hate to see socks. They are never sexy."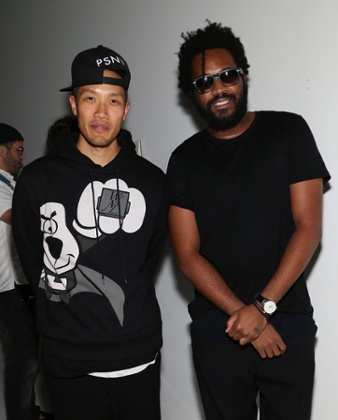 This commercial context is ideal for New York menswear, which is having something of a moment. With rappers such as A$AP Rocky and designers such as Hood by Air combining high fashion and street style to spectacular effect, not to mention the likes of young New Yorker Alexander Wang at the helm of revered Parisian fashion house Balenciaga, there's a new generation of American dandies eager to mix avant garde fashion with sportswear and hip-hop (see the "health goth" micro-trend which bubbled up last winter). While luxe sportswear is a fashion trope as old as the hills, a new generation of designers, such as Public School and Coppens, are reinventing it precisely for the extremely hip dude on the street.
Or as Damien Paul, head of menswear at Matchesfashion.com, puts it: "We really seem to be witnessing a boom in menswear here – there's a real energy coming from the young designers and brands that feels distinct from what's happening in Europe. Tim Coppens was brilliant – he was really at the forefront of the elevated sportswear look that's been so popular in menswear, and he just gets better and better."
While the name Public School might evoke striped blazers and boaters, the designers Maxwell Osborne and Dao-Yi Chow mean it in the American sense: clothes rooted in New York's street culture, given a high-fashion spin. The designers are currently riding high, applauded by both buyers and the fashion press, recently appointed creative directors of DKNY along with their own label. Their presentation saw the models (including singer Twin Shadow, who also did the music) in boxes, arranged police lineup style, wearing clothes that applied sharp tailoring to sportswear.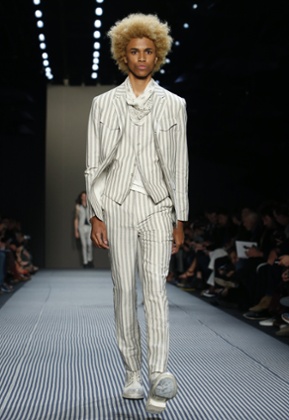 Compared to the overwhelmingly white catwalks of Paris and Milan, the Public School show was almost shockingly diverse, and there were plenty of models of colour at other designers' shows too – even old-school stalwarts like Michael Kors, who talked through his wears, designed for a holiday in "Capri or Catalina" at a presentation rather than a catwalk show. "If it was up to me we wouldn't do a runway show for women," he told the audience. "I just think especially for menswear for us it's all about the fabrics, the details, really being able to see things up close."
Whether the shows themselves really expressed the excitement of menswear in New York, however, seemed a moot point. Traditionally, the designers in New York fashion week have been regarded as showing the more commercial side of fashion, as opposed to the polish of Milan, the eccentricity of London, or the hardcore cutting-edge glamour of Paris. While outrageously dressed men thronged the streets outside, many of the clothes on show seemed comparatively conservative.
"The American aesthetic is a different aesthetic to what we have in London," ponders Luke Day, editor of GQ Style. "In London it's clothes that are full of ideas and influence things rather than being things that the masses buy, so maybe this is for the masses. But maybe by having this, they might be able to build on that and there will be people who can come to the table that will have more ideas."
Paul agreed: "It would be great if NYFWM can have the same impact as LCM on American designers, and encourage them to be bolder." The one thing everyone agreed on was that New York fashion week men's was here to stay. For the man in the crocheted top … maybe next season?
guardian.co.uk © Guardian News & Media Limited 2010
Published via the Guardian News Feed plugin for WordPress.