The patent for the drive train swingarm principle comprises a centrally mounted middle motor, belt drive and hub gearing, resulting in an innovative electronic suspension module.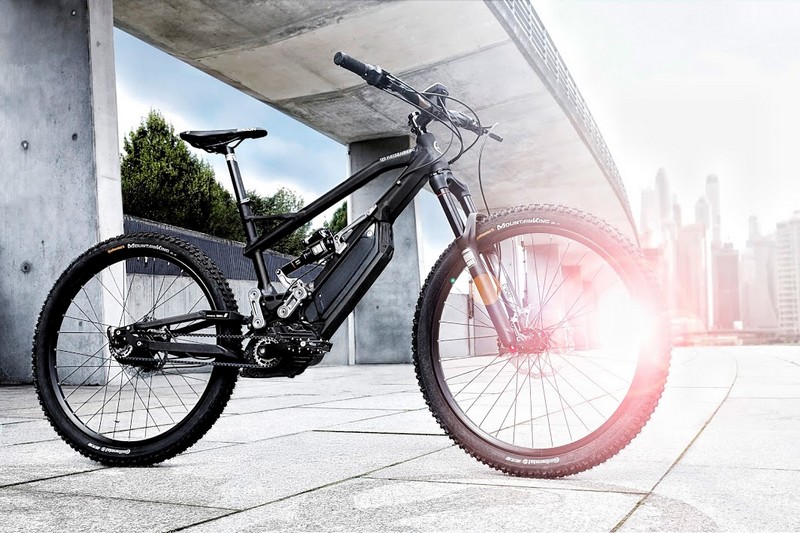 BMW i technology is now used for the next-generation ebikes, designed for an increasingly technology-savvy audience. Together ebike pioneers HNF and BMW Group have designed an advanced frame technology for full-suspension ebikes with a middle motor.
The integrated swingarm principle from BMW allows the motor and drivetrain to vibrate freely. Before motors had to be fixed to the frame. This newfound freedom enables a combination of rear suspension and a long-lasting, maintenance-free Carbon belt drive for full suspension ebikes for the first time and it leads to outstanding riding and handling characteristics. BMW's research division developed this technology directly for future e-mobility, specifically reflecting on two-wheeled concepts for bike classes with motors up to 4 KW.
HNF Heisenberg's Chief Designer Karlheinz Nicolai and his team applied this frame technology to their XF1 frame from their line-up to create a fully autonomous form. The kinematics are completely integrated above the middle motor and securely fastens it to the frame. The middle motor and rear wheel hub are thus integrated into the swingarm in order to ensure a fixed distance for the Carbon belt drive between the pedal axle and rear wheel hub. The belt tension is kept constant between the chainring and hub, allowing for flawless transfer of high load peaks from the middle motor.
Compared to other rear suspension concepts that are specially optimised for muscular power, these bikes do not stiffen up in the rear construction when the electromotor kicks in – during acceleration, long rides at high speeds or gradients. The frame remains responsive and ensures good grip and high traction. Since the proportionate rider power is relatively low, there are no unpleasant rocking movements when accelerating or braking. Even on extremely uneven terrain, clean and smooth pedalling is possible, say Michael Hecken, Karlheinz Nicolai and Benjamin Börries, HNF Heisenberg's founders. In 2008 they developed the Smart e-bike for Daimler-Benz AG. HNF Heisenberg – your new future-oriented brand for an increasingly technology-savvy audience – launches with a model series of the S-Pedelec city bike up to our top-quality full suspension mountain bike.