Damien Hirst creates showpiece for London restaurant of 'cock and bull'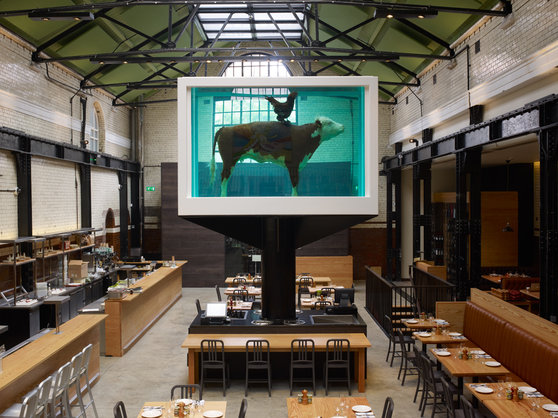 English artist, entrepreneur and art collector Damien Hirst has created an art piece for London's Tramshed Restaurant opened by celebrated chef, restaurateur and food writer Mark Hix, frequently lauded as one of London's most eminent restaurateurs.
The works celebrate Tramshed's menu which is centred around chicken and beef dishes. 'Cock and Bull' (2012) – a Hereford cow and cockerel preserved in a steel and glass tank of formaldehyde – is elevated above diners in the centre of the 1000 square foot old electricity generating station. The work forms part of the 'Natural History' series, Hirst's seminal collection of preserved animals.
Alongside the monumental formaldehyde work, the artist has created a painting entitled 'Beef and Chicken' (2012). Installed at the mezzanine level, the painting depicts the 1990s cartoon characters 'Cow and Chicken' (Cartoon Network).
Mark Hix is known for his original take on British gastronomy, after 17 years working in the industry, he opened his first restaurant in 2008 – the distinguished Hix Oyster & Chop House in Smithfield, and has since opened a further five establishments including Hix Oyster & Fish House in Lyme Regis and the award-winning Mark's bar, and of course the latest Tramshed all to great critical acclaim.